US admits sending 'lethal aid' to Syrian rebels
Published time: 8 Jun, 2014 10:52
Edited time: 9 Jun, 2014 22:48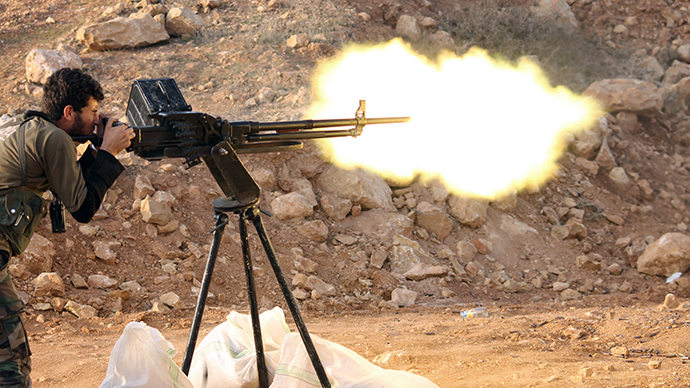 Washington is supplying some Syrian rebels with both "lethal and non-lethal" aid, according to National Security Adviser Susan Rice, who confirmed the longstanding suspicion that the Obama administration is arming anti-Assad forces.
The US is "the single largest contributor of humanitarian assistance, providing over $1.7 billion" in assistance, Rice told CNN.
"That's why the United States has ramped up its support for the moderate vetted opposition, providing lethal and nonlethal support where we can to support both the civilian opposition and the military opposition," she said.

Previously, American officials claimed that the US sent only non-lethal aid to Syrian rebels, saying they were concerned that if US arms, especially sophisticated ones like portable anti-aircraft missiles, were sent to Syria, they might end up in the hands of terrorists. Media reports, however, suggested that the CIA was secretly involved in training rebel groups and assisting Saudi Arabia and Qatar in smuggling arms to the rebels fighting to topple Syrian President Bashar Assad.
Rice emphasized Washington's desire to play a more pro-active role in the Syrian conflict by getting Congress approval for more assistance to the rebels in the war that has been ongoing for three years and claimed upward of 160,000 lives.
The aid of hundreds of millions of dollars given by the US since the start of the civil war in 2011 has all gone toward humanitarian assistance, she insisted.
Although details about the specifics of aid and training provided to opposition forces are usually avoided by US officials in interviews, President Barack Obama announced his Syria plans in a foreign policy speech at West Point military academy in late May.
Rebels "offer the best alternative to terrorists and brutal dictators," the president said. Now it's up to Congress to support the idea of and green-light more aid, as is stipulated in the War Powers Act.
In mid-May, Obama met with the leader of the Turkey-based opposition Syrian National Coalition, Ahmad Jarba, and boosted US aid to the Syrian opposition by $27 million.
In the interview, Rice defended the president's foreign policy, which some critics in the US believe to be passive and overcautious. She insisted that Washington retains strong ties with partner nations and a strong global position.
"I think the fact of the matter is we're living in complex times, there are many different challenges that the United States and the world faces. But our leadership is unmatched. Our role is indispensable," she said.
The confirmation of America's lethal aid to the Syrian opposition comes on the heels of the delivery of F-16 fighter jets to Iraq, a country torn apart by raging sectarian violence, which takes dozens of lives daily.
Syria has suffered greatly in the three-year civil war, but its government remains stable and its military is gaining ground in the fight against various opposition forces, many of them foreign Islamists.