US allies cultivated Islamic State. Now IS plans to 'raise flag of Allah in White House'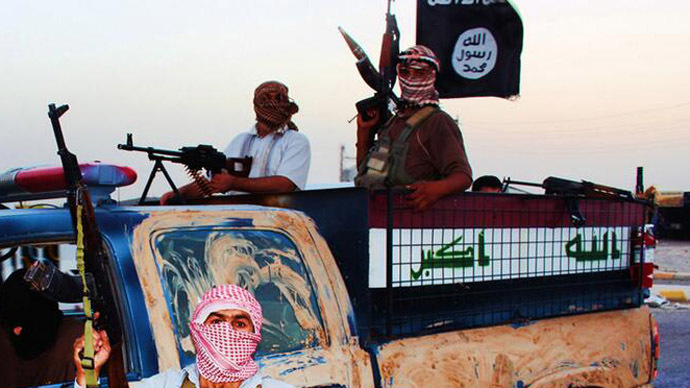 As the Islamic State tears through minority communities in northern Iraq, the extremist terror group, that owes its ascendance to funding from US allies in the Middle East, sent a message to the White House: We're coming for you.
"I say to America that the Islamic Caliphate has been established," Abu Mosa, a spokesman for the Islamic State (IS), formerly know as the Islamic State in Iraq and Syria (ISIS), told VICE Media."Don't be cowards and attack us with drones. Instead send your soldiers, the ones we humiliated in Iraq."
"We will humiliate them everywhere, God willing, and we will raise the flag of Allah in the White House," Mosa added.
On Thursday, in response to gains made by IS in Iraq, US President Barack Obama ordered airstrikes on IS targets to help protect Christians and Yazidis, a Kurdish religious sect in northern Iraq.
Rear Admiral John Kirby, a Pentagon spokesman, said airstrikes took place to help defend Kurdish forces near Erbil, Iraq. Two F/A-18 aircraft dropped 500-pound laser-guided bombs on a mobile artillery piece.
"The decision to strike was made by the US Central Command commander under authorization granted him by the commander in chief," Kirby said. US personnel are also based in the city.
In addition to the strikes, Obama called for humanitarian supplies to be airdropped to stranded Yazidi refugees. Around 40,000 Yazidis - whose religious beliefs are a mix of ancient Zoroastrianism, Islam, and Christianity - sought refuge on Mount Sinjar last weekend after Islamic State fighters continued their march toward Erbil. Iraqi officials say more than 500 men were killed by the Al-Qaeda offshoot, and many more, including dozens of children, have died since fleeing Sinjar, a remote area void of nourishment or resources.
But while the Islamic terror group du jour rips through Iraq - largely forcing minorities to choose its brand of strict Islam, flee, or die - observers note that it's important to remember how IS has gained strength from the financial backing of United States' allies in the Middle East, including Saudi Arabia, Kuwait, and Qatar.
Elite donors of American allies in the Persian Gulf region have poured an immense amount of resources into rebel groups like IS in efforts to advance on three general goals: opposing Iran, its ally Bashar Assad and his government in Syria, and fomenting the Sunni-Shia divides in the region.
IS, formerly allied with Al-Qaeda before splitting with them last year, has benefited from Gulf funding of rebel groups opposed to Assad in the Syrian civil war, as several reports have detailed, paving the way for the Islamic State to advance over the border into Iraq, where it has captured major gains such as Mosul, the second-largest city in Iraq.
Iraqi Prime Minister Nouri al Maliki has publicly accused Saudi Arabia and Qatar, both Sunni-led nations, of ongoing financial support for IS.
In Kuwait, donors have successfully funneled hundreds of millions of dollars to rebel militias in Syria.
"Over the last two and a half years, Kuwait has emerged as a financing and organizational hub for charities and individuals supporting Syria's myriad rebel groups," the Washington think tank Brookings Institution wrote in a December report.
"Today, there is evidence that Kuwaiti donors have backed rebels who have committed atrocities and who are either directly linked to al-Qa'ida or cooperate with its affiliated brigades on the ground."
The United States has also supported so-called "moderate" Syrian rebels with both lethal and non-lethal aid, lending to fears that arms sent with the help of the Gulf states were channeled to the likes of IS.
A situation in which the US offers both direct and indirect support to groups fighting common foes one day, only to find that the groups will later leverage such aid, including weaponry, against the US and allies calls to mind the rise of the Taliban in Afghanistan, to name one example. There, the US long backed mujahideen guerilla fighters, including Osama bin Laden, in their war against the invading Soviet Union army from 1979 to 1989.
Once Soviet Union forces left Afghanistan, these "freedom fighters," as they were known by the Reagan administration, fought one another in a fierce civil war, leading to conditions that brought about the Saudi-supported Taliban rule.
In addition, Western incursions in the region, namely the 2003 invasion of Iraq that ushered in a brutal sectarian war that still divides the country today, have led to extreme instability, creating a power vacuum for militant groups to fill.
Brian Becker, an anti-war campaigner with the ANSWER coalition, told RT that the United States and its allies must take some of the blame for the rise of the Islamic State in Iraq and Syria.
"It was the intervention of the United States in Iraq and the US and its partners in Syria, which laid the groundwork for the ISIS organization to develop. In 2010-2011, remember they said they carried out six actions in the whole year," he said.
"They were practically defunct until the United States and its allies supported the armed opposition inside Syria and gave an opportunity to this organization to develop and come back into Iraq," Becker added.
You can share this story on social media: