US considers 'military options' in Iraq to save Yazidis, Christians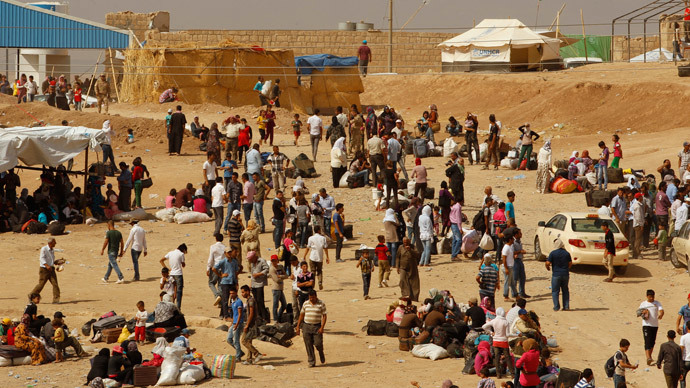 US President Barack Obama is considering military action to help stranded Yazidi Kurds in Iraq who fled territories captured by Islamic State militants.
UPDATE: Obama authorizes airstrikes in Iraq 'to protect US personnel'
On Thursday, President Obama assembled members of his national security team to discuss the humanitarian catastrophe unfolding in regions of Iraq captured by the Islamic State (IS). The US is considering airdrops of humanitarian assistance supplies to Yazidis trapped at the top of Mount Sinjar, as well as airstrikes and other "military options," according to CNN. The Wall Street Journal reported that US aircraft might fly to Iraq to deliver humanitarian aid as soon as Thursday night.
An administration official told The New York Times that "the president is weighing both passive and active options." Dropping humanitarian supplies is considered passive action. "More active, we could target the [IS] elements that are besieging the base of the mountain," the official added.
CNN also reported that the Obama administration is considering airstrikes against IS strongholds. However, the White House would not reveal its strategy on Thursday.
President Obama meets with his national security team today in the Situation Room. pic.twitter.com/vDJeYJOz9Z

— The White House (@WhiteHouse) August 7, 2014
"The United States government, as well as the United States military, is supporting the ongoing efforts of Iraqi official and Kurdish officials to address this humanitarian crisis," White House press secretary Josh Earnest said Thursday, without elaborating on what "support" currently means.
Earnest added that American military action would not solve Iraq's myriad of "problems."
READ MORE: Islamic State makes more gains in northern Iraq, as Christians flee
"Those solutions are only going to come about through" Iraqi political maneuvers, he said.
Media reports have surfaced claiming that US fighter jets have already carried out airstrikes in Iraq. However, the Pentagon was quick to deny those reports.

"Press reports that U.S. has conducted airstrikes in Iraq completely false," Rear Admiral John Kirby said in a post on his Twitter account. "No such action taken."
Press reports that US has conducted airstrikes in Iraq completely false. No such action taken.

— Rear Adm. John Kirby (@PentagonPresSec) August 7, 2014
The Pentagon also denied reports of ongoing US military air drops of humanitarian supplies in northern Iraq, which some US media outlets claim have already been authorized by the Obama administration.

A conflicting CNN report citing an Iraqi military official later claimed that it was the Iraqi air force that struck IS positions near Irbil.
Meanwhile, multiple US channels, including CBS and ABC, have quoted officials as saying that Obama has approved the humanitarian drops in Iraq and that American planes with humanitarian aid are "already in the air."
A defense official told The Guardian that the US is in "constant coordination" with the Iraqi government on "how we can help coordinate additional relief, enhance their efforts, and provide direct assistance wherever possible."
"We have been working urgently and directly with officials in Baghdad and Erbil to coordinate Iraqi airdrops to people in need," a Department of Defense official told The Hill.
"The government of Iraq has initiated air drops in the region and we are in constant communication with them on how we can help coordinate additional relief, enhance their efforts, and provide direct assistance wherever possible," the official added, without elaborating on what types of supplies are involved.
The Iraqi government conducted two airdrops of aid to the Yazidi refugees on Wednesday, according to The Washington Post, but the deliveries were not nearly enough to meet the demand.
"There are some airdrops, but they aren't even covering half the need," said Haji Ghandour, a Yazidi parliamentarian, according to the Post. "Most of these supplies fall near [Islamic State fighters]; others break and are ruined. The operation is not accurate."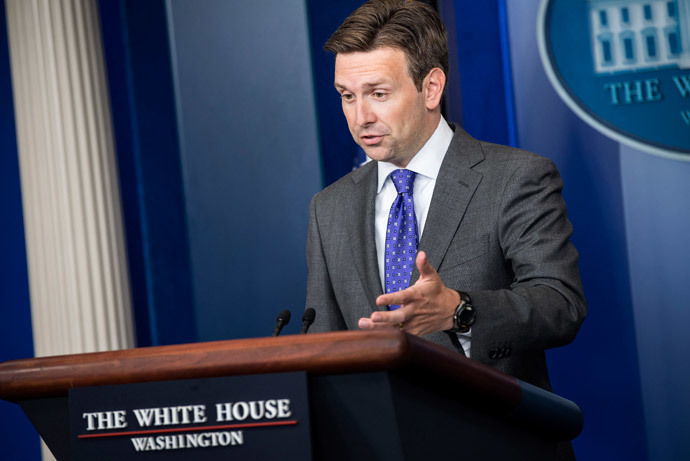 Around 40,000 Yazidis - members of the Kurdish community whose religious beliefs are a mix of ancient Zoroastrianism, Islam, and Christianity - sought refuge on Mount Sinjar last weekend after IS fighters continued their march toward the Kurdish power center of Erbil.
Iraqi officials say more than 500 men were killed by Al-Qaeda offshoot IS, and that around 70 children have perished since the Yazidis sought refuge on Sinjar.
"There are children dying on the mountain, on the roads," Marzio Babille, the Iraqi representative for the United Nations Children's Fund, told The Post. "There is no water, there is no vegetation, they are completely cut off and surrounded by Islamic State. It's a disaster, a total disaster."
READ MORE: Over 30,000 Iraqis trapped in mountains as IS threatens to kill them
UN officials said around 200,000 new refugees are seeking sanctuary in the Kurdish north from IS. The Sunni militant group said in a statement that it had made more than a dozen military gains over the past five days. IS has also claimed it now controls the Mosul Dam, the largest hydroelectric dam in Iraq.
IS is reportedly targeting any ethnic and religious minorities - including Shabaks, Turkmens, Yazidis, and Christians - that refuse to bend to its strict brand of Islam.
IS "should immediately halt its vicious campaign against minorities in and around Mosul," the Middle East director of Human Rights Watch said in a statement."Being a Turkman, a Shabak, a Yazidi, or a Christian in [Islamic State] territory can cost you your livelihood, your liberty, or even your life."
Thousands of Christians are fleeing the minority's largest town in Iraq, Qaraqosh, after IS militants took control of it, as RT previously reported. Christian towns near Mosul, including Tel Askof, Tel Keif, and Qaramless have also been overtaken by IS, according to the Guardian. According to reports, remaining minorities in the towns were offered an ultimatum: leave, convert to Islam, remain Christian but pay special taxes, or die.
"How in the 21st century could people be forced from their houses just because they are Christian, or Shiite, or Sunni or Yazidi?" Louis Raphael Sako, the head of Iraq's largest church, told Reuters. "Christian families have been expelled from their houses and their valuables were stolen...This has never happened in Christian or Islamic history. Even Genghis Khan…didn't do this."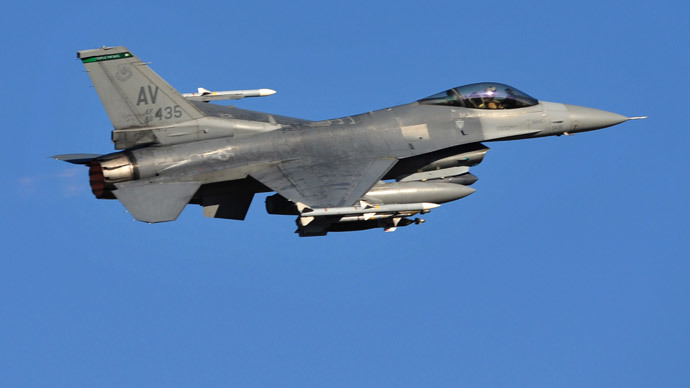 The Islamic State poses the biggest threat to Iraq since the civil war – which peaked during the US occupation in 2006-2007 – and now controls most of western and northern Iraq.
Bombings and executions continue in other areas of Iraq that IS does not control. In Baghdad, car bombings on Wednesday in a crowded Shiite market killed 59 and wounded 125.
Despite carrying out airstrikes against IS positions on Wednesday, the Iraqi government has been powerless to halt the extremist group's advance. Iraqi Prime Minister Nouri al-Maliki has clung to power since an inconclusive election in April, and has defied calls from fellow Shiites, Sunnis, and Kurds to step down and find a less divisive figure to unite Iraq in the face of the IS threat.
The Islamic State wants to create a medieval style caliphate across Iraq and Syria stretching to the Mediterranean. It recently tried to extend its bloody campaign to Lebanon, but was beaten back by the Lebanese army.
You can share this story on social media: