Over 30,000 Iraqis trapped in mountains as IS threatens to kill them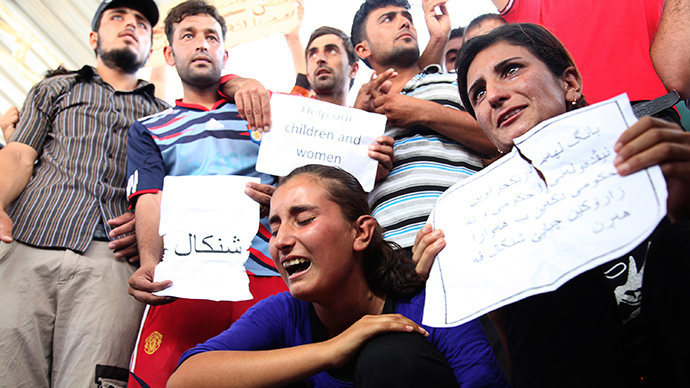 Thousands from the minority Yazidi community are stranded in the mountains of northwestern Iraq. If they make a move, they face slaughter at the hands of Islamic State jihadists surrounding them. However, they risk dying of dehydration if they stay put.
Many of those trapped are women and children taking refuge in nine locations on Mount Sinjar – a craggy ridge which, as legend has it, was the last resting place of Noah's ark.

Vian Dakhil, a Yazidi lawmaker, said the siege has already cost many lives, including children.

"Seventy children have already died of thirst and 30 elderly people have also died," she told the Guardian. "Over the past 48 hours, 30,000 families have been besieged in the Sinjar Mountains, with no water and no food."

Baghdad sent helicopters to drop supplies to people on the mountain, though the amounts were limited.

"Food is low, ammunition is low and so is water. We have one piece of bread to share between 10 people. We have to walk two kilometers to get water. There were some air strikes yesterday [against the jihadists], but they have made no difference," Nafiee, a man hiding on the mountain, said.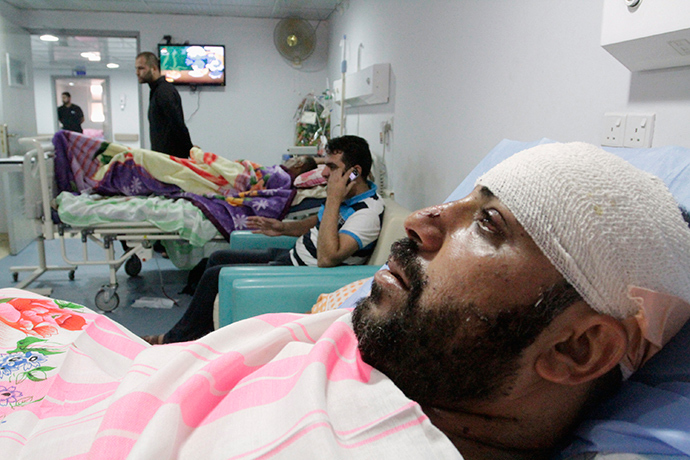 At least 500 Yazidis, including 40 children, have already been killed over the past week. Many more have received death threats, either from IS militants or members of the Sunni community who have allied with them for fears of reprisal.

Another 130,000 Yazidis have fled the city of Sinjar for Dohuk and Irbil in the Kurdish controlled north, where authorities are struggling to cope with one of the biggest refugee movements in decades.

"We are being told to convert or to lose our heads. There is no one coming to help. They were our neighbors and now they are our killers," said Khuldoon Atyas, who stayed behind to look after his family's crops. Before the siege, Sinjar was home to 300,000 people.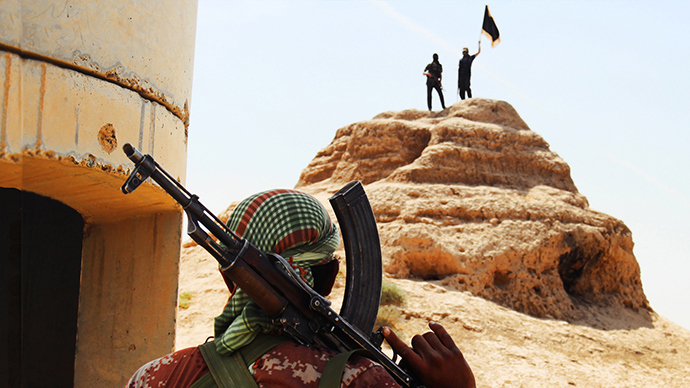 One man told Amnesty International that 30 members from two families were seized by IS from the village of Khana Sor, located northwest of Sinjar.

"They took the 15 men and took the women and children and until now we do not know what happened to them, where they are or if they are alive or dead," he said.

Sunni jihadists have long regarded the Kurdish minority Yazidis as devil worshipers, and have targeted them since the US-led invasion of 2003. Flights to a safer area is now the only option left.

"It's not like this is a one-off incident. We are almost back to square zero in terms of the preparedness and the supplies. Enormous numbers of people have been crossing the border since June," said UNICEF spokeswoman Juliette Touma.

"We are being slaughtered. Our entire region is being wiped off the face of the earth. I am begging you in the name of humanity," Kurdish MP Vian Dakhill said as she broke down in tears in parliament.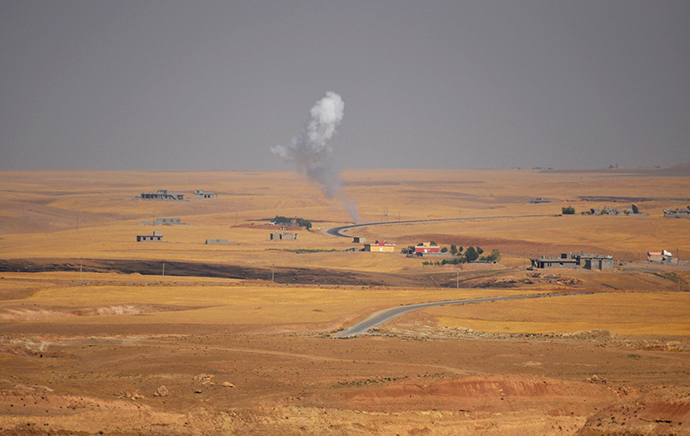 Kurdish peshmerga forces are reportedly in the area and have said they are starting to fight back. However, they are only lightly armed and have been unable to reach the refugees.

The Islamic State, formerly known as ISIS, has steadily conquered much of Iraq's north and west. On June 10, the hardliners – who want to create a medieval style caliphate stretching across Iraq and Syria – stormed Iraq's second city Mosul, sending the Iraqi army fleeing for their lives. The central government in Baghdad now has no influence over much of the country, which is now controlled by IS.

IS was able to loot Iraqi army weapons and arsenals, and has now captured three cities – including Tikrit and five oilfields. The extremist group is also closing in on the capital Baghdad.

The UN Security Council said ISIS militants pose a threat not only to Iraq and Syria, but to "regional peace, security and stability."

"Widespread or systematic attacks directed against any civilian populations because of their ethnic background, religion or belief may constitute a crime against humanity, for which those responsible must be held accountable," the Security Council said in a statement.
You can share this story on social media: