Islamic State opens 'marriage bureau' for militants – watchdog
Published time: 29 Jul, 2014 08:16
Edited time: 29 Jul, 2014 12:51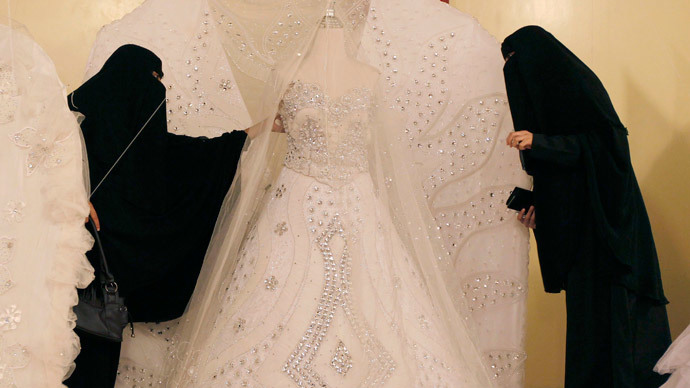 The Islamic State (IS), which controls large parts of Syria and Iraq, has opened an office for registering women willing to marry its militants, a human rights monitoring group reports.
The 'marriage bureau' has been set up in al-Bab, a town northeast of Aleppo, the Syrian Observatory for Human Rights said on Monday.

"Single women and widows who would like to marry IS fighters" are welcome there to provide their names and addresses, so that the militants can "come knocking at their door and officially ask for marriage," according to AFP, citing the watchdog, which is based in Britain and relies on a network of informants on the ground.

The IS, formerly known as the Islamic State of Iraq and Syria (ISIS/ISIL), formally declared a new caliphate at the end of June on the territories under its control in Syria and Iraq. The extremist group, an offshoot of Al-Qaeda, is notorious for imposing strict religious laws in areas where it has been active.
The Observatory's director, Rami Abdurrahman, told Reuters it was the first time he had heard of the group setting up a formal office to register potential spouses.
Islamic State militants turn conquered Syria/Iraq territories into jihadist tourist paradise
The report has however not been independently verified, and there have been instances in the past when IS stories turned out to be hoaxes.
A report by a UN resident and humanitarian coordinator in Iraq on the Islamic State ordering all girls and women aged 11 to 46 in the Mosul region to undergo female genital mutilation has spurred an uproar in the mass media earlier in July. However, later reports suggested there was no evidence on the ground to support the claim.
Rumors of Islamic State ordering female genital mutilation in Mosul fake?
Still, the Islamic State has been harsh to women's rights in the areas it controls. Last week, the IS issued a statement warning women to wear full-face veils or risk severe punishment.
"The hands and feet must be covered. Wear shapeless clothes that don't hug the body. No perfume," the statement reads, according to Reuters.
The statement said the purpose of the strict guidelines on what to wear was not a restriction of freedom, but aimed at preventing a woman from "falling into humiliation and vulgarity or to be a theater for the eyes of those who are looking."