Rumors of Islamic State ordering female genital mutilation in Mosul fake?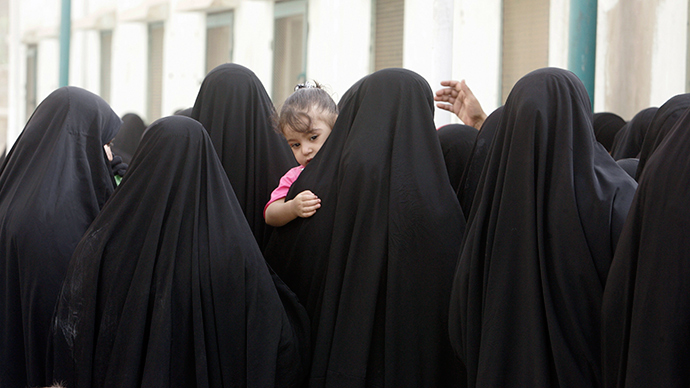 The story of Sunni militants from the Islamic State ordering all girls and women aged 11 to 46 in the Mosul region to undergo female genital mutilation has gone viral after a UN report on the matter. However, new doubt is being cast on the claims.
The potential number of victims was estimated to stand at 4 million.
The shocking news, adding to an already long list of crimes reportedly committed by the militants since the takeover of northern Iraq last month, was broken by UN resident and humanitarian coordinator in Iraq, Jacqueline Badcock.
"This is something very new for Iraq, particularly in this area, and is of grave concern and does need to be addressed," she told reporters in Geneva by videolink from Arbil on Thursday.
"This is not the will of Iraqi people, or the women of Iraq in these vulnerable areas covered by the terrorists," she added.
However, later reports cast doubt on the viral story. As it turns out, the Islamic State's leader Abu Bakr al-Baghdadi suggested the practice over a year ago, while Badcock herself admitted to having "zero contact" with the extremist group, alluding mainly to rumors heard from tribal leaders in the area.
As the organization tries to ascertain what went on, a number of journalists with contacts in Iraq has shared what they believe to be the reality behind the ghastly rumors.
#UN statement that #ISIS issued fatwa calling 4 FGM 4 girls is false residents of Mosul say includng a doctor, jourrnalist and tribal leader

— Leila Fadel (@LeilaFadel) July 24, 2014

"My contacts in Mosul have NOT heard that 'Islamic State' ordered FGM for all females in their city," Jenan Moussa, a reporter with Al Anan TV tweeted. Other journalists weighed in.

"Iraqi contacts say Mosul story is fake," stated freelance journalist and blogger Shaista Aziz, adding that an Iraqi contact said: "ISIS are responsible for many horrors, this story is fake and plays to western audience emotions."
Iraqi contacts say #Mosul story is fake. No evidence ISIS calling for #FGM to be carried out against girls and women #Iraq

— Shaista Aziz (@shaistaAziz) July 24, 2014
A reported with Al Anan TV also weighed in on the story with the following tweet.
My contacts in #Mosul have NOT heard that "Islamic State" ordered FGM for all females in their city http://t.co/kQFWKwGeLf

— Jenan Moussa (@jenanmoussa) July 24, 2014
The Islamic State, formerly known as ISIS, has taken over large portions of Iraq with the goal of establishing a fundamentalist Sunni Islamic state in the territories of Iraq and Syria. Since then they have launched a campaign to cleanse ethnic and religious minorities in the territory they control, sending thousands of refugees fleeing for their lives.
You can share this story on social media: