'No combat mission:' US ready to strike Syria, may use up to 1,600 troops to fight ISIS in Iraq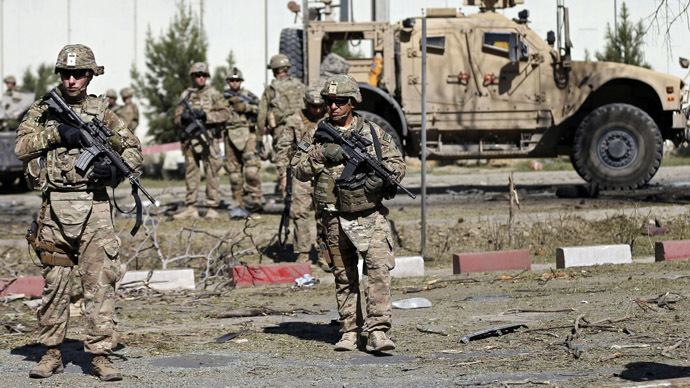 US Defense Secretary Chuck Hagel says the US Central Command has a plan to take "targeted actions against ISIS safe havens in Syria," including striking infrastructure. Hagel also unveiled a plan to boost Iraqi forces by 1,600 US "military advisers."
The US will also train and equip 5,000 members of the Syrian opposition to fight the militants from the Islamic State group, previously known as ISIS and ISIL. However, Hagel said that this number will not be enough to turn the tide at this stage and might be boosted later.
The plan to strike Syria was confirmed by General Martin Dempsey, the chairman of the Joint Chiefs of Staff.
"We will be prepared to strike ISIL targets in Syria that degrade ISIL's capabilities," General Dempsey said during Wednesday's hearing before the Senate Armed Services Committee.
Washington will not look to unleash a "shock and awe" campaign of airstrikes in Syria against Islamic State fighters, he however noted - rather it would be a "persistent and sustainable campaign."
Hagel has ruled out putting any troops on the ground for the moment, but did say that some of the 1,600 American "military advisers" deployed in Iraq since June may get involved into direct fight with the ISIS.
"American forces will not have a combat mission," Hagel said. "The troops deployed will support Iraqi and Kurdish forces."
URGENT: 1600 US 'military advisers' go to #Iraq, Hagel says 'not a combat mission' http://t.co/SKOO5nTnO6pic.twitter.com/njjtFEjwoY

— RT (@RT_com) September 16, 2014
According to General Dempsey those troops who are on the ground in Iraq could take a more active role in certain missions, such as "retaking Mosul."
US forces will operate from the capital Baghdad and Kurdistan's Erbil. Kurdish forces are to join the fight and work to retain the territory taken back from the ISIS militants.
The Obama administration will also try to push a bill through congress to authorize the spending of $500 million to help train and equip the Syrian opposition.
A member of the House of Representatives, Walter Jones, a North Carolina Republican says he will vote against the plan to arm the Syrian rebels, though he expects the bill to be passed regardless.
"Here we go again ... We train the Syrians today who are supposed to be our friends, but tomorrow they're our enemies," Jones said. "We need to let these other countries take care of their own region."
Protestors at Hagel/Dempsey ISIS hrg have interrupted periodically w chants like No More War. Three have been ejected pic.twitter.com/ElBiIU8aDG

— Athena Jones (@AthenaCNN) September 16, 2014
More than 30 countries have agreed to join the US coalition in their fight against Islamic State, the Pentagon reported. However, there is no sign of regional powers Iran and Syria on the list.
The official anti-ISIS coalition list everyone's been waiting for is out pic.twitter.com/GH8GqGVKRG

— John Hudson (@John_Hudson) September 16, 2014
America reiterated that there will be no cooperation with Syrian President Bashar Assad's government in any way in its fight against the Islamic State. Obama's position has long been that he would like to see Assad leave power, particularly after he was alleged to have used chemical weapons against his own people last year.
The Syrian president was briefed by an Iraqi national security adviser on Tuesday to, "put Assad in the picture of the latest developments in Iraq and the efforts that the Iraqi government and people are making to combat the terrorists," the Syrian state news agency SANA reported.
Assad and Iraqi govt are surely coordinating against ISIS - here's Assad with @HaiderAlAbadi's natsec advisor. pic.twitter.com/xeq6m2ls9I

— DavidKenner (@DavidKenner) September 16, 2014
Faleh al-Fayed, the Iraqi official said the meeting stressed "the importance of strengthening cooperation and coordination between the two brotherly countries in the field of combating terrorism that is hitting Syria and Iraq and which threatens the region and the world."
You can share this story on social media: