US intelligence: 300 Americans fighting alongside Islamic State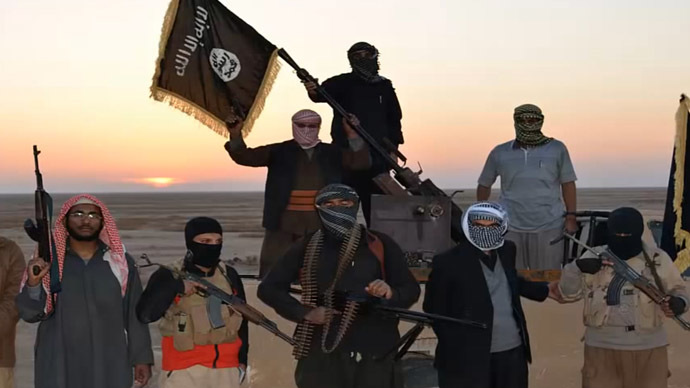 The United States government is tracking as many as 300 Americans supposedly fighting with Islamic State, the jihadist group with a heavy presence in parts of Syria and Iraq, according to senior US officials.
Washington is worried that radicalized foreign fighters could become a risk to the US if they return to employ skills learned overseas to carry out attacks, anonymous US officials said, according to the Washington Times.
"We know that there are several hundred American passport holders running around with ISIS in Syria or Iraq," a senior US official said. "It's hard to tell whether or not they're in Syria or moved to Iraq."
Past reports have put the possible number of Americans who have flocked to the fundamentalist extremist group Islamic State (IS, also known as ISIS and ISIL) at around 100. IS, a former Al-Qaeda affiliate, gained strength fighting Bashar Assad's forces in the Syrian civil war before turning to cross the border into Iraq, where they have made swift gains in western and northern sections of the volatile country.
The US State Department did not respond to the Washington Times when asked to comment on Americans fighting in Iraq or Syria.
The news of as many as 300 Americans fighting with IS comes one day after reports that a 33-year-old American, Douglas McAuthur McCain, was killed over the weekend in Syria while battling alongside Islamic State against members of a separate opposition group. Family members confirmed his passing to NBC News, and senior US officials acknowledged that they were aware of the man's death.
FSA publishes copy of Douglas McAuthur McCain's passport after killing him in battle. pic.twitter.com/H2oBiPSajJ

— Aaron Y. Zelin (@azelin) August 27, 2014
McCain had expressed support for IS on his Twitter account.
Other IS supporters have taken to social media to inspire anxiety among the US government. In recent weeks, photos were posted on Twitter showing the Islamic State flag unfurled in front of the White House, and, in front of the Old Republic building on Chicago's Michigan Avenue, a message in Arabic was shown, reading, "We are in your state, we are in your cities, we are in your streets, you are our goals anywhere."
The Secret Service is investigating the photo near the White House. The FBI and the Department of Homeland Security issued last week a bulletin to local law enforcement agencies to be alert without identify a specific threat.
#AmessagefromISIStoUS We are in your state We are in your cities We are in your streets You are our goals anywhere pic.twitter.com/1EYMgCWJse

— قهر الطواغيت (@Sunna_rev) August 9, 2014
"We continue to use every tool we possess to disrupt and dissuade individuals from traveling abroad for violent jihad and to track and engage those who return," US National Security Council spokeswoman Caitlin Hayden said.
The alleged IS killer of kidnapped American journalist James Foley, shown in a video last week before he was supposedly beheaded, said that militant Muslims are proliferating throughout the world, not just in Iraq and Syria.
"You're no longer fighting an insurgency. We are an Islamic army and a state that has been accepted by large number of Muslims worldwide," Foley's executioner said. "So effectively, any aggression towards the Islamic State is aggression towards Muslims from all walks of life who has accepted the Islamic caliphate as their leadership. So any attempt by you, Obama, to deny the Muslims their rights of living in safety under the Islamic caliphate will result in the bloodshed of your people."
The Obama administration believes any potential attack by American jihadists returning to the US would likely be carried out on a small scale, such as suicide bombings, and not a time-consuming long-range plan such as the attacks of Sept. 11, 2001, according to White House spokesman Josh Earnest.
Senior US officials said, according to the Washington Times, that intelligence agencies will put any Americans affiliated with IS on an appropriate watch list or no-fly list.
"I know that law enforcement agencies in Homeland Security are mindful of some Americans who have become radicalized, and some have taken up with [the Islamic State]," an official said.
How the Department of Homeland Security would track such Americans was not immediately clear, according to the report.
Despite all the consternation in official Washington over such potential threats, observers note that IS has gained strength from the financial backing of United States' allies in the Middle East, including Saudi Arabia, Kuwait, and Qatar.

Elite donors of American allies in the Persian Gulf region have poured an immense amount of resources into rebel groups like IS in efforts to advance on three general goals: opposing Iran, its ally Bashar Assad and his government in Syria, and fomenting the Sunni-Shia divides in the region.
Meanwhile, the United States has also supported so-called "moderate" Syrian rebels with both lethal and non-lethal aid, lending to fears that arms sent with the help of the Gulf states were channeled to the likes of IS.
In addition, Western incursions in the region, namely the 2003 invasion of Iraq that ushered in a brutal sectarian war that still divides the country today, have led to extreme instability, creating a power vacuum for militant groups to fill.
In light of IS advances across Syria and Iraq, the US Department of Defense is considering a number of options for President Obama to consider, including airstrikes against militant positions in Syria, similar to those the US has recently carried out against IS in Iraq. The US insists, though, that there are no plans to coordinate anti-terror attacks with the Syrian government.
You can share this story on social media: