Father of suspected 'Jihadi John' awaiting trial for bombing embassies, was a bin Laden lieutenant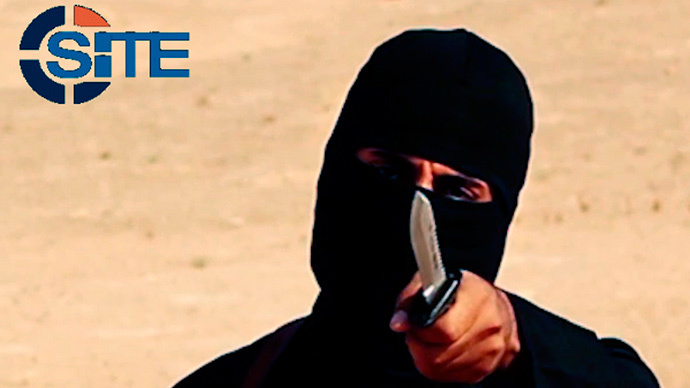 The father of the man suspected to be 'Jihadi John,' who beheaded journalist James Foley, is awaiting trial in New York for the bombing of two US embassies, which killed a total of 224. He is also accused of being a top lieutenant for Osama bin Laden.
Adel Abdel Bari, 54, is accused of taking part in the bombings of two US embassies in Kenya and Tanzania. His trial is set for November. He was held in custody in Britain for 14 years prior to his extradition to the United States in October 2012, the Daily Mail reported.
Bari is the father of the British man, Abdel-Majed Abdel Bary, suspected of being 'Jihadist John' who beheaded American journalist James Foley, as revealed in a video released last week by the extremist group Islamic State.
Bary, 23, lived in London before leaving to fight with the jihadist militant organization Islamic State, currently terrorizing large swaths of northern and western Iraq after years fighting in Syria's civil war.
Bary recently posted on his Twitter account a photo of himself holding a severed head with the caption, "Chillin' with my other homie, or what's left of him."
The elder Bari was imprisoned and tortured in his native Egypt in 1981 following the murder of President Anwar Sadat, according to the Guardian. He was in and out of prison, and eventually became a respected human rights lawyer
He left Egypt in 1991, the year his son Bary was born. In 1993, Bari was allowed political asylum in the UK, where his family then joined him. He was sentenced to death in absentia in Egypt two years later for a 1995 plot to set off a bomb in a busy Cairo market. In a separate trial in Egypt in 1999, he was sentenced to life in prison.
He was named head of the London cell of Egyptian Islamic Jihad in 1996, according to his indictment in the bombing case.
His office in London became Al-Qaeda's "media information office" set up to "to provide a cover for activity in support of Al-Qaeda's 'military' activities, including the recruitment of military trainees, the disbursement of funds and the procurement of necessary equipment (including satellite telephones) and necessary services."
"In addition, the London office served as a conduit for messages, including reports on military and security matters from various Al-Qaeda cells, including the Kenyan cell, to Al-Qaeda's headquarters."
In the UK, he was arrested in a raid on his family's home soon after the August 1998 embassy bombings, the Guardian reported. He was released soon after, as authorities found no proof of his involvement in the blasts.
He was arrested again when the US called for his extradition on the same charges dismissed in the UK.
The indictment alleged that Bari "made efforts to facilitate the delivery of fake travel documents to co-conspirators who were members or associates of Egyptian Islamic Jihad in Holland and Albania."
He was charged with 213 counts of premeditated murder for the Nairobi bombing and 11 counts for the explosion in Dar es Salaam. He was also charged with conspiracy to use weapons of mass destruction and other lesser charges.
If convicted, he faces life in prison. He is being held at the high-security Metropolitan Correctional Center in Manhattan.
His son is now the lead suspect in Foley's murder.
Bary is also known to be a rapper who formerly went by the names Lyricist Jinn and L Jinny.
In a YouTube video Bary is now attempting to rescind, according to Daily Mail, he is shown memorializing his father in recalling a raid by UK authorities looking for the elder Bari that occurred at the family's home when Bary was young.
"Give me the pride and the honor like my father, I swear the day they came and took my dad, I could have killed a cop or two. Imagine then I was only six. Picture what I'd do now with a loaded stick. Like boom bang fine, I'm wishing you were dead. Violate my brothers and I'm filling you with lead," the lyrics reportedly go.
Bary also rapped about his father's time in custody, detailing those tough times for his family, "six siblings and a mum to feed."