Hunt for Foley's killer 'jihadist John' intensifies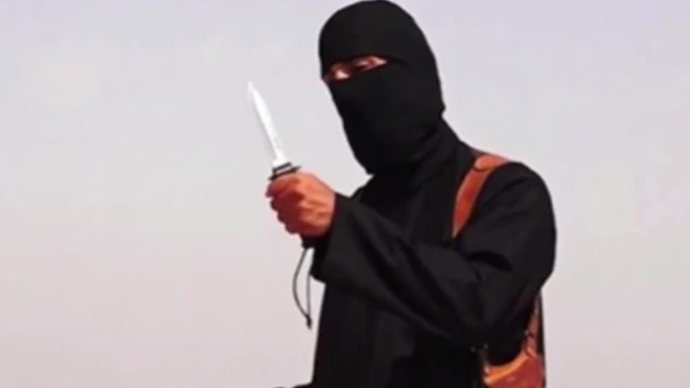 The jihadist who beheaded an American journalist is believed to be British and a senior Islamic State militant. Amidst the race to identify the jihadi, MPs are calling for a change in UK counter-terrorism measures.
James Foley, a US freelance journalist who was captured by militants in Syria in 2012, was killed by the Islamic State (IS, formerly ISIS/ISL) militant in a video that was broadcast around the world on Tuesday night.
The suspected killer was named by a former hostage as "John" and described by David Cameron as likely to be a British citizen.
The video is thought to have been filmed on the outskirts of Raqqa, an IS stronghold in northern Syria. Former hostages linked the British jihadist to a group of four British men charged with guarding Western hostages, dubbed 'The Beatles' for the Islamic State (IS), formerly known as ISIS or ISIL.
The Home Office declined to confirm that the man is of British Pakistani origin, as some speculated, or involved in a group guarding Western hostages.
Britain's three intelligence agencies – MI5, MI6 and GCHQ – are working together to try to identify the jihadi. MI5 officers are said to be checking their databases for movements and acquaintances or friends, which could point to the killer and his origins.
GCHQ is using voice-recognition technology to try to identify the man who recorded a video showing Foley's decapitation, the Guardian reports.
Counter-terrorism police are understood to be concentrating on local intelligence, hoping to get information from the Muslim and Asian communities.
A former director of global counter terrorism operation said it is only a matter of time before the British jihadi is identified, as people from "the community from which this man comes" in the UK decide he must be "brought to justice."
Richard Barrett, a former head of Terrorism Operations for MI6 at the time of the 9/11 terrorist attacks, said "sooner or later" the murderer will be arrested and brought before the court.
Barrett said, "They will be able to identify him […] and I think the community will be able recognize this person and I am sure many in the community will be keen to do so."
"I don't think anyone is prepared to forget this sort of crime and therefore the long arm of justice will eventually catch him," he added.
Some experts say that the British jihadist could be a senior Islamic State member, as he carried out the beheading. Beheadings have usually been carried out by senior individuals. Al Qaeda member Khalid Sheikh Mohammed, the 9/11 mastermind, beheaded US journalist Daniel Pearl in Pakistan in February 2002, and Abu Musab al-Zarqawi, the former leader of Al-Qaeda in Iraq, is thought to have killed two US hostages, Nick Berg and Eugene Armstrong, in Iraq in 2004.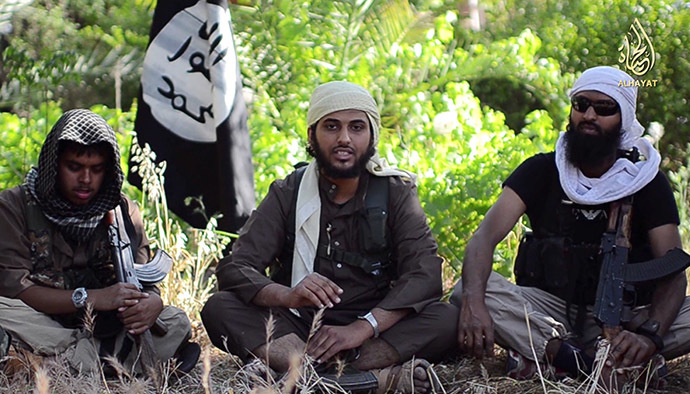 Suspects probed in London
Meanwhile, an NHS doctor from East London could now prove vital in the race to identify the British jihadi, according to the Daily Telegraph.
Shajul Islam was arrested and charged with kidnapping two Western journalists in Syria, including British journalist John Cantlie, in 2012. In November 2013, the British government released and dropped all charges against Shajul Islam after Cantlie was unable to give evidence.
Islam, from East London, was alleged to have been part of a jihadist group which held the men.
The British government also charged his older brother Najul in 2012 for helping Shajul prepare for the abductions, as well as his associate Jubayer Chowdhury, for participating in false imprisonment. Charges against those two men were also dropped. Islam insisted he was innocent, saying he went to Syria to use his medical skills to treat victims of the civil war.
Shajul's younger brother Razul, 21, also travelled to Syria and is believed to be waging jihad. Razul Islam is said to be on a list of suspected British Jihadists whom the security services are comparing with the footage of Foley's killer.
Investigators are now trying to establish whether Shajul Islam may have information about the identity of the executioner.
1,500 Brits waging Jihad?
While the government scrambles to identify the militant behind Foley's death, a British MP said the government estimate that only 400 or 500 Britons have travelled to fight in Syria is "nonsense." Khalid Mahmood, MP for Perry Barr in Birmingham, told Newsweek that he estimated at least 1,500 young British Muslims have gone to wage jihad since 2011.
MPs from all parties are pressing for a debate on measures that could be taken to prevent radicalization at home. In the face of an Islamist threat, Lord Carlile, the UK government's former counter-terrorism adviser called for a reintroduction of Control Orders. These kept terrorism suspects in their homes without access to phones or internet.
Control orders were introduced in 2005 by Tony Blair and allowed terrorism suspects who had not been convicted to be tagged and ordered to report to police.
These controversial measures should be reinstated to prevent potential jihadists committing attacks in Britain, Lord Carlile said.
Meanwhile, US Defense Secretary Chuck Hagel on Thursday warned that the Islamic extremists who executed the American journalist are "beyond anything that we've seen, so we must prepare for everything."
"[ISIS] is as sophisticated and well-funded as any group that we have seen. They're beyond just a terrorist group," he said. "They marry ideology, a sophistication of strategic and tactical military prowess. They are tremendously well-funded."
On Wednesday, the Pentagon revealed that US Special Forces went into Syria earlier this summer as part of a secret mission to free Western hostages held by IS militants, but they could not find them and had to withdraw.