ISIS spokesman who pledged to 'raise flag of Allah' in US is dead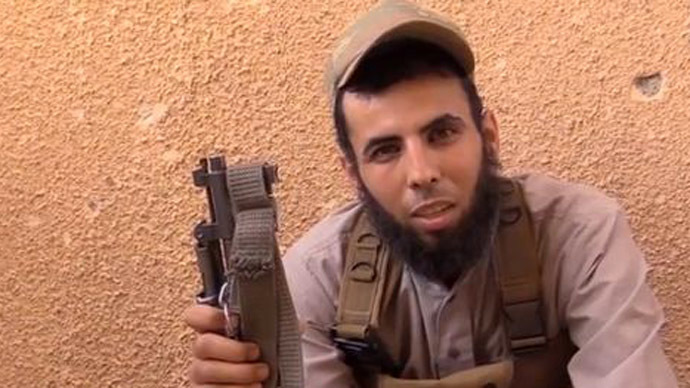 The Islamic State spokesperson who threatened the United States by pledging to "raise the flag of Allah" over the White House has been killed.
According to the US State Department, Islamic State rep Abu Mosa was killed in Syria during an attack at the Tabqa Airbase. This battle apparently involved forces under the Syrian government of Bashar Assad, which is in the midst of a deadly civil war that has raged for three years now.
The self-proclaimed Islamic State, a radical extremist group composed primarily of hardline Sunni Muslims, first came to prominence in Syria as various rebel forces launched a campaign against Assad. Since gaining strength, the organization – also known as ISIS or ISIL – has pushed into Iraq and other countries.
"An #ISIS leader and press officer both killed in Tabqa Airbase attack in #Syria," read a tweet by the State Department's @ThinkAgain_DOS account, which is intended to report "some truths about terrorism" and deter individuals from joining violent Islamic groups.
The account did not specifically name Mosa as the deceased press officer, but it did attach an image of him.
An #ISIS leader and press officer both killed in Tabqa Airbase attack in #Syria#thinkagainturnawaypic.twitter.com/hEyv6CJ2Fn

— Think AgainTurn Away (@ThinkAgain_DOS) August 21, 2014
Meanwhile, the UK-based Independent is reporting that a pro-Islamic State Twitter account has confirmed Mosa's death. The tweet also includes a picture of the man, and reportedly reads, "This brother Abu Moussa was martyred during missile clashes" with the Syrian army.
Mosa first made headlines around the world during an interview with VICE Media, when he threatened to wage war against the United States, even on its own soil.
"I say to America that the Islamic Caliphate has been established," he said during a documentary prepared by the outlet. "Don't be cowards and attack us with drones. Instead send your soldiers, the ones we humiliated in Iraq."
"We will humiliate them everywhere, God willing, and we will raise the flag of Allah in the White House," he added.
The news comes just a few days after video surfaced showing a masked, English-speaking Islamic State member behead American photojournalist James Foley. The brutal murder has sparked condemnation from around the globe, as well as discussion over whether or not the US needs to step up its campaign against the extremist group in Iraq and, possibly, its strongholds in Syria.
As RT reported on Thursday, Defense Secretary Chuck Hagel called the threat posed by the Islamic State "beyond anything that we've seen," noting it could potentially pose an even bigger threat than Al-Qaeda. Hagel said US airstrikes have helped Iraqi and Kurdish forces push back militants, but General Martin Dempsey added that they could not be defeated "without addressing that part of the organization that resides in Syria."
You can share this story on social media: