Secret Service investigating photo of Islamic State flag outside of White House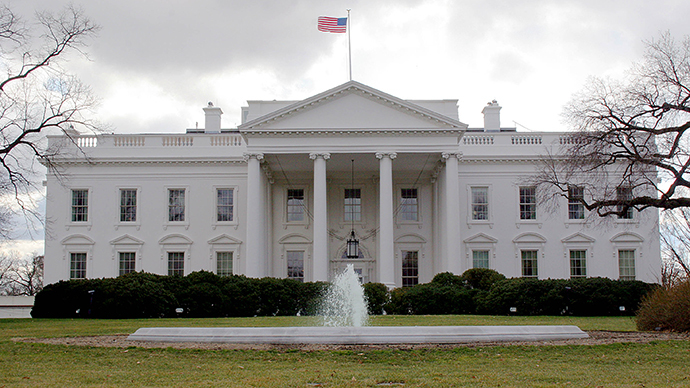 A recent social media posting believed to be a message supporting the Islamic State militant group sent from outside of the White House has attracted the attention of the United States Secret Service.
Ed Donovan, a spokesperson for the federal law enforcement agency, told ABC News that the Secret Service is "aware" of a photo tweeted on August 9 that appears to show the flag of the group formerly known as the Islamic State in Iraq and Syria, or ISIS, displayed on a smart phone being held near the fence on the north side of the presidential residence in Washington, DC.
"We have an intelligence division whose mission is to assess information that we receive every day for dangerousness or potential threat level," Donovan told the news network. "We are aware of the image and will take the necessary and appropriate follow up steps."
The image was one of two attached to a tweet sent last week by Twitter user @Sunna_rev, alongside another photograph of a handwritten note in Arabic, dated June 20, 2014, taken outside an unknown building adorned with American flags.
#AmessagefromISIStoUS We are in your state We are in your cities We are in your streets You are our goals anywhere pic.twitter.com/1EYMgCWJse

— قهر الطواغيت (@Sunna_rev) August 9, 2014
"Soldiers of the Islamic State of Iraq and Syria will pass from here soon," ABC News translated the note, which is accompanied by a Koran verse that reads: "and Allah is perfecting His Light even though the disbelievers hate (that)."
The tweet itself included both images along with a message in English:
"We are in your state / We are in your cities / We are in your streets."
According to an unnamed senior US intelligence official who spoke to ABC, Twitter use is consistent with ISIS tactics, but the authenticity of the images has not been verified. Nevertheless, the @Sunna_rev Twitter account has continued to post social media dispatches as recently as Friday this week.
Twitter investigations are nothing new for the US Secret Service: in 2012, the agency opened a probe on a 16-year-old girl who tweeted that "Someone needs to assassinate Obama . . . like ASAP," and Days earlier police in North Carolina arrested a man who announced plans to kill the president over the popular social media site, the Cincinnati Enquirer reported. But on the heels of the Obama administration's decision to launch targeted air strikes against the Islamic State, however, the Secret Service might go about differently investigating alleged ISIS sympathizers believed to be on American soil.
Abeer Najjar, a professor of mass communication at the American University of Sharjah, told Al-Arabiya News this week that social media "increases their [ISIS] vulnerability, making them subject to surveillance and facilitate uncovering more information about their members and perhaps operations."
Posts advocating attacks and advertising the exploits of the group have been shunned elsewhere though, particularly graphic images tweeted showing beheadings and other gruesome killings perpetrated by Islamic State soldiers. Last week, Vice News reported from Iraq that an Islamic State spokesperson told the outlet that they intended to take their campaign to the US.
"We will humiliate them everywhere, God willing, and we will raise the flag of Allah in the White House," spokesperson Abu Mosa said.