Cop suspended over Facebook post branding Ferguson protesters 'rabid dogs'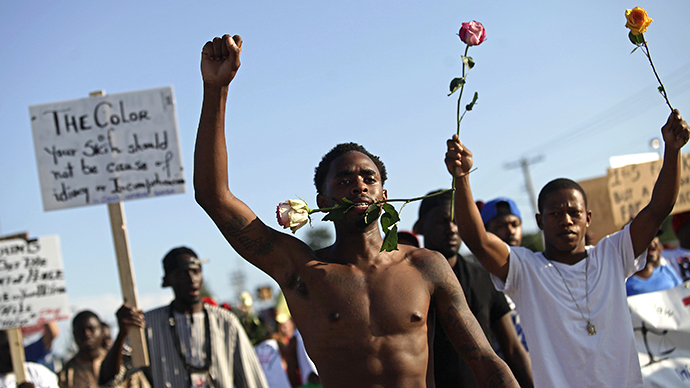 ​A police officer in a St. Louis suburb has been suspended over a series of Facebook posts, insulting Ferguson protesters, who have been rallying in condemnation of the shooting of an unarmed black teenager by a white police officer.
Crowdfunding campaign for officer who shot unarmed teenager spurs controversy
The police department in Glendale, Missouri, announced in a Friday statement that it had suspended police officer, Matthew Pappert, due to "several very concerning and inappropriate posts on his personal Facebook page."

"I'm sick of these protesters," one of the posts says. "You are a burden on society and a blight on the community." The screenshots of an apparently deactivated account have been obtained by The Daily Caller.

"These protesters should have been put down like a rabid dog the first night," Pappert says in another post.
Glendale, MO cop Matthew Pappert. #Fergusonpic.twitter.com/HjnbHdLxiO

— 3ChicsPolitico (@3ChicsPolitico) August 23, 2014
The Glendale police learnt of the posts on Friday morning and immediately launched an investigation into the matter, according to a statement by Police Chief Jeffrey Beaton, who specified the views expressed in the posts were not shared by the department.

"The matter is being taken very seriously and a thorough internal investigation will be conducted to determine why the posts were made," the statement added.

A press photographer, covering the Ferguson protests, recognized Pappert as one of the police officers summoned to the scene to handle the unrest. The journalist recalled Pappert threatening journalists with a night stick.

"He was ready to swing at us," the photographer told AFP.
Watchdog groups slam Ferguson police 'harassment' of reporters
Mathew Pappert is not the only police officer suspended amid the Ferguson protests.

Another St. Louis-area police officer, Dan Page, was also suspended on Friday over a controversial YouTube video. It was likely done two years ago, but got into the spotlight recently, after a CNN reporter Don Lemon, who complained of Page pushing him, brought it to the department's attention.

"I personally believe in Jesus Christ as my lord savior, but I'm also a killer. I've killed a lot. And if I need to, I'll kill a whole bunch more. If you don't want to get killed, don't show up in front of me, it's that simple," Page says in an hour-long presentation, which also includes incendiary comments on minority groups, women, liberals and politicians.
The case of Page, a 35-year veteran of the police department, will now be reviewed by the internal affairs unit.

"With the comments on killing… that was obviously something that deeply disturbed me immediately," St. Louis County Police Chief Jon Belmar told the St Louis Post-Dispatch.

Earlier this week, a suburban St. Louis police officer, Ray Albers, was suspended indefinitely for threatening to kill protesters and journalists in Ferguson, Missouri. He was caught on camera while pointing a rifle in the crowd's direction during a demonstration this week.

18-year-old Michael Brown was shot and killed by a police officer on August 9 in Ferguson, a St. Louis suburb. Brown's death sparked massive protests in the area. Many of those ended in clashes with police using tear gas and rubber bullets to disperse the rallying crowds.
You can share this story on social media: