Cop suspended for threatening to kill Ferguson protesters, journalists (VIDEO)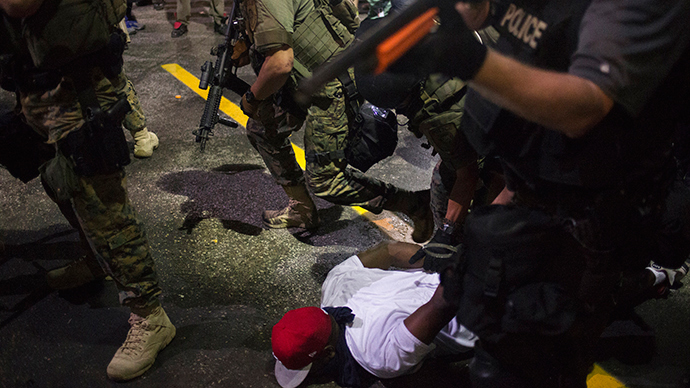 A suburban St. Louis police officer has been suspended indefinitely for threatening to kill protesters and journalists in Ferguson, Missouri while he pointed a rifle in the crowd's direction during a demonstration this week.
Lt. Ray Albers, 46, a 20-year police veteran, was caught on film by livestreamers yelling at protesters and journalists, "I will fucking kill you, get back, get back," with his rifle aimed on them, urging the crowd to disperse from the area. The incident occurred late Tuesday night amid civil unrest over the killing of unarmed black teenager Michael Brown by white Ferguson police officer Darren Wilson.
Albers yelled, "Go fuck yourself," when asked his name by livestreamers. A superior county officer quickly defused the situation, the St. Louis County police department said, pulling Albers back from the crowd.
The sergeant "immediately took action, forcing the officer to lower the weapon and escorting him away from the area," a statement from the county department said.
Albers has been placed on indefinite, unpaid suspension from the force pending an investigation.
SUCCESS! In response to our letter, officer who threatened to kill #Ferguson protesters has been removed from duty https://t.co/53WP8Ht0Mu

— ACLU of Missouri (@aclu_mo) August 20, 2014
While none were hurt in the confrontation, the incident has become emblematic of the militarized, often punitive police response to local outrage over the slaying of Brown, 18.
Missouri Highway Patrol Captain Ron Johnson, lead officer on the ground in Ferguson, said the decision to suspend Albers was an obvious move.
"The minute we knew about that, we identified him," he said, according to Reuters.
"We contacted his department, notified his department that he would be relieved from, to respond to be a part of this incident, that that behavior was not going to be tolerated and, [in] my personal opinion, I felt that that behavior disrespected his uniform."
St. Ann Police Chief Aaron Jimenez told The Huffington Post that Albers was upset over the incident and "should have known better."
"It's frustrating, because we told [our officers] before we went down there that there would be lots of people trying to antagonize to provoke them into saying something," Jimenez said. "Whether you're a pedestrian or protesters, you have to be professional, and [Albers'] actions weren't in any way, shape or form."
Though Jimenez said the officer's behavior was inexcusable, he added that Albers was justified in raising his weapon in a supposedly volatile situation.
"He saw three to four suspects with bandanas on, and saw one of them raise a gun towards him," Jimenez said. "That made him draw his weapon up to the crowd, and he was scanning and moving that weapon back and forth, trying to assess the scene. ... Him seeing the gun in the crowd, he had every right to protect himself in fear of danger until he assessed the scene."
Jimenez said he was "highly angry and upset" that Albers refused to give his name when asked by those filming.
"When he was asked the name, you need to be giving your name so they know who to contact," Jimenez said. "So when he said, 'Go F yourself,' that was uncalled for too."
Albers served four years in the United States Army, according to The Huffington Post. He will be subject to a psychological evaluation next week.
For its part, the county police department released a statement condemning Albers' behavior.
"The unified command strongly feel these actions are inappropriate, and not indicative of the officers who have worked daily to keep the peace," the police statement said.
Meanwhile, ongoing protests continued in Ferguson on Wednesday evening, though demonstrations were much calmer than days previous. Protesters and clergy members urged the crowd to keep moving as they marched up and down West Florissant Avenue, the epicenter for protests in the St. Louis suburb of around 21,000 residents. Rain and high temperatures may have contributed in keeping crowds from congregating.
As of early Thursday morning, police said six people had been arrested, according to St. Louis Public Radio. Forty-seven people were arrested the previous night, and the Washington Post reported that 155 individuals have been arrested in all during more than a week of daily demonstrations.
US Attorney General Eric Holder was in Ferguson on Wednesday to meet with the family of Michael Brown, in addition to meetings with local officials, college students, community leaders and the US Justice Department team tasked with conducting a federal investigation of the fatal Aug. 9 shooting.
In remarks released by the Justice Department, Holder told area leaders that, as an African-American, he can understand the community's frustration.
"I understand that mistrust. I am the attorney general of the United States. But I am also a black man," Holder said. "I can remember being stopped on the New Jersey turnpike on two occasions and accused of speeding. Pulled over…. 'Let me search your car'… Go through the trunk of my car, look under the seats and all this kind of stuff. I remember how humiliating that was and how angry I was and the impact it had on me."
A spokesman for US Rep. William Lacy Clay (D-Missouri), US congressman for the Ferguson area, said that the Holder spent 90 minutes in a confidential session with Clay, Missouri Gov. Jay Nixon, US Sens. Roy Blunt (R-MO) and Claire McCaskill (D-MO) and US Rep. Emanuel Cleaver (D-MO) of Kansas City, St. Louis Public Radio reported.
"As I have said before, I continue to have serious concerns about the local criminal investigation," Clay said in a statement after the meeting, which included discussion of both local and federal probes. "But I have complete confidence in the federal team that is working this case."
Clay added that he told Brown's mother "that we would focus every possible federal resource to bring justice to her family, and I intend to keep that promise."
You can share this story on social media: