Nearly four-dozen arrested in Ferguson on eve of attorney general's visit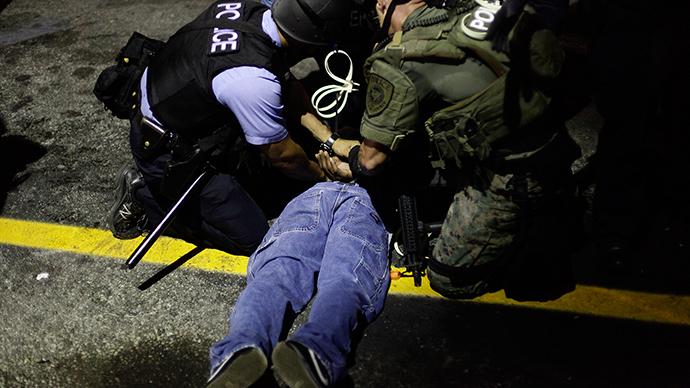 A relatively calm evening gave way to the arrest of 47 protesters early Wednesday morning in Ferguson, Missouri, marking the eleventh night of demonstrations touched off by the killing of an unarmed black teenager by a local police officer.
Attorney General Eric Holder is due to visit the majority-black St. Louis suburb at 11 a.m. local time for an update on the federal civil rights investigation concerning the fatal shooting of Michael Brown, 18, on August 9 by Darren Wilson, one of 50 white Ferguson police officers on a 53-member force. Wilson has been kept in seclusion since it was revealed he was the shooter, while Brown's family and supporters have pressed for his arrest in the slaying.
In a letter to the Ferguson community published by the St. Louis Post-Dispatch, Holder stressed that the US Department of Justice probe will be fair and independent of the concurrent investigation being conducted by local authorities.
"This is my pledge to the people of Ferguson: Our investigation into this matter will be full, it will be fair and it will be independent," he wrote. "And beyond the investigation itself, we will work with the police, civil rights leaders and members of the public to ensure that this tragedy can give rise to new understanding — and robust action — aimed at bridging persistent gaps between law enforcement officials and the communities we serve."
Holder added that he has assigned about 40 FBI agents to the case, as well as prosecutors in the US Attorney's Office in St. Louis. He said hundreds of people have already been interviewed in the investigation.
An independent autopsy of Brown, the third since his killing, has been conducted by federal medical examiners, Holder said.
Meanwhile, the St. Louis County prosecutor's office is expected to begin presenting evidence to a grand jury investigating the shooting.
"We are going to attempt to start giving evidence to the grand jury (Wednesday), depending upon the ability to get the witnesses in and the witnesses showing up," said Ed Magee, spokesman for St. Louis County Prosecutor Robert McCulloch. "It will be handled by the attorney regularly assigned to the grand jury. It will not be by Mr. McCulloch."
'Like charging bulls, weapons drawn'
Demonstrations in Ferguson were, overall, more subdued and less in number on Tuesday evening compared to previous nights, according to reports. Many citizens and protesters left the streets by sunset, as requested by local officials.
But Missouri Highway Patrol Capt. Ron Johnson, who assumed leadership of law enforcement in Ferguson last Thursday after criticism of local authorities' handling of the protests, said "criminals and agitators" had threatened police, throwing glass and plastic bottles, some filled with urine, from behind members of media present to witness the demonstrations.
As tensions increased, many community activists and clergy rushed to stand between the long line of police and the gathered demonstrators, forming a human chain to separate the two sides.
Nevertheless, agitated by those few protesters, the heavily-armed police force charged into the crowd to make arrests, according to reports.
"In all my life I have never been so terrified," said activist Davey D in describing what he experienced after the water bottle was thrown at police.
"I saw them raising their batons and getting in formation," he wrote. "[W]e saw a water bottle, plastic water bottle being thrown, people kind of looked up, turned back to what they were doing talking etc.…and the next thing police came at us like charging bulls, weapons drawn, screaming, causing mass confusion 'leave the area now!' 'Don't move!'"
He said he and others with him tried to flee.
"As we were running the police came from all directions and locked us down. The threats, their eyes, postures, weaponry says it all, we have the power, we don't care how many cameras there are we will never have to be held accountable. This is one of account of a small group of us. If young people of color did not know where they stood, they surely know now and they told us as much."
Davey D called the scene at Ferguson "a war zone, a military occupation and our children are the cannon fodder."
In all, 47 people were arrested and three loaded handguns were confiscated by police from Tuesday night into early Wednesday.
"Protest crowds were a bit smaller, and they were out earlier," Johnson said a news conference held at about 2:15 a.m. local time Wednesday morning, praising local leaders for the relative calm.
Johnson added that no protesters had thrown Molotov cocktails or fired bullets at police. No tear gas or smoke bombs were fired by police, though some demonstrators were sprayed with mace at the end of the night.
About 10 observers from the human rights group Amnesty International were present at the demonstrations, the Post-Dispatch reported.
Prior to the 47 arrests following Tuesday night's protests, the St. Louis County police department had reported that about 120 people had been arrested so far in association with the Ferguson demonstrations. Yet there has been some controversy as to the County police's claims, as records analyzed by NBC News found that there were at least 78 arrests - mostly Missourians - on Monday night; the county had claimed during the night that 31 arrests had been made.
Kyle Niere, of Ferguson, was arrested Monday for refusal to disperse. He told NBC News that he was pulled from his truck by officers as he was trying to drive away from the protests.
"They drug us all out," said Niere, 23, of he and 11 others arrested on the spot. "Face-first on the ground, stepping on the back of our heads. They're being brutal for no reason. None of us were violent. We were just there."
The racially-charged turmoil unfolding in Ferguson has raised myriad questions of police brutality - especially against minority communities - and law enforcement's heavy-handed, militarized response once tensions over Brown's killing turned into protests near the site of his death.
On Tuesday, the United Nations' top human rights official, Navi Pillay, criticized police for its aggressive suppression of protests.
"I condemn the excessive force by the police and call for the right of protest to be respected," Pillay, a native South African, said in Geneva, according to Reuters.
Ferguson's population of around 21,000 is two-thirds black, though its political leadership and public education administration, in addition to its police force, are predominantly white.
A funeral service for Brown is now scheduled for Monday. An independent autopsy arranged by his family found that he was shot six times, twice in the head.
Officer Wilson has not made a public statement on the killing. Investigators said he has been cooperative with the investigation thus far.
You can share this story on social media: