Ferguson: Dozens arrested, reporters detained, assembly rights restricted
Confrontation resumed on Monday night in Ferguson, Missouri, as police used tear gas to disperse protesters. Live ammo was shot in the altercation, with two people injured. Over 70 people, including a journalist, were reportedly arrested.
Protests over the killing of teenager Michael Brown on August 9 by a police officer continued into their ninth day. Police were telling people not to congregate unless they were in protest-designated areas, a policy needed to protect Ferguson from a "criminal element," it was explained.
Militarized US police face-off with Ferguson protesters LIVE UPDATES
"We are not going to let groups congregate and build into larger groups because that's what causes problems," Captain Ron Johnson, who is in charge of security in the neighborhood, told reporters in a press briefing Monday night.
"Because what happens is, the peaceful protesters gather, and the other element blends in. Now they blend in, and that's what's been causing us some issues. So by allowing them to walk, that's not going to let the other element blend in and define this group."
Police said they arrested at total of 31 people on Monday. However, jail records obtained by NBC News show that at least 78 people were seized.
Among them was Getty Images photographer Scott Olson, who was seen with cameras around his neck and hands bound behind him being walked out by the police.
Also a live report by CNN correspondent Don Lemon was somewhat disrupted by a police officer, who was ordering the journalists and a group of protesters around him to move along.
Several protesters just arrested downtown #StL including this woman for "blocking the entrance" #fergusonpic.twitter.com/3Pjka8j0Tz

— Chris Stanford (@StanfordKMOV) August 18, 2014
In neighboring St. Louis, Hedy Epstein, a 90-year-old Holocaust survivor and political activist was arrested in front of Missouri Governor Jay Nixon's office, where a rally of solidarity with Ferguson protesters was held.
The violence erupted after dark. Police fired tear gas canisters and bean bags to disperse protesting crowds. The demonstrators hurled projectiles at the officers.
There were also reports of live rounds shot from the protester side, with police saying two civilians were injured by gunfire and taken to hospital. Four officers were reported injured by stones thrown by protesters.
Rapper Nelly joins rally in riot-hit Missouri town of Ferguson http://t.co/rsWDFK0nWUpic.twitter.com/cm5uF9CYkD

— ITV News (@itvnews) August 19, 2014
By midnight police were telling people to clear the streets unless they had media clearance and for the media to go to an area allocated to them. This was despite Missouri Governor Jay Nixon lifting a curfew in Ferguson which had been in force in the previous days.
The authorities also banned low-flying aircraft over the neighborhood, which prevented news channels covering the events from sending their helicopters to the scene.
National Guard troops, which had been sent to Ferguson on Sunday, were keeping a distance from the protesters.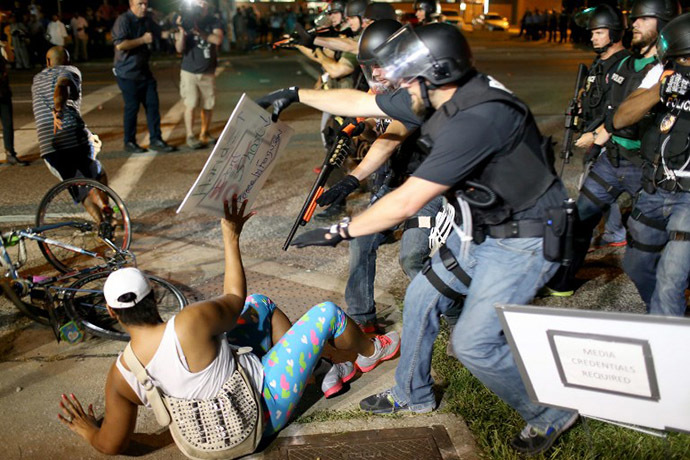 President Barack Obama announced that Attorney General Eric Holder will travel to Missouri on Wednesday to investigate the situation.
"While I understand the passions and the anger that arise over the death of Michael Brown, giving in to that anger by looting or carrying guns, and even attacking the police, only serves to raise tensions and stir chaos," Obama told a news conference. "It undermines, rather than advancing, justice."
Holder for his part said more than 40 FBI agents were involved into the investigation into the turmoil in Ferguson. And that additional medical examination of Michael Brown's body has been ordered.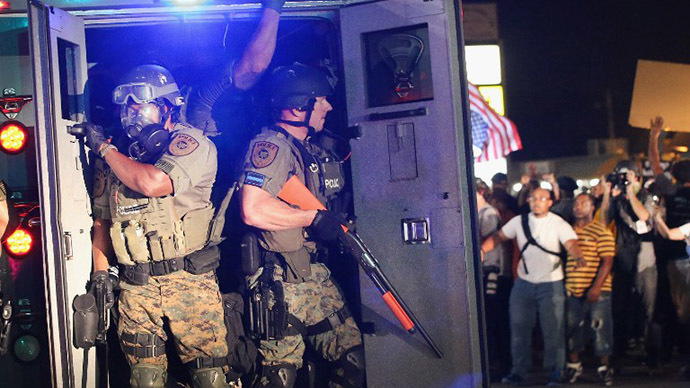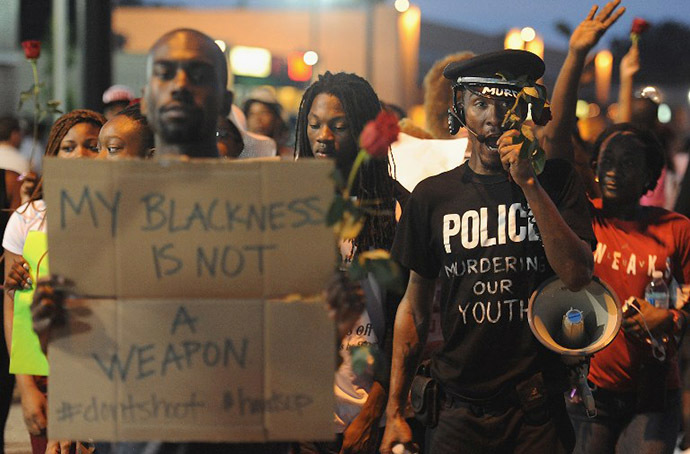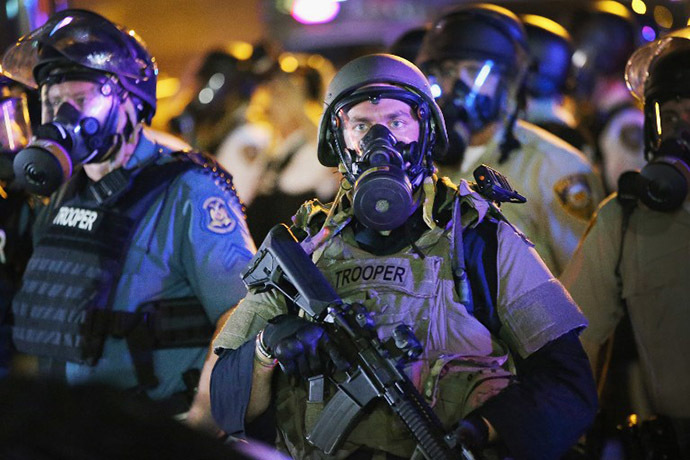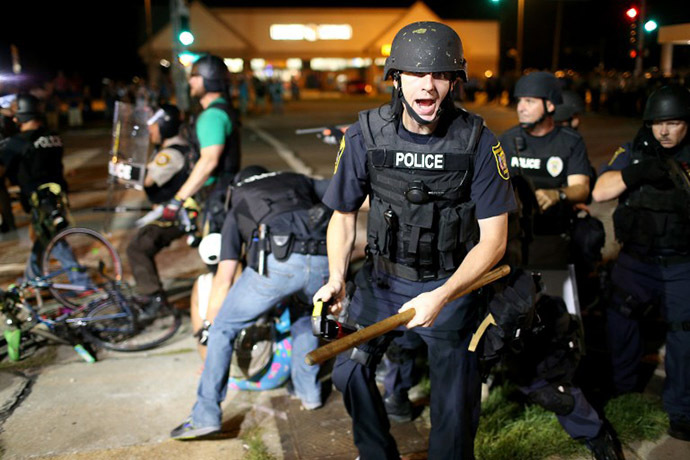 You can share this story on social media: