Watchdog groups slam Ferguson police 'harassment' of reporters
As tensions continue to simmer following nine days of street protests in Ferguson, Missouri, where a teenager was shot dead by a police officer, two watchdog groups have slammed the heavy-handed police tactics.
To compound the physical and mental strain of reporting on the weeks-long protests in Ferguson, where the public is desperate for justice after a white police officer shot black teenager Michael Brown to death, journalists themselves are finding themselves the target of police tear gas, rubber bullets and flash bang grenades.
However, Robert Mahoney, Deputy Director of the Committee to Protect Journalists (CPJ), said the police tactics would not prevent reporters from doing their jobs.
"Ferguson is an international story and journalists are going to cover it. They have a right to do so without fearing for their safety or liberty," Mahoney said. "The harassment and detention of reporters must stop. From senior commanders on down, the word must go out to security forces to let journalists do their job."
CPJ also released a guide for journalists on how to stay safe while covering events in Ferguson.
Attention journalists covering #Ferguson: stay safe; please read our #JournoSecurity Guide section on protests http://t.co/mqUDKtH5bC

— CPJ (@pressfreedom) August 20, 2014
Jasmine Heiss, an observer with Amnesty International, expressed concern over reports that journalists were being tear-gassed while performing their jobs.
"Just last night I've heard several journalists and community say that either gas was thrown at them while they were reporting, or, in the case of the community members that gas was thrown into residential neighborhoods while they were walking," Heiss told RT.
"Increasingly repressive tactics [are] being used to curtail free speech," she added.
Six journalists were detained by police while covering the protests on Monday and early Tuesday, compelling the American Society of News Editors to describe the incidences as a "top-down effort to restrict the fundamental First Amendment rights of the public and the press."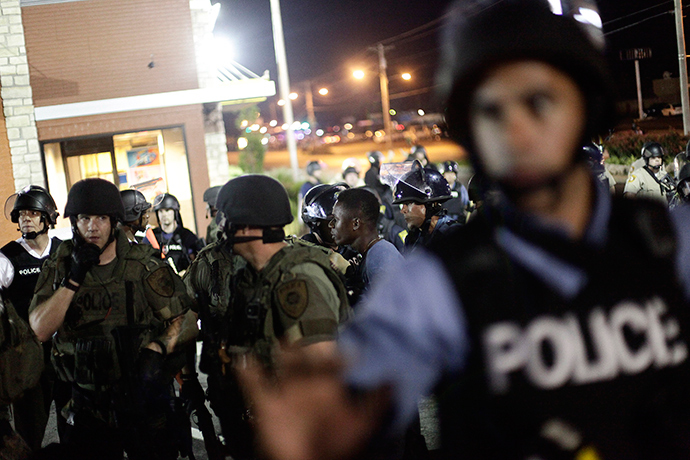 According to CNN, 11 journalists have been arrested in the course of the protests, which have thrown a glaring spotlight on US race relations, not to mention military-style police equipment and tactics now being deployed on the streets of America.
Police were caught on video firing a tear gas canister that exploded directly in front of an Al Jazeera America crew, causing the reporters to discard their camera equipment and flee the fumes.
In another heated encounter, a police officer is actually caught on video telling journalists, "I'm going to f***ing kill you!"
Shock Video: Cop points gun, threatens to kill Infowars reporters - http://t.co/Ag1RuWgNA9#Ferguson@Rambobiggs@MikaelThalen

— Paul Joseph Watson (@PrisonPlanet) August 20, 2014
Meanwhile, social media accounts have exploded with real-time proof of the "severe press intimidation," as the Huffington Post described the heavy-handed tactics, where Ferguson police fired at journalists with rubber bullets and flash bang grenades, in some cases preventing media from leaving their vehicles for fear of being targeted.
Reporters in #Ferguson being held hostage in vehicles, not allowed to leave, having flashbangs fired at them. #PoliceState

— Li'l Miss Rufflsack (@RagingRufflsack) August 14, 2014
German reporter Ansgar Graw and his colleague Frank Hermann were detained by police for taking photos of a burned-out gas station, close to the spot where Michael Brown was killed.
"I tried to take some pictures at a spot where before I think were taken several thousand photos of the same spot, and some police officers tried to shoot me and my colleague from Germany…but it was on Monday at 2 o'clock, it was perfect…there was no threat, no tensions were in the air," he told RT.
The journalist said the police told them they could photograph, but they had to continue walking otherwise they would be arrested. Despite complying with the police orders, Graw said they were still detained.
You can share this story on social media: