Press freedom? Police target media, arrest and teargas reporters at Ferguson protests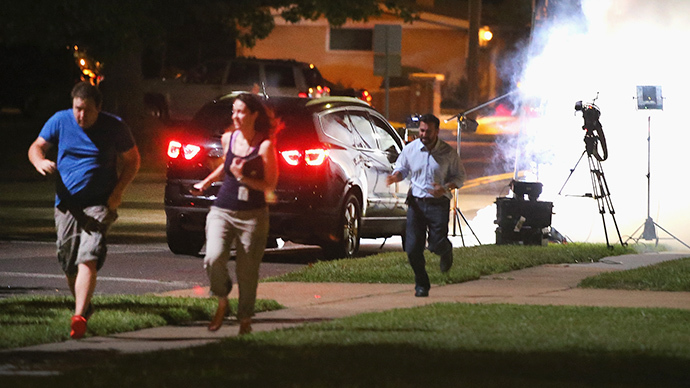 Two reporters were detained at the Ferguson protests, and police behaved as "soldiers" with the "enemy combatants," journalists said. Outrage over the incident spilled into both the media and social networks.
Wesley Lowery of the Washington Post and Ryan Reilly of the Huffington Post told AP they were working in a fast-food restaurant when Special Forces entered the premises and started clearing them out. Reilly tried to take a photo, and police demanded his ID, which he lawfully declined to provide. The officers detained him regardless, according to Huffington Post official statement, "for not packing up fast enough."
Tear gas is being fired in an American city and Maddow and Fox are covering immigration and CNN is doing Robin Williams #mediafail

— Michael Cohen (@speechboy71) August 14, 2014
The Al Jazeera- America crew was also attacked and tear-gassed by security forces as they tried to film the protest. The team had thought they had reached a safe area when they were tear-gassed, said Al Jazeera's Ash-Har Quraishi.
"The Al Jazeera crew were in a place we believed to be safe," he said. "Soon afterwards people started running toward us, saying they were being fired on with rubber bullets. Rubber bullets were fired on us, and then a canister. We had to retreat into the neighborhood."
PHOTOS: Police fire tear gas near Al Jazeera crew, then disassemble the gear after they flee. #Fergusonpic.twitter.com/It5FOxVWhB

— Cassidy Moody (@CassFM) August 14, 2014
"Al Jazeera is stunned by this egregious assault on freedom of the press that was clearly intended to have a chilling effect on our ability to cover this important story," the network said in a statement.
Full Al Jazeera America statement on "egregious assault on freedom of the press" in Ferguson: pic.twitter.com/cF77iYhzf5

— Michael Calderone (@mlcalderone) August 14, 2014
Top: Baghdad, Iraq - Bottom: #Ferguson, Missouri. pic.twitter.com/eEwWFnxq5G

— αηιs (@theblogpirate) August 14, 2014
Also in the statement, Huffington Post noted that according to Reilly, who reported from the notorious Guantanamo Bay military facility, "police resembled soldiers more than officers," and treated those inside the fast-food restaurant as "enemy combatants."
All in all, Huffington Post condemned "the false arrest and the militant aggression towards the journalists," saying that police militarization has become "among the most consequential and unnoticed development of our time, and is beginning to affect press freedom."
Police militarization is now a press freedom issue. HuffPost statement on the arrest of their reporter in #Ferguson: pic.twitter.com/bLWf26oKxM

— Freedom of the Press (@FreedomofPress) August 14, 2014
The Washington Post also called the arrest "illegal" and an "assault on the freedom of the press to cover the news."
Police just ordered media to turn off cameras. Bye bye freedom of the press, welcome freedom of the baton. #Ferguson

— Anony Owl (@HunterTheOwl) August 14, 2014
Apart from Reilly and Lowery, a citizen journalist known under the nickname Antonio French has been jailed for 24 hours, charged with unlawful assembly.
We were told to leave or we would be arrested. #Ferguson#MikeBrown I have never had a gun pointed at me. Let alone from a police officer.

— Bridjes O'Neil (@BridjesONeil) August 14, 2014
Protesters were outside the local police department demanding his release, according to witnesses. Five of them have been arrested.
Update about five protestors were just arrested outside the #Ferguson Police Station for refusing to leave. pic.twitter.com/vsl02oT7M7

— Yamiche Alcindor (@Yamiche) August 14, 2014
Protestors outside the jail demanding @AntonioFrench release #Fergusonhttps://t.co/XeKBgdpaLJ

— Toray (@IAm_Tori_) August 14, 2014
St. Louis alderman/citizen journo @AntonioFrench charged w/unlawful assembly & will be jailed for 24 hrs, per @KMOV: https://t.co/G7bupVEv7s

— Neetzan Zimmerman (@neetzan) August 14, 2014
Missouri governor Jay Nixon has urged law enforcement to respect the rights of residents and journalists.
Closely monitoring situation & will be in North STL Co tomorrow. Ask for calm & urge law enforcement to respect rights of residents & press

— Governor Jay Nixon (@GovJayNixon) August 14, 2014
On Thursday, US President Barack Obama condemned police treatment of journalists covering the protests in Ferguson during a speech in Edgartown, Massachusetts.
On Wednesday, protests in Ferguson turned violent, with police cracking down on the crowd with smoke bombs and tear gas, while the demonstrators responded by throwing Molotov cocktails and other objects at police, AP reported.
"I've had enough of being pushed around because of the color of my skin. I'm sick of this police brutality," an 18-year-old protester named Terrell told Reuters.
"I'm going to keep coming back here night after night until we get justice," he added.
Protests have been going on for several days, beginning over the fatal shooting of an unarmed black teen by a white policeman.
About 40 demonstrators have been arrested over the last four days.
There are calls on social networks for a protest in New York, Atlanta and other US cities.
@YourAnonNews Ready to start a protest in NYC #Ferguson please RT! Anyone in the NYC or tristate area who can get here tonite lmk

— Liam Weckerle (@liam_CK_OG) August 14, 2014
You can share this story on social media: