Crowdfunding campaign for officer who shot Michael Brown spurs controversy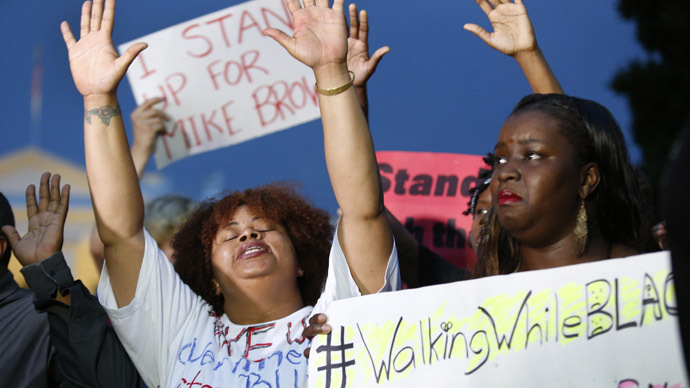 A crowdfunding campaign in support of the officer who shot unarmed 18-year-old Michael Brown is under fire as it has raised more money to date than all of the campaigns for the victim of the shooting combined.
Calls to have the website hosting the campaign, GoFundMe, take down thedonation page reached a fever pitch when the internet was alerted to the fact that many of the comments being left alongside donations were hateful and racist in nature. As of Friday, donations to Officer Darren Wilson stood at $234,910 after five days of activity.
A similar campaign for the Michael Brown family – set up on the same website – has raised just over $174,000 in nine days, while a separate fund established specifically for the Brown children had raised $1,136 in 10 days.
A separate campaign meant to support local journalists and keep the events in Ferguson, Missouri, in the news, meanwhile, has raised more than $13,000 so far.
Critics of the campaign for Wilson complained that it was unnecessary since the officer is still getting paid by the police department – he was placed on paid administrative leave following the incident involving Brown, in which the teenager was fatally shot up to six times. The shooting sparked protests against police brutality and excessive force in Ferguson, which are still ongoing.
"This page has been created to support Officer Darren Wilson of the Ferguson Police Department," the page originally read, according to Business Insider. "We stand behind Officer Darren Wilson and his family during this trying time in their lives. All proceeds will be sent directly to Darren Wilson and his family for any financial needs they may have including legal fees."
Additionally, when donations began flooding in, many were accompanied by racist comments, causing many on social media to accuse the campaign of violating GoFundMe's terms and conditions. The website specifically states that "items that promote hate, violence, racial intolerance, or the financial exploitation of a crime" are prohibited.
Wilson has not been charged with a crime over Brown's death, however, and it is unclear if he will be. The website eventually disabled the comments on the page, but stated that it's a "neutral platform" and the campaign would not be removed.
Others, meanwhile, noted that GoFundMe collects five percent of all the money raised in a campaign, suggesting it may be why the page was never taken down.
The Darren Wilson @gofundme campaign is now up to $200K. @gofundme's 5% take is $10K. Blood money from the murder of a child. Disgraceful.

— Mike Monteiro (@monteiro) August 22, 2014
On Friday, the page supporting Wilson was removed anyway, but not by GoFundMe. Instead, the organizers who set up the campaign stopped taking donations in order to launch another page, which accepted donations for Wilson through a charity that Buzzfeed found to be linked to a police union called Lodge 15 of the Fraternal Order of Police.
The new page states that all previously collected funds will still be delivered to Wilson:
"Please know that all funds received from our events, this GoFundMe site and our TeeSpring campaign will be donated to Officer Darren Wilson, and in the future, donations will still be donated to Officer Wilson, but will be tax deductible for donors as well."
So far, the new campaign for Wilson has raised more than $31,000.
You can share this story on social media: