Police lobbies pressure Congress to keep their military equipment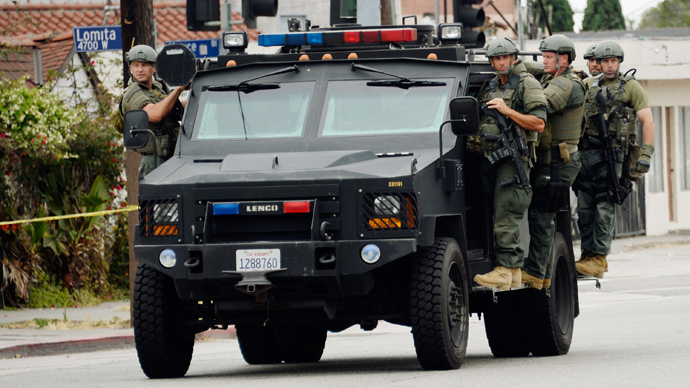 As lawmakers in Washington, DC, consider ways to stem the flow of military equipment to local law enforcement agencies, police lobbies and organizations are firing back at the possibility.
In fact, the National Tactical Officers Association (NTOA) – which lobbies for 1,600 different SWAT teams in the United States – has already sent emails to all congressional staffers urging them to keep in place the Pentagon program responsible for sending armored vehicles, body armor, and more to police departments around the country.
"The police have to be one step ahead of the criminal element, have to be prepared for the worst-case scenario. You don't want a community to be taken over by one or many criminals," NTOA Executive Director Mark Lomax said to the Daily Beast. "We're definitely for equipping our law enforcement officials out there properly, with proper training and proper policies."
The move comes as protests against police in Ferguson, Missouri, continue weeks after the officer-involved shooting of 18-year-old Michael Brown. Brown was unarmed when he was shot multiple times by Officer Darren Wilson, sparking allegations of police brutality and excessive force.
Protesters have been met with an overwhelming show of force by police at various times over the last couple of weeks, with many shocking images featuring tear gas, police in riot gear, and hulking armored vehicles in the city's streets.
Although the use of armored trucks such as those that are mine resistant (MRAP) has drawn heavy criticism from observers as well as some policy makers, organizations representing law enforcement have balked at the idea of removing them.
"The presence of an MRAP for defensive positioning should not unnerve a law-abiding citizen," Jon Adler of the Federal Law Enforcement Officers Association told the Beast. "Police officers are human and bleed like everyone else. They deserve the best protection from violent assaults, and providing them with MRAPs or advanced body armor minimizes their exposure to serious injury or death."
However, recent moves from Congress seem to suggest that policy makers are growing uncomfortable with the kind of equipment making its way to police, and several are reportedly planning bills that would stop or restrict the 1033 program. Rep. Hank Johnson (D-Ga.) is hoping to introduce a bill limiting the transfer when Congress is back in session in September, and Kentucky Senator Rand Paul (R) may propose a bill banning the practice altogether.
There are also rumblings that House Republicans will defund the program, while Sen. Carl Levin (D-Mich.) issued a statement saying the Armed Services Committee would review it.
"Congress established this program out of real concern that local law enforcement agencies were literally outgunned by drug criminals," he said. "We will review this program to determine if equipment provided by the Defense Department is being used as intended."
So far, these proposals aren't drawing praise from police organizations. Lomax said that if there's a compromise to be had, it should involve improved training, which is not currently part of the 1033 program.
New training procedures could certainly help in some ways, something that was highlighted by the American Civil Liberties Union back in June. In a report on police militarization, the group specifically pointed to many training programs that urge officers to think of themselves as warriors on the frontlines of a battlefield.
"The militarization of American policing is evident in the training that police officers receive, which encourages them to adopt a 'warrior' mentality and think of the people they are supposed to serve as enemies," the report reads. It goes on to add that, moving forward, law enforcement should avoid any kind of program that encourages this mindset going.
You can share this story on social media: