US Marines perfecting autonomous evacuation and supply vehicle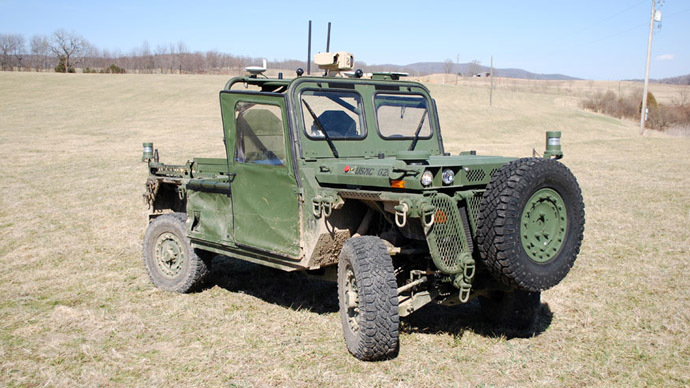 As the world's largest naval drills continue near Hawaii, the US Marine Corps says it has successfully tested a self-driving car capable of hauling supplies to troops and evacuating wounded soldiers.
Dubbed the "Ground Unmanned Support Surrogate" (GUSS), the vehicle was recently used in training exercises during the ongoing, multi-national Rim of the Pacific Exercise (RIMPAC). Evaluated alongside Marines at Oahu Island's Kahuku Training Grounds, it reportedly proved itself to be extremely handy in situations involving evacuation.
According to Fox News, the GUSS was designed and built by three different parties: TORC Robotics, Virginia Tech University, and the Naval Surface Warfare Center Dahlgren Division. The truck has been in the works for the past five years. The military said its platform-agnostic operating system could potentially be used in many kinds of vehicles going forward.
Here's how Fox's Gary Gastelu described the GUSS, which is equipped with advanced scanning systems, cameras, and mapping technology:
"In normal operation, the GUSS locks on to a beacon carried by a Marine and drives alongside a unit at a walking pace. It can haul up to 1,600 pounds of equipment like a four-wheel mule, including water, which reduces each Marine's burden by 40 pounds or more."
"An operator can program in a target location and send the GUSS to it, unmanned, at speeds up to 8 mph, to ship supplies to troops in need or to take the wounded away from the front lines for medical assistance. But it's unlikely that it would ever be left entirely unsecured when carrying equipment or injured troops."
The GUSS can even improvise as it makes its way to its destination, rerouting itself and backtracking in the event of hitting a dead end. If the tech itself fails to get the job done, the truck can use its communications systems to reach out to a remote operator who would then take over. If the GUSS needs to move fast, a Marine can also drive it as one would a normal vehicle.
Although the vehicle still has a few more years of testing ahead of it, the team behind it believes it could be combat ready before 2020.
The GUSS wasn't the only autonomous invention at RIMPAC this year, however. As RT reported previously, the military also tested out Boston Dynamics' hulking, four-legged robot called the "Legged Squad Support System." The robot can carry up to 400 pounds of supplies, and can travel over 20 miles in order to deliver its gear.
Meanwhile, the Army is also testing its own self-driving vehicle, the "Autonomous Mobility Applique System" (AMAS), which is designed to navigate dense urban areas. The military believes advanced robots and other machines could help offset any losses if combat teams shrink in the coming years.
You can share this story on social media: