​Pentagon debuts driverless vehicles, continues push into autonomous warfare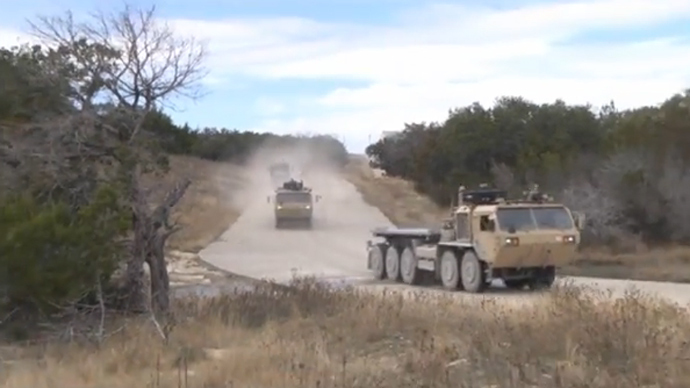 New autonomous-vehicle technology tested this month shows US Army's convoys - plagued by deadly improvised explosive devices in Iraq and Afghanistan - will soon be able to move through the fiercest combat zones without the risk of losing life.
The US Army Tank-Automotive Research, Development and Engineering Center (TARDEC) and weapons contractor Lockheed Martin first demonstrated earlier this month the Autonomous Mobility Applique System (AMAS) at Fort Hood in Texas. The technology gives full autonomy to convoy vehicles that must often traverse dense urban terrain, often posing great risk to military personnel.
The driverless system has shown the ability to "navigate hazards and obstacles including pedestrians, oncoming traffic, road intersections, traffic circles and stalled and passing vehicles," Wired reported.
Lockheed Martin integrated sensor technology and control systems with Army and Marine tactical-vehicle capabilities for AMAS, which the powerhouse weapons maker began in 2012 under an initial US$11 million contract. The versatile AMAS "is installed as a kit and can be used on virtually any military vehicle," according to Lockheed.
"The AMAS CAD [Capabilities Advancement Demonstration] hardware and software performed exactly as designed, and dealt successfully with all of the real-world obstacles that a real-world convoy would encounter," said Lockheed's AMAS program manager David Simon in a statement.
The capabilities of AMAS fall in line with the US military's drift toward autonomous warfighting. In addition to the US military's increasing reliance on unmanned aerial vehicles, or drones, the Pentagon has for years now tinkered with robotic warriors made to someday replace real life soldiers on the battlefield of the future, as RT has reportedextensively in the past.
Gen. Robert Cone, the chief of the Army's Training and Doctrine Command, said during a recent symposium that he thinks there's a chance the size of the military's brigade combat teams will shrink by a quarter in the coming years from 4,000 total troops down to 3,000. Picking up the slack, he said, could be a fleet of robotic killing machines akin to the ground versions of the unmanned aerial vehicles, or drones, increasingly used by the world's armies.
"[AMAS] adds substantial weight to the Army's determination to get robotic systems into the hands of the warfighter," said TARDEC technical manager Bernard Theisen.
Suicide bombers and the IED menace in Iraq and Afghanistan has pushed the Pentagon to find solutions for how warfare can be conducted without serious loss of life. In both war theaters, often cheap, homemade explosives made up for a significant portion of deaths and injuries among US troops armed with the most advanced weapons technologies in the world.
You can share this story on social media: