Army prepares to replace thousands of troops with military robots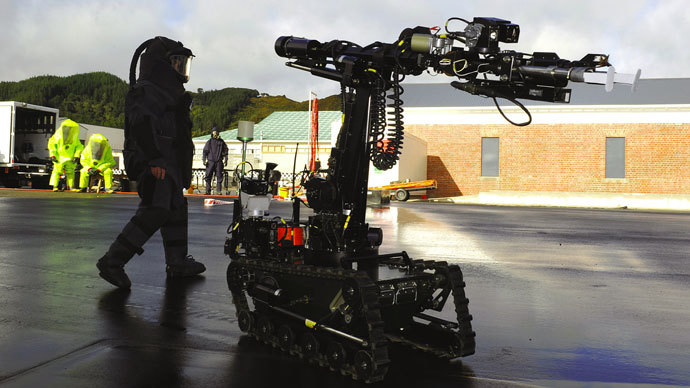 An all-out drone war seems inevitable given the rapid rate at which battlefield technology is advancing in this day and age, but a United States Army commander expects an arsenal of robotic warriors could be but a few years away.
Gen. Robert Cone, the chief of the Army's Training and Doctrine Command, said during a recent symposium that he thinks there's a chance the size of the military's brigade combats teams will shrink by a quarter in the coming years from 4,000 total troops down to 3,000. Picking up the slack, he said, could be a fleet of robotic killing machines akin to the ground versions of the unmanned aerial vehicles, or drones, increasingly used by the world's armies.
The Military Times' Paul McLeary was the first to report this week on remarks that Cone, a four-star general, made during the Army Aviation Symposium January 15 in Arilington, Virginia.
"I've got clear guidance to think about what if you could robotically perform some of the tasks in terms of maneuverability, in terms of the future of the force," Cone told his crowd, according to McLeary, adding that he also has "clear guidance to rethink" the size of those infantry squads, which currently are manned by nine troops apiece.
Brigade combat teams are the smallest units of decent size that can be sent into war on their own, Popular Science acknowledged. Even if they are limited to just nine troops apiece, however, trimming their size by a quarter and tacking on still in-the-works robotics could give those brigades unmatched ability on the battlefield.
"If the Army can reduce number of people in squads, it can reduce the total manpower everywhere, and it can acquire vehicles that are both smaller and cheaper," Kelsey Atherton wrote for PopSci. "In order to reduce manpower without reducing fighting ability, the Army will need to make sure that Brigades have everything they need to be just effective."
According to Gen. Cone, that could be just a couple of years away and exactly what's needed.
"Don't you think 3,000 people is probably enough probably to get by" with increased technological capabilities, he said during last week's symposium.
As RT has reportedextensively in the past, the Pentagon has for years now been tinkering with robotic warriors made to someday replace real life soldiers on the battlefield of the future. Some of those drone troops have already undergone extensive testing, and Cone suggests that they could soon come into good use as the military considers further scale backs amidst sequester-induced spending cuts.
According to McLeary, the general said he envisions "a smaller, more lethal, deployable and agile force" in the Army's future. The Military Times reported that the Army is on track to cut its number of soldiers by 60,000 before 2015 is over, and then could trim just as much by 2019 to bring the total number of troops — human troops — to 420,000.
"When you see the success, frankly, that the Navy has had in terms of lowering the numbers of people on ships, are there functions in the brigade that we could automate — robots or manned/unmanned teaming — and lower the number of people that are involved given the fact that people are our major cost," he said.
Last May, the US Navy unveiled a first-of-its-kind fleet for the military branch that relies on both manned and unmanned vehicles to accompany warships into battle. Then in November, a US Navy drone crashed into a battleship and caused roughly $30 million in damages.
You can share this story on social media: