Armed ground drones to take over battlefields in 5 years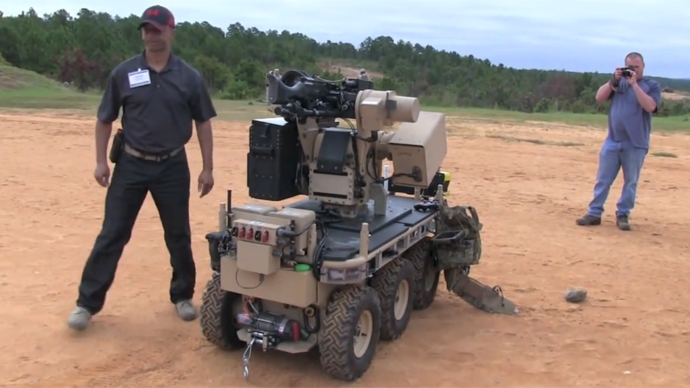 The United States Army is one-step closer to deploying weaponized robots to the front lines of battlefields following a recent demonstration that's being largely considered a success.
Defense contractors and other companies brought their deadliest on-the-ground drones to Fort Benning, Georgia earlier this month for the Maneuver Center of Excellence (MCoE) Robotics Limited Demonstration — or "Robotic Rodeo — and according to those who were there, the future of fighting might soon revolve around a whole new type of arsenal.
The annual event is billed by the Army as "an opportunity for industry to demonstrate new and innovative unmanned ground systems," and four companies did just that by unveiling an unusual breed of robots that can be equipped with lethal weaponry and sent into battle, replacing human soldiers with space-age specimens straight out of science fiction.
HDT Robotics, iRobot, Northrop Grumman and QinetiQ all tested before a live audience their latest inventions at last week's "rodeo," and it looks like it won't be long before those semi-autonomous killing machines see themselves being deployed abroad.
"We were hoping to see how they remotely control lethal weapons," Lt. Col. Willie Smith, chief of Unmanned Ground Vehicles at the fort, told Computerworld. "We were pleased with what we saw here. The technology is getting to be where it needs to be. It's a start."

According to Wired reporter Allen McDuffee, the robots could be deployed in only five years' time.

The companies that participated in this year's event took turns demonstrating how a M240 machine gun can be affixed to a fuel-powered machine that can transverse rough terrain on the battlefield and then hone in on enemy targets, shooting to kill from hundreds of feet away.
Someday those robots might replace traditional soldiers, but for now developers are determined to perfect a land-drone that doesn't just emulate actual troops, but alleviates the tasks that currently make going into battle all the more burdensome.
"Robots are a way to get more firepower in quickly," Donald Sando of the Maneuver Center of Excellence said to the Columbus Ledger-Enquirer. "Soldiers can only carry so much equipment."
Indeed, items like HDT's Protector eliminate that issue by not just being about to shoot on demand, but by also being able to carry 750 pounds successfully up inclines of 45 degree grades — a tough task for even the most physically fit soldier.
Of course, hauling goods alongside troops is only one of the perks that the machines come with. Arguably even more impressive is how the robots can use traditional weapons with accuracy that would make the most venerable sharp shooter jealous. According to Computerworld, Northrop Grumman's Carry-all Mechanized Equipment Landrover — or CaMEL — can identify targets from 3.5 kilometers away by honing in with the help of a telescope and thermal imaging software. Once a machine like the CaMEL catches a target in its sight, a soldier — either a few feet away or operating remotely on the other side of Earth — gives the robot the go-ahead to open fire.
"The robot may acquire an enemy target, but it will still always ask a human for permission to fire," Tollie Strode Jr. of Fort Benning's Maneuver Battle Lab added to the report.
"They're not just tools, but members of the squad. That's the goal," added Smith of the Unmanned Ground Vehicles division. "A robot becoming a member of the squad, we see that as a matter of training ... I think there's more work to be done, but I'm expecting we'll get there."
How soon exactly? According to Strode, it will be "probably five or 10 years" until a robot will be able to acquires and assess a target on its own — something a human soldier must be relied on to do. For now.