'Pack-mule' bot follows marines into combat training (VIDEO)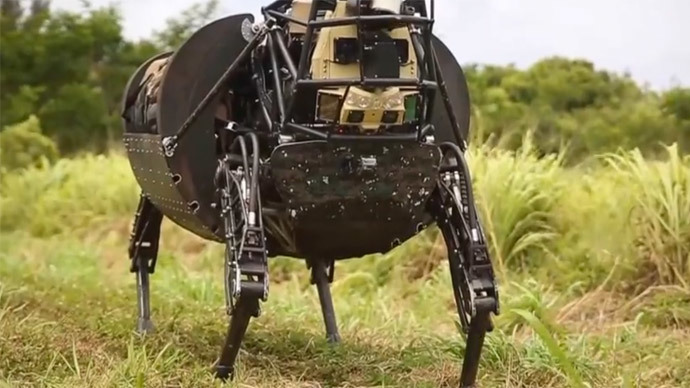 A Google-owned robot designed to carry soldiers' equipment is being put through its paces at a military training ground in Hawaii. The one-of-a-kind bot can carry up to 400lbs of military gear and travel over 20 miles on rough terrain.
Nicknamed 'Cujo', the Legged Squad Support System (LS3) was tried out last weekend during the annual Rim of the Pacific military drills in Hawaii. During the drills the robot was required to bring water supplies to troops when beckoned.
Soldiers who participated in the training were taken aback by the dexterity of LS3 on the rough terrain.

"I thought it was going to be stumbling around and lose its footing, but it's actually proven to be pretty reliable and pretty rugged," said Lance Corporal Brandon Dieckmann, who was given the task of controlling the robot. "I'd say 70 to 80 percent of the terrain we go through, it can go through."
The robot is semi-autonomous and designed to react and interact with troops in a similar way to a trained animal. The soldiers controlled 'Cujo' by fastening a senor to their feet which the robot detects and follows. Troops can also regulate the distance between them and the robot.

"There are times when it is going to fall over, but most of the time it can self-right and get back up on its own. Even if it doesn't, it can take one person to roll it back over. The way it is designed is that you can easily roll it back over," Dieckmann said.

LS3 will most likely be put to use as a purely logistical tool because it is very noisy and still has trouble traversing some terrain.

It is the brainchild of Google-owned Boston Dynamics, which spent three years fine tuning the design at a cost of $2 million.

Google bought the company last year and in doing so acquired some of the world's most advanced robots, many of which were built with funding from the US Department of Defense.