It drives and opens doors: Google to sell humanoid robot (VIDEO)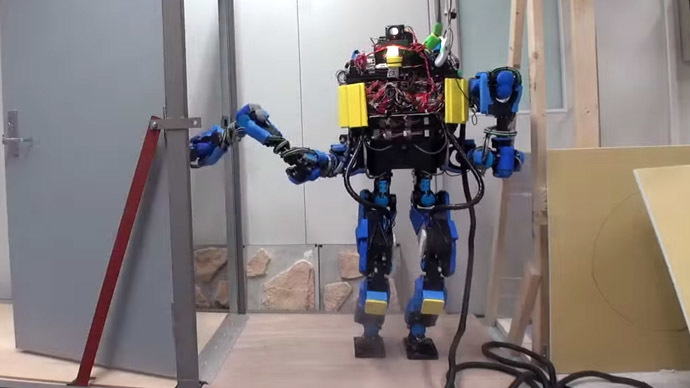 Internet giant Google is gearing up to sell a humanoid robot that can run, climb and even drive a car. The cutting edge machine had been competing in the DARPA Robotics Challenge before being sold off to commercial enterprise.
Bio-inspired robot HRP-2 was designed by a Google-owned Japanese company, Schaft, and had breezed through the qualifying rounds of the Defense Advanced Research Projects Agency DARPA Robotics Challenge. The bot's unique design makes it capable of taking on complex tasks with ease, including scaling ladders, opening doors and driving vehicles.
The DARPA challenge, nicknamed the robo-olympics, is a set of tasks aimed to recreate both manmade and natural disasters. It pits teams of some of the world's top roboticists against one another in an effort to construct a robot that could aid humans in these emergency situations.

The winning robot gets a prize of $2 million in funding to further develop its technology, with a view to applying it in real life disasters.
However, Google's interests seem to be more orientated towards commercial benefit, as they have pulled the robot out of the running before the final.

"Team Schaft has elected to withdraw from the finals," announced DARPA program manager Gill Pratt. "They are going to be focusing on the development of their first commercial product. It was a very difficult decision for them, but they've done extremely well, and we're really glad to see them being successful now in the commercial world."

Pratt dreamt up the 'robo-olympics' following the Fukushima nuclear disaster in Japan in 2011. The disaster could have been significantly mitigated if robots could have been used to get to areas that were too radioactive for humans to access.

As part of the qualifying round, the robots were required to drive a utility vehicle around a course, climb a 2-meter high ladder, cut a shape in a wall using a drill and remove debris blocking a doorway.

The HRP-2 completed the tasks almost perfectly, racking up a total of 27 points out of a possible 32 and beating the runner-up by 7 points.

Google debuted its driverless car earlier this year, announcing that it was constructing a fleet of a hundred vehicles. The cars have no steering wheel or pedals and have a preliminary top speed of 25mph.
You can share this story on social media: