Jury deliberates in Jesse Ventura defamation suit against 'American Sniper'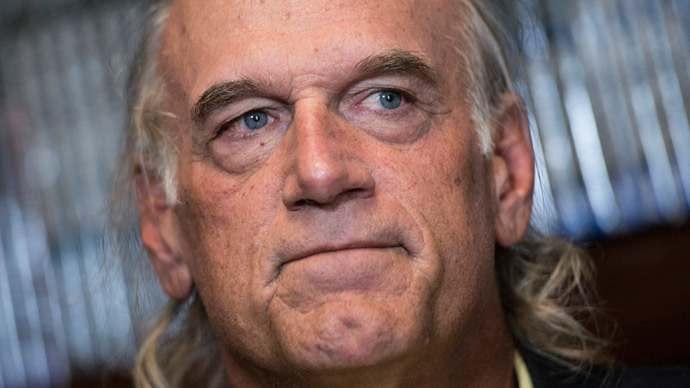 Closing arguments ended and a jury began deliberating in former Minnesota Gov. Jesse Ventura's defamation lawsuit against the estate of 'American Sniper' author Chris Kyle. Both men were US Navy SEALs.
Ventura, the former independent governor of Minnesota state and the current host of Ora TV's 'Off the Grid', alleges that he was intentionally defamed by Chris Kyle, a slain SEAL who spoke critically of the ex-wrestler in his 2012 best-selling book and subsequent public statements.
In 'American Sniper: The Autobiography of the Most Lethal Sniper in US Military History,' Kyle wrote that he knocked a man later identified as Ventura down to the ground with a punch to the face during a 2006 incident at a California bar. Ventura insists the altercation never occurred, however, nor did he speak disparaging remarks about then-President George W. Bush and the Navy SEALS, as attributed to him by Kyle, that sparked the alleged altercation.
In Kyle's book, he claims he knocked-out a man identified only as "Scruff Face" after the individual said during a barroom conversation that the SEALs "deserve to lose a few," and that the American military was "killing innocent men, women and children."
"Being level-headed and calm can last only so long," Kyle wrote in his book. "I laid him out. Tables flew. Stuff happened. Scruff Face ended up on the floor."
During media appearances related to the book's release, Kyle claimed that "Scruff Face" was a pseudonym he used for Ventura, who was a member of the Underwater Demolition Teams, a predecessor of the SEALs.
Attorneys for Ventura responded to the release of Kyle's book with a defamation suit. The former pro-wrestler says his reputation was tarnished with the release of Kyle's book and the subsequent statements that linked him to the "Scruff Face" character.
As RT reported previously, the celebrated sniper died early last year after being gunned down at a Texas shooting range. Eddie Ray Routh, a former Marine and Iraq War vet who suffered from post-traumatic stress disorder, was charged with killing Kyle and one other in the incident.
Kyle's attorneys collected hours of testimony before his passing, and showed his video deposition during the trial. Tara Kyle, the sniper's widow and executor of the sniper's estate, also testified.
Ventura took the stand as well. He admitted that he was in the bar that night, at a reunion with his former Navy colleagues before a SEAL graduation ceremony the next day. But he said there was no confrontation, and was uncertain if he interacted with Kyle in the bar, according to the New York Times. Ventura said he was not drinking that night, and has note drunk alcohol since 2002, when he was prescribed blood-thinning medication.
Witnesses gave conflicting testimony about the events of the night. Defense witness Laura deShazo could not definitively say who punched Ventura, and stated the fight occurred on the patio, while Kyle said it happened in the bar, according to the Washington Post.
Current SEAL John Kelly said that he was with Kyle at the bar, and the two talked to Ventura, who started sounding off on his opposition to the war in Iraq and the futility of the mission there, the Twin Cities Pioneer Press reported. Kelly testified that he didn't see the punch - Kyle only told him about it - but he did see the famed sniper run from the scene, something he said superior officers tacitly encourage if SEALs get into dust-ups while out on the town.
In his closing argument, Ventura attorney David Bradley Olson said he believes Kyle's estate has earned more than $6 million from the book, and suggested that $5 million to $15 million would be reasonable compensation for what he said was irreparable harm to Ventura's reputation.
"The verdict will tell the world Chris Kyle's story was a lie," Olson said, according to the Associated Press.
"One-point-five million people have bought the book," he said. "Millions more heard Fox TV trash Jesse Ventura because of it. And the story went viral on the Internet and will be there forever."
But defense attorney John Borger told jurors in his own closing argument that Ventura failed to prove his claim that Kyle made up the story, and didn't prove he suffered financially because of the book.
"Jesse Ventura is either deluding himself or intentionally telling you things that just aren't true," Borger said.
Raleigh Levine, a law professor at William Mitchell College of Law in St. Paul, told the AP's Amy Forliti that Ventura's attorneys will likely have a harder time proving Kyle acted maliciously than just proving falsity.
"It has to do with what you know about the truth — that you actually knew that what you were saying was false or that you recklessly disregarded the truth," Levine said.
You can share this story on social media: