'American Sniper' down: Former US Navy SEAL killed at Texas shooting range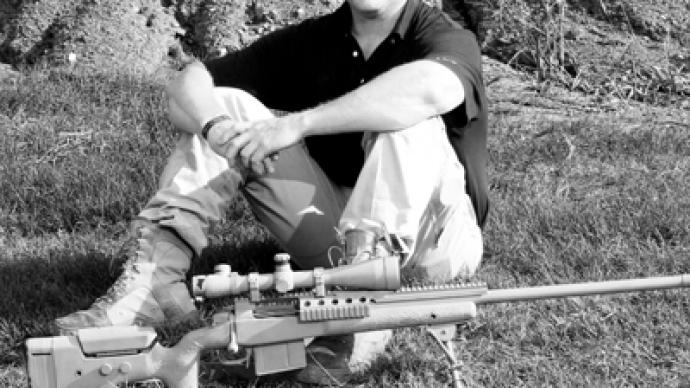 The "deadliest sniper in US history" former Navy SEAL Chris Kyle has been shot dead together with his friend at a Texas shooting range. A 25-year-old has been charged with two counts of murder and one count of capital murder.
Iraq war veteran Eddie Ray Routh, 25, is accused of using a semi-automatic handgun to shoot former Navy SEAL and "American Sniper" author Chris Kyle and his friend Chad Littlefield at Rough Creek Lodge. He has been charged with two counts of murder and one count of capital murder."They were shot at close range," police department spokesman Sergeant Lonny Haschel said.Authorities claim that after the incident, Routh drove to his sister's home where he told her and his brother-in-law about the murders. After he left, his relatives notified the police.Following a brief pursuit, Routh was arrested at his Lancaster, Texas home several hours after the shooting.  The handgun believed to have been used in the murders was found at Routh's home.Local media describe the alleged killer as a former Marine who suffered from post-traumatic stress syndrome (PTSD). The US military has confirmed that Routh was once in active service, but was currently listed as a reserve officer.One of the victims, Chris Kyle is known to be one of America's best snipers, with more than 150 successful missions with the Navy Seals. His longest and most remarkable kill – from 1.2 miles away – took out an insurgent aiming a rocket launcher at an Army convoy. Since leaving the Seals, Kyle helped run FITCO Cares, a support group for ex-military personnel struggling with PTSD. It was during this type of visit that ex- Marine Routh murdered Kyle and Littlefield.Sheriff Tommy Bryant said Routh was believed to be suffering from "some type of mental illness," or PTSD and that his mother may have contacted the veterans support foundation that Kyle was involved with."My heart is breaking," FITCO's director, Travis Cox, told AP. He added that the former sniper has left behind a wife and two children."Chris died doing what he filled his heart with passion – serving soldiers struggling with the fight to overcome PTSD," Cox said.During his military service, Kyle received two Silver Stars and five Bronze Stars with Valor. He was interviewed about curbing US gun violence on Guns.com last month. He favored arming teachers who have been trained to handle weapons, and spoke against restrictions on gun owners.The shooting comes during the country's heated debate over gun control, after publicly available military-style weapons were used to conduct several mass shootings throughout the nation. In December, a man killed 20 young children and six adults at Sandy Hook elementary school in Newtown, Connecticut.US President Barack Obama has put gun control on his legislative agenda, with plans to ban assault rifles and high capacity magazines. The measures are up against fierce opposition from gun advocates who support the country's right to bear arms.
You can share this story on social media: