One student in critical condition, teacher wounded after California high school shooting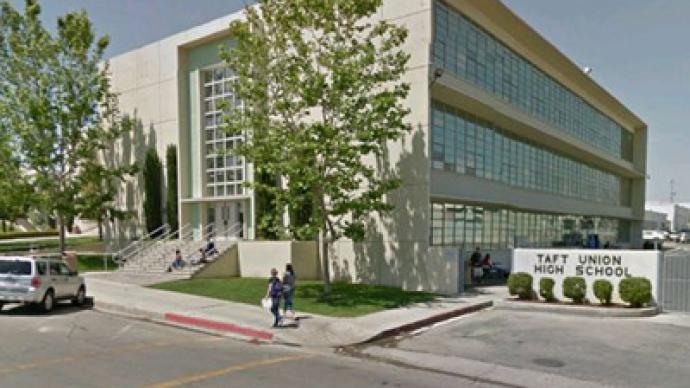 One student has been seriously wounded and a teacher has suffered a minor injury in a shooting at a high school in Taft, California. The incident comes less than a month after a massacre at a Connecticut elementary school.
The attacker, who appeared to be a student, has been detained, according to police.The 16-year-old victim is in critical but stable condition, Kern County Sheriff Donny Youngblood said adding that a teacher at the school suffered a minor pellet wound to the head. The teacher had tried to get the students out a back door, and then along with another staff member engaged the shooter in conversation to distract him, convincing him to drop his shotgun.Students hid in closets and phoned local media during the shooting, which occurred around 9am local time, local KERO-TV reports.Officials from the Kern County Sheriff's Department went room-by-room to secure the school, and students were evacuated to the football field.Taft, which has a population of around 9,000 people, lies about 120 miles northwest of Los Angeles.This latest public shooting comes less than a month after the massacre at Sandy Hook Elementary School in Newtown, Connecticut, where a gunman went on a shooting spree cold-bloodedly killing 20 children and six women. The tragedy triggered a national debate on guns control, with President Obama promising new efforts to curb gun violence.
You can share this story on social media: