​Rape victims on hook for medical bills related to their assault – study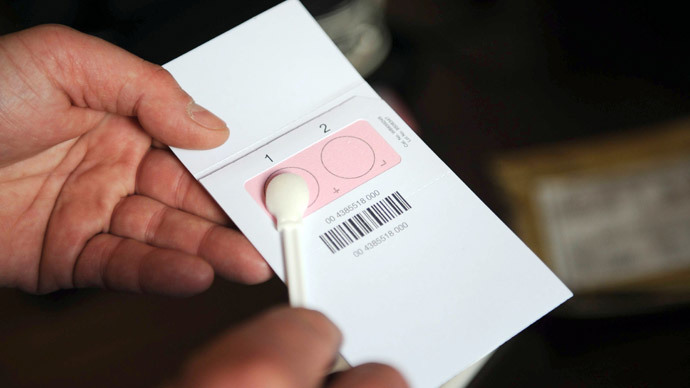 Despite federal efforts to lift financial burdens facing a rape victim after sexual assault, a new study has found that some are still charged for medical services related to rape, including pregnancy-related treatment or sexually transmitted infections.
The study – funded by the US Department of Justice's research arm, the National Institute of Justice – examined the national impact of the Violence Against Women Act of 2005, which was reauthorized with added safeguards for victims in 2013. The updated law will go into effect in March 2015.
The law mandates that victims cannot be charged for medical forensic exams (MFEs), commonly called rape kits, whether or not they reported the attack to law enforcement or cooperated in criminal legal proceedings. Costs for these medical services are to be paid by federal and state victim compensation funds, financed, in part, by fines and penalties paid by those convicted of sexual assault.
The reauthorization of the law upped the stakes, requiring that exams should be free of charge; victims should never have to pay immediately for an MFE and then seek insurance reimbursement at a later date.
The research – conducted by the Urban Institute, George Mason University, and the National Sexual Violence Resource Center – examined MFEs, what services are provided to a victim in varying states, and whether victims had to pay for services, among other aspects of sexual-assault medical treatment.
The study found that, in much of the United States, rape victims do receive MFEs free of any charges, and without having to report the incident to the police.
"In some places, the system is seamless," says Janine Zweig, of the Urban Institute and the study's lead author. "In others, however, hospital administrators didn't know what they were dealing with and were billing incorrectly."
Hospitals that billed rape victims for an exam often quickly addressed the error, billing a compensation organization in a respective state, Zweig said, according to Kaiser Health News.
Yet discrepancies in various state laws that guide what is included in the exam can saddle victims with some financial responsibility.
The Violence Against Women Act does require exams to include a patient interview and history, a physical exam for trauma, including penetration or force, and evidence gathering.
Federal law does not mandate that states cover tests for pregnancy or sexually transmitted infections as part of the exam, yet many states do so, according to the study.
States are even less likely to pay for treatments for pregnancy, infections, or for injuries that occurred during the assault.
Furthermore, some states have caps on the amount they will incur for the exam or for specific services, the researchers found. In such cases, hospitals often absorb extra costs of the exam, according to Zweig.
Patients could be billed for medical services not part of the MFE under state law, though.
Victims are allowed to use their own health insurance to pay for services not covered by a state agency, yet victims are at times reticent to report claims related to rape, experts say. Victims sometimes fear that parents or a partner could be notified of the claim via insurance forms, possibly endangering their safety or risking their relationship.
Fifteen states have laws related to insurance and cases of rape, according to AEquitas, an organization that trains and assists prosecutors in sexual assault cases. Some states require insurers to be billed first for MFE costs, while other states bar providers from billing insurers for the exams. A state's policy may depend on whether its aim is to save financially or protect victim privacy, according to experts.
Researchers say the best scenario for a victim is for a rape crisis center to offer assistance to victims faced with medical costs by the state as part of the MFE.
"The most important thing is to talk to a state advocacy group to find out what can be covered and what can't," says Christopher Mallios, attorney adviser at AEquitas.