Legal experts 'can't believe' US general avoided jail time in sex assault case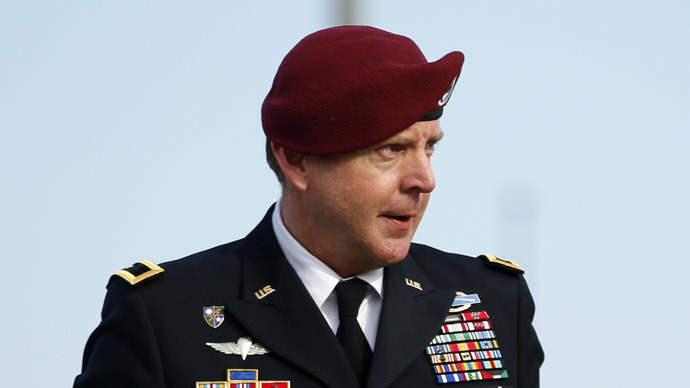 The US Army general who was the subject of international headlines after allegations that, over a span of years, he intimidated and sexually assaulted a junior officer has been spared prison time. The move has shocked legal experts and women's groups.
Brigadier General Jeffrey Sinclair, 51, was initially charged with forcible sodomy and other counts of sexual assault based on allegations from a female US Army captain who served under him in Iraq and Afghanistan.
Sinclair, who allegedly threatened the lives of the young woman and her family, was facing a sentence that could have put him behind bars for the rest of his life.
Yet last weekend, Sinclair's lawyer announced that the former rising star in the Army would plead guilty to adultery – a crime in the US military – and mistreating his accuser. The punishment that came down on Thursday reflected that change, absolving Sinclair of any prison time and instead sentencing him to a $20,000 fine and an official reprimand.
Sinclair, who could still face a reduction in rank and a lowered pension, announced his retirement immediately after the sentence was announced.
"This system worked. I've always been proud of my Army," he said, as quoted by Jeffrey Collins of the Associated Press. "All I want to do now is go north and hug my kids and wife."
After the general's 20-year sentence was reduced to a plea deal worth a maximum of 18 months in prison earlier this week, the judge announced that jail time would not be necessary. He did not explain his decision-making process and prosecutors would not speak to reporters.
The original sexual assault charges accused Sinclair of forcing the younger woman to perform oral sex multiple times over a three-year period in Iraq and Afghanistan. Jamie Barnett, the victim's attorney, previously said his client stood by her claim that she was assaulted, but was happy with the plea bargain because she would finally be able to "move on with her life."
Sinclair previously pleaded guilty to possessing pornography on his computer while serving in Afghanistan, interfering with an investigation by deleting explicit pictures from his computer, and pressuring other junior officers to send him nude images of themselves.
The verdict announced Thursday is not satisfactory, Barnett said, calling the fine a "slap on the wrist."
"A sentence doesn't take away the pain and anguish that she has endured," he said.
The prosecution's main strategy was to attack the woman's credibility, implying that she had raised the charges fully aware they would damage the general's career because of the ongoing national conversation about sexual assault in the military. They specifically pointed to an incident during the pre-trial hearings in which the victim was accused of lying about a specific text message exchange between herself and the general.
"I can't believe it," retired Lt. Col. Gary D. Solis, a former military judge and current law teacher at West Point and Georgetown University, told AP of the sentence. He added that Sinclair "is an individual who should not be a general officer. He should have gone to jail and be dismissed from the Army."
Experts agree that had Sinclair not chosen to retire, an Army disciplinary board certainly would have forced him to do so. The only question remaining is whether the board will vote to reduce Sinclair's rank – a decision that would cost him hundreds of thousands of dollars in retirement. Before retiring, he earned approximately $145,000 annually in base pay.
Previous reports have indicated that Sinclair showed little emotion during the trial, even as the victim testified about the years of abuse she endured. His only act of public remorse before Thursday came as part of the plea agreement, which required him to admit guilt in front of his accuser.
"I failed her as a leader and as a mentor and caused harm to her emotional state," he said. "I created a situation over time that caused her emotional harm." He said later that he "maltreated" the Army captain and that she seemed to him to be "emotionally invested in a way I was not."
Members of the Service Women's Action Network said this case is just another example that the decision to prosecute officers for sexual assault must be taken out of the military's hands. A Senate bill sponsored by New York Democrat Kirsten Gillibrand proposing just that was defeated just weeks ago.
Ruth Marcus, an opinion writer for The Washington Post, has argued that such a measure is long overdue.
"Normally, an in many cases quite accurately, the critique of the current military justice system is that it fails to take victims' complaints seriously enough," she wrote in a column this week. "Commanding officers invested with the power to decide whether to pursue prosecutions may be inclined to sweep their buddies' wrongdoing under the rug, to view victims as culpable or to weigh the non-judicial desire to avoid losing a valued fighter."