US parrots Kiev claims detained Russian journalists were 'aiding terrorists'
Washington has failed to condemn the detention of Russian journalists by Ukrainian troops, instead parroting Kiev's accusations that they were abetting terrorists. The US appears to be biased in its attitude towards media professionals working in Ukraine.
The two journalists working for Russia's Life News TV channel had been detained by Kiev loyalist troops on Sunday in the turbulent Donetsk Region. Their continued detention has already sparked outrage from Moscow, calls for their swift release from the OSCE and Human Rights Watch, and a #SaveOurGuys hashtag wave on the Russian and Ukrainian Twittersphere.
However Washington questions whether the detainees are journalists at all, despite their long records of working as media professionals.
"The Ukrainian Security Services, according to reports, have detained a number of people who were in possession of fake journalist credentials issued by the non-existent Donetsk People's Republic," US State Department spokeswoman Jen Psaki said at a daily press briefing.
Denying journalists working in an armed conflict zone protection due to their failure to get credentials from one side of the conflict would be a peculiar turn for US foreign policy. If followed consistently, Washington would, for example, have to decry the work of journalists covering the Syrian civil war from the side of the rebel forces just because they didn't vet their trips with Damascus. The issue was instantly raised at the briefing, but Psaki wouldn't offer any comments.
The correspondents' whereabouts are currently unknown, although there are believed to be held by the Ukrainian Security Service (SBU). The last seen of the Life News journalists, Oleg Sidyakin and Marat Saichenko, was footage of them pinned down to the ground, their hands tied behind back and bag on their head, which was released on Monday by Kiev.
On Tuesday, Ukrainian authorities claimed that the journalists had portable anti-aircraft missiles in the trunk of their car and accused them of aiding "terrorists," as Kiev routinely calls armed militias opposing its rule in post-coup Ukraine. They failed to press official charges.
Life News dismissed the claims as "unfounded speculations" and alleged that Kiev was taking revenge on their people for their shooting embarrassing footage of Ukrainian troops using a UN-badged strike helicopter in the Donetsk Region.
But the US apparently takes the allegations at face value. Psaki reiterated them, calling the reports credible. When pressured she would not clearly state whether US agents on the ground actually confirmed Kiev's claims.
On Wednesday, Kiev released a video of Saichenko, who confesses to traveling in Ukraine on May 10 without informing the border guards of his intention of working there as a journalist. He says he and Sidyakin left all their journalistic credentials in Moscow to hide their profession, which is probably not true, because the footage of their detention clearly shows Saichenko's press card issued by the Izvestia newspaper, for which he also did some coverage. There is no mention of the anti-aircraft missile in the statement.
The US position on the detention of journalists in Ukraine is about managing public opinion, not about establishing facts, believes media analysts Danny Schechter.
"US officials are trained in the art of perception management. They don't deal with facts. They deal with impressions and perceptions. If someone can be perceived as terrorist, that immediately would discredit anything they've done and their legitimacy as a professional," he told RT.
"For years we in America were taught that all information coming from the other side was propaganda. Now what we are seeing is that a lot of what is coming from our side is propaganda."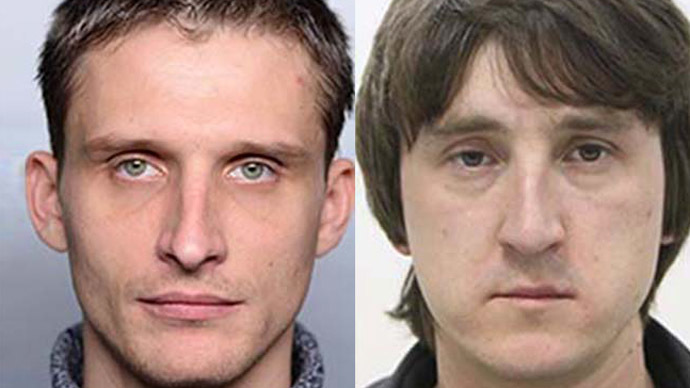 Washington has a record of taking claims coming from the Ukrainian authorities for granted and gone as far as endorsing photo evidence which Kiev claimed proved the presence of Russian covert agents in Ukraine. This later proved false.
In regards to journalists working in Ukraine, Washington's "focus is more on continuing to press on the release of the international and Ukrainian journalists who have been detained by Russian separatists, and many for weeks, if not longer," Psaki said. It's not clear how mistreatment of journalists by Ukrainian militias justifies mistreatment of journalists by Kiev in the State Department's eyes.
Kiev has been oppressing media freedom for several months. It banned all Russian media in the country, labeling them 'propaganda'. A group of nationalist MPs in Kiev beat a Ukrainian TV station head and forced him to resign over what the parliamentarians called "pro-Russian bias." Russian journalists are often blocked from entering Ukraine on various pretexts, as happened with RT's Arabic sister channel crew, which was tasked with covering Ukrainian presidential election.
And RT is still trying to learn about the fate of contributing journalist Graham Phillips, who was apparently detained by Kiev troops in Mariupol on Tuesday. Ukrainian authorities had no comments on Phillips' detention. The UK Foreign Office said they "stand ready to provide consular assistance" to the missing UK citizen, while US State Department said it has no details concerning Phillips.
Concerns for Phillips are fuelled by earlier threats against him by pro-Kiev activists. On Monday, a popular EuroMaidan Kharkov Facebook page called to "immediately detain and deport" Phillips, whom they believe is "cooperating with terrorists." Earlier reports claimed radical nationalists in Ukraine are offering a bounty for the journalist's head.
Hotspot veteran & hotshot reporter: Who are Russian journalists taken by Kiev?
The US may question it, but the two Russian journalists captured by Kiev's troops are media professionals with a record of covering most dramatic events worldwide.
Marat Saichenko has been working as photo correspondent and cameraman for almost 15 years. He was the first person to take pictures of former businessman Mikhail Khodorkovsky in a Russian prison, which required him to sit for hours in the cold cabin of a construction crane overlooking the prison.
His professional career has taken him to places far and wide. Saichenko reported from the ground on the revolution in Egypt, the Libyan armed uprising and NATO bombing campaign, as well as the Syrian war. Going to Donetsk was the latest of many trips to flashpoints.
His colleague in detention, Oleg Sidyakin, is a hotshot reporter with Live News, who has been among its staff for some six months now. Lately he has been active in Ukraine, reporting on the violent uprising in Kiev from the protester-filled streets.
You can share this story on social media: