#SaveOurGuys tops Russian Twitter, demands release of Ukraine-held journalists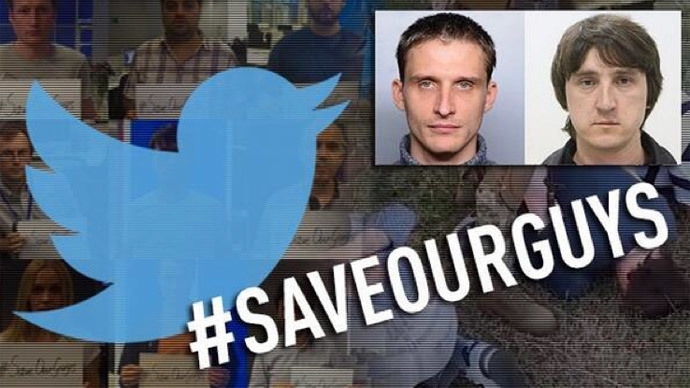 #SaveOurGuys has become the top trending hashtag in the Russian Twittersphere, currently the forefront of an online campaign, launched for the release of LifeNews reporters detained by the Ukrainian National Guard.
Russian social media has been deluged with photos of users holding signs reading Save Our Guys. LifeNews journalists were the first to post them in support of their colleagues on Monday.
Мы делаем все возможное, чтобы вернуть ребят домой. Марат и Олег, держитесь! #SaveOurGuyspic.twitter.com/nfDePHNgEA

— LIFENEWS (@lifenews_ru) May 19, 2014
In just hours, thousands either re-tweeted existing messages or posted their own images. By Tuesday, the hashtag #SaveOurGuys was trending on Russian Twitter.
@rykov#SaveOurGuyspic.twitter.com/lib4KjoEpW

— Leonid (@leobols) May 19, 2014
Russia's Foreign Ministry has joined the online campaign by posting a picture of #SaveOurGuys signs against the background of the ministry's logo.
#SaveOurGuyspic.twitter.com/qZosNxc7hb

— MFA Russia (@mfa_russia) May 20, 2014
Calls for more internet users to join the campaign have been posted on the LifeNews website.

"Any user of Twitter, Instagram or Facebook can support our employees by posting a picture with a SAVE OUR GUYS sign," LifeNews website says.
@rykov#SaveOurGuyspic.twitter.com/9sSo3ZAokc

— Кристина К. (@_Kristina_K) May 19, 2014
Two Russian LifeNews journalists, Oleg Sidyakin and Marat Saichenko, were captured on Sunday by Ukrainian troops presumably near Kramatorsk, a town in the Donetsk Region, the residents of which voted for independence from Kiev in a May 11 referendum.

On Monday, the deputy secretary of Ukraine's National Security and Defense Council (SNBO) said the journalists were being investigated on the charges of "aiding the terrorist groups."

The same day a video merged showing the Ukrainian troops crudely forcing the Russian journalists to their knees.
Мир должен знать правду! Макс. RT #SaveOurGuyspic.twitter.com/tL5ojN646D

— LIFENEWS (@lifenews_ru) May 19, 2014
Moscow immediately reacted to the news of the journalists' detention by asking the Organization for Security and Co-operation in Europe (OSCE) to take measures to free the reporters.

The OSCE urged Kiev authorities to release the Russian journalists and to investigate the incident, saying that intimidation and obstruction of media working in the country is "unacceptable."
You can share this story on social media: