Russian journalists arrested for breaking 'Kiev's UN-marked helicopters' news – report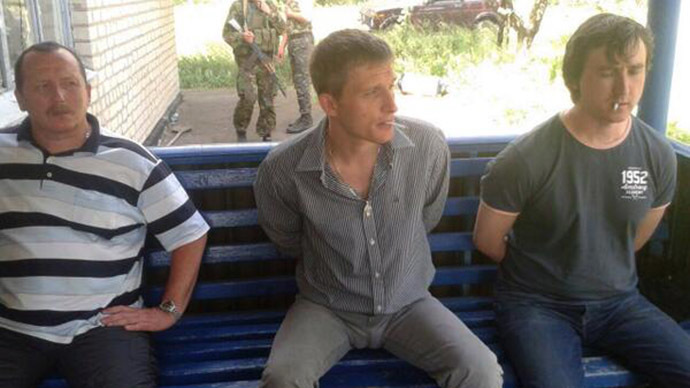 Russian LifeNews journalists being held captive by Ukraine's coup-installed government were reportedly arrested after they released footage showing a UN-marked helicopter used by Kiev's armed forces engaged in an operation against civilians in the east.
A few days prior to the journalists' arrest on Sunday, the authorities in Kiev issued an order to "find and neutralize" Oleg Sidyakin and Marat Saichenko, a LifeNews source in the Ukrainian Security Forces (SBU) told the channel.
The order to arrest the LifeNews crew was reportedly given immediately after the release of the channel's video of a UN-marked Mil Mi-24 strike helicopter being used by the Ukrainian army in a military operation in the eastern regions.
"The incident was discussed at the highest level. [SBU] was instructed to find the authors [of the footage] and to do everything not to allow them to work in those areas where the National Guard is deployed," LifeNews quoted the source as saying.
At the time of the initial release of the footage, which has made waves around the world, LifeNews said at least three combat Mi-24 and one transport Mi-8 helicopters carrying UN logos were spotted by their crew while covering Kiev's military operation in the Donetsk region, near Kramatorsk.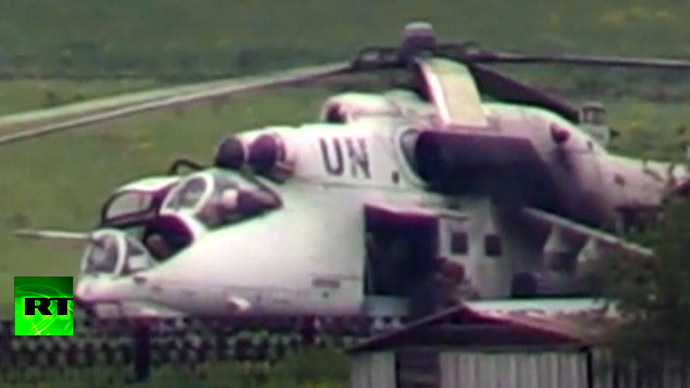 The UN has demanded an explanation from Kiev as to why UN-labeled military hardware was used in a non-authorized mission. So far the Ukrainian side has failed to provide such details.
"It is the responsibility of Troop Contributing Countries (TCCs) that provide Contingent Owned Equipment to peacekeeping missions to remove all logos and signage bearing the UN's name once such equipment has been repatriated to the home country or is no longer being used for official UN purposes," the office told RT last week.
Meanwhile, the Organization for Security and Co-operation in Europe (OSCE) has urged Kiev authorities to release the Russian journalists.
The detained journalists, Oleg Sidyakin and Marat Saichenko, are being investigated on charges of "aiding terrorist groups," deputy secretary of Ukraine's National Security and Defense Council (SNBO), Victoria Sumar, wrote on her Facebook page.
Video footage of the brutal arrest and treatment of the LifeNews crew has been released, along with a close-up of documents, some journalistic equipment, and a pile of Russian and Ukrainian currency alongside a man-portable air-defense system (MANPAD) with inscriptions in Polish. A third man shown kneeling on the ground was not identified.
The Ukrainian Security Service said that two Russian citizens detained in the Donetsk region with video equipment have been brought to Kiev for interrogation.
You can share this story on social media: