​Florida town threatening volunteers who feed homeless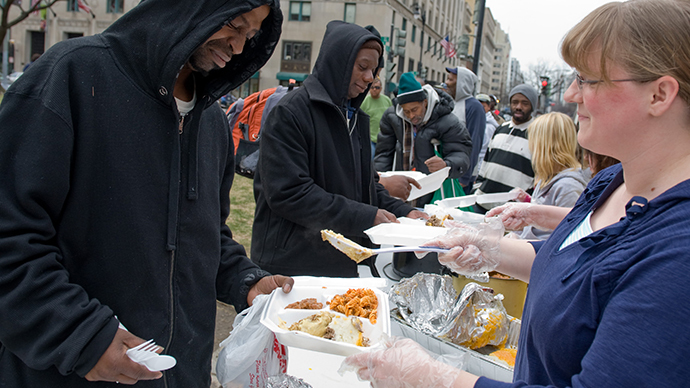 Authorities in Daytona Beach, Florida have increased efforts to dissuade unofficial organizations from feeding the city's homeless, threatening trespassing fines to longtime Good Samaritans should they counter the city's official social services plan.
A group of volunteers who have prepared food for the Daytona Beach homeless population – or anyone who is hungry, the organizers say – for the past year were given citations and trespass warnings by law enforcement this week.
The city, likedozens of localmunicipalities across the United States, is attempting to discourage groups outside the approved channels from offering assistance, in hopes of funneling charity to centralized homeless services in the area, the Daytona Beach News-Journal reported.
"The ordinance is there, so if we catch you, we're going to cite you," Police Chief Mike Chitwood said. "If you want to feed people, and you want to do a good, Christian act, we encourage you to coordinate with the social service agencies."
Chico and Debbie Jimenez, founders of Spreading the Word Without Saying a Word, and their volunteers were targeted this week at Manatee Island Park despite their reportedly responsible, respected efforts to feed the hungry. Their citations amounted to threats of a $273 fine for trespassing and $100 fine for facility use without a permit.
"We feed anybody that's hungry," Chico Jimenez said.
"Even if you're not homeless," Debbie Jimenez added. "We don't care. If you're hungry, eat. We're not here to change any laws or anything. We just want to help. These people have become our friends. They depend on us. It's not like they're just 'some people,'" she told the News-Journal.
The pair said they would challenge the citations.
The city maintains that a no-feeding law has long been on the books, though Chief Chitwood admitted that the city's efforts to steer social services to its preferred system has boosted police vigilance.
"We've always done it," Chitwood said of enforcing the law. "But clearly we're hoping we're on the threshold here of making this Safe Harbor project come through. There's plenty of places and plenty of ways you can do acts of charity without violating an ordinance."
Daytona Beach recently hired a "nationally known consultant," Robert Marbut, to develop its plans for Volusia Safe Harbor, a transitional shelter still at the proposal level. The shelter would become the city's centralized outlet for homeless to depend on for food and other services.
Marbut, the News-Journal reported, has told city officials that charity groups feeding or offering supplies to homeless in parks is not the kind of long-term assistance needed to improve the lives of the homeless.
The Jimenezes both quit their jobs to begin their ministry. Their operation seeks to gather donations to assist those in need with hotel stays, power bills, bicycles, and other equipment. They argue that their food is far better and nutritious than what the area homeless get from the local government.
Plus, they say that city and county agencies don't want competition from groups like theirs, as their efforts take patrons away from local municipalities' programs, meaning less funding.
"If we were criminals, it'd be one thing," said Diane Clester, one of the ministry's volunteers who was cited by police this week. "But we're not...When we leave, there isn't a scrap of paper on the ground, nothing. Within an hour and a half, they're done and gone."
You can share this story on social media: