​Amid freezing temps, Florida town's 'camping' law bars homeless from using blankets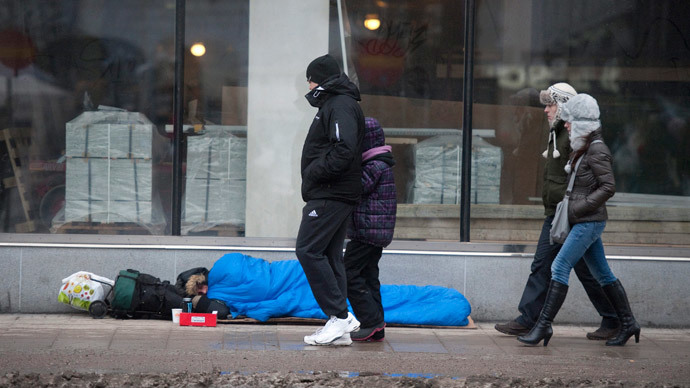 Despite freezing conditions and a recent "state of emergency" weather alert, the Pensacola, Florida City Council has stood behind its "camping" ordinance that bars sleeping outdoors while covered with bedding or newspaper, for example.
Members of the Pensacola community have pressed the City Council to reconsider a so-called "camping" ordinance passed last summer, particularly the sections of the law that criminalize keeping warm with a blanket, tent or other materials commonly used by the homeless for shelter. At the time of its passage, the ordinance was defended in the Council on the bases that "camping" in public was considered a threat to sanitation, public health, and safety, in addition to being a blight on Pensacola's "aesthetic" quality.
Yet after mounting pressure and the Pensacola Mayor's recent change of heart, the Council is set to consider an amendment to the ordinance this week. Its success, though, is not guaranteed, as the Council voted the ordinance through last summer by a vote of 6 to 3.
The ordinance says a person may not be "adjacent to or inside a tent or sleeping bag, or atop and/or covered by materials such as a bedroll, cardboard, newspapers, or inside some form of temporary shelter."
Amid an untypically cold winter in the area, Pensacola City Councilwoman Sherri F. Myers, a longtime opponent of the measure, offered in January a new proposal to "amend the controversial 'camping' ordinance to allow for cover, including blankets, sleeping bags and bedding materials," wrote Jeremy Bosso, a lab technical director at West Florida University's Wetlands Research Laboratory. He writes about local politics on his personal website.
Myers' proposal was blocked by Council President Jewel Cannada-Wynn, who has supported the camping ban from the beginning.
The action spurred local residents to again push the City Council to review and repeal the detrimental sections of the law that particularly affected the homeless. Bosso was one of those who approached the Council. He compared a local news warning about bringing pets inside during cold temperatures to how the city of Pensacola's ordinance treats humans left in the same conditions.
"I think we should extend that courtesy to our fellow humans," he said of the effort to lift the prohibition of blankets in public. "I mean, we do it for the animals, and I think we should respect life at all stages."
Last week, Pensacola Mayor Ashton Hayward issued a statement saying, "after reflecting and praying on this issue," he now supports amending the ordinance.
Hayward said he has been "working with" Councilman Larry B. Johnson, who supported the ordinance, "to establish an advisory committee on improving human services…tasked with collecting data and producing a set of fiscally-responsible, realistic, and actionable recommendations."
In response, Bosso wrote, "the establishment of an advisory committee was promised…last year."
A "proposed ordinance to end the blanket ban will be brought to a vote at the February 13, 2014 Council meeting at Pensacola City Hall," Bosso added.
The current camping ban has garnered attention outside the Florida Panhandle. A Change.org petition that calls for a repeal of the ordinance has received over 10,000 signatures since its creation a few weeks ago.
You can share this story on social media: