Charity claims it's been targeted for feeding the homeless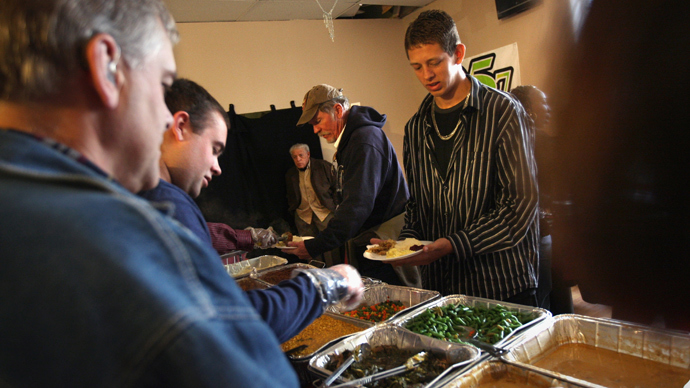 A church group in Olympia, Washington is blasting proposed City Council changes it claims are intended to stop an outreach mission that feeds hundreds of homeless residents every week.
Twice a week for the last two years, the nondenominational Christian group Crazy Faith Ministries has gathered at a public parking lot to feed the city's homeless population. The program has become increasingly popular since it began, but complaints about mounting vehicle traffic in the area and concern for pedestrian safety resulted in the city informing Crazy Faith it would not be allowed to continue its activity.
Ben Charles, the leader of Crazy Faith, argued his organization has the right to assemble and feed the homeless, however, and declined to comply with the order given in October, saying no laws were being broken. Now, City Hall is considering changes to its parking ordinances that would require anyone using public parking lots to acquire a permit, ranging in price from $50 to $187. Failure to do so could result in a fine of up to $1,000 or 90 days in jail, though Deputy City Attorney Darren Nienbar suggested a $50 fine would be most likely.
During a City Council meeting on Tuesday, December 3, the proposal was passed on to a second reading by a vote of 6-1. Another meeting is scheduled forDecember 10.
Charles and his supporters criticized the move, saying its goal is to restrict who could peacefully assemble on public property and why.
"This is completely unjust and unconstitutional," Charles said in a statementon Tuesday, according to the Olympian. "The city's existing laws are perfectly adequate to protect the public health and safety, and Crazy Faith works hard to ensure that they are abiding those laws while still providing for those who cannot currently provide for themselves. But this new ordinance is plainly intended to give the city the power to decide whether citizens may gather peacefully on public property."
For its part, the city claims the proposed changes aren't targeting any particular group, and City Manager Steve Hall said they're intended "to manage public property in a respectable way." Hall told KOMO News that when Olympia police investigated the parking lot used by Crazy Faith, they found individuals wandering into the streets and blocking traffic, among other safety violations
"We're responsible for public safety, and when people use public property in an unsafe manner it's our responsibility to step in and say this can't happen," Hall said.

One local business owner who wants to see Crazy Faith move to another location told King5.com he witnessed drug deals and "defecation in my [salon] entrance, which is not good for business."
Other businesses, meanwhile, have been more supportive. Local Papa Johns owner Jamie Mathias passed free socks and donated pizza to those who attended Crazy Faith's event.
Hall said he's willing to help the ministry find a new location for its events, though Charles claims there's been little effort in terms of outreach on the part of the city. He sees the proposed ordinances as "a sneaky maneuver to try to force Crazy Faith out of the area."
Other groups supportive of Charles, like the Stiles Center of Liberty at the Freedom Foundation, have raised similar concerns.
"The Constitution guarantees the right to peacefully assemble for the common good," said attorney and director of the Stiles Center, Dave Roland, according to the Olympian. "If they can't do it on a parking lot that's reserved for public use, then where can they do it?"
You can share this story on social media: