15% of young Americans out of school, work - study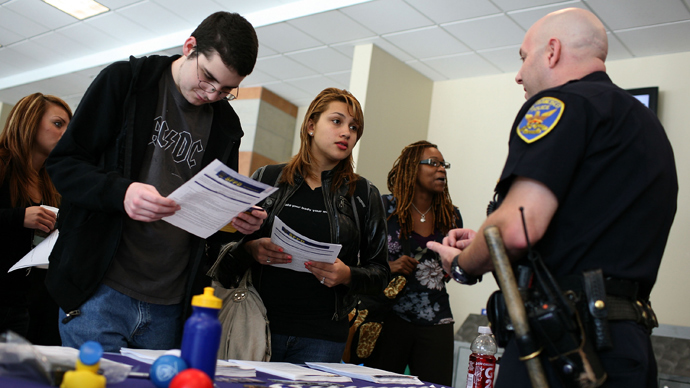 Nearly six million young people in America are neither in school nor working, according to a new study released Monday. The finding brings more bad news to a generation that has become familiar with grim economic outlooks.
Almost 15 percent of those aged 16 to 24 have neither a job nor are in school, Opportunity Nation found in its new study, 2013 Opportunity Index, which measures economic, education, and other interconnected factors that help assess quality of life in America.

The study found that the most supportive states in providing opportunity for youth are Vermont, Minnesota, and North Dakota. The least supportive are Nevada, Mississippi, and New Mexico, signifying that location determines many opportunities for the young.

Some of the nation's largest cities - New York, Los Angeles, Chicago, Houston, Philadelphia, Dallas, Atlanta, Miami, and Riverside, CA - all have over 100,000 idle youth, the report noted.

"This is not a group that we can write off. They just need a chance," said Mark Edwards, executive director of Opportunity Nation, a coalition of businesses, advocacy groups, policy experts and nonprofit organizations that aim to increase economic mobility. "The tendency is to see them as lost souls and see them as unsavable. They are not."

Opportunity Nation found that in the past year, the number of families living in poverty has gone up in 49 states, and household median income has fallen in 45 states.

Though the study found that while youth poverty rates have increased, unemployment rates for all ages have declined. Yet the group cautions that the fall in jobless rates may be attributed to people no longer looking for a job, or indicate that some have stopped searching and have taken low-wage jobs.

The study tracked 16 factors – including internet access, college graduation rates, income inequality, and public safety - to identify the quality of life for youth in America.

Another report on youth unemployment released in October by the Georgetown University Center on Education and the Workforce and The Generations Initiative found that the labor force participation rate for young adults is at its lowest point since 1972, and that employment rates for high school graduates and BA-holders went down 13 and 8 points, respectively, since 2000.

Concurrently, another October report - this one by the Organization for Economic Co-operation and Development - found that about 19 percent of all Americans say they have more education than they need to qualify for their job.

The Georgetown report also noted that times are especially tough on African Americans. Since the recession of 2007, peak unemployment for young African Americans is double the peak unemployment for whites, according to the study.

These reports and statistics add to the voluminousrecord of recent downward trends in the American economy. Some of the most damning details of these trends are exemplified in two recent findings from the last year.

The income gap between the wealthiest one percent of Americans and the rest of the country hit an all-time high in 2012, the Internal Revenue Service found a year ago. And in early 2013, the Center for Economic and Policy Research reported that 40 percent of Americans now make less than minimum wage workers did in 1968, based on numbers adjusted for inflation.