'Unforgivable cowardice': Company 'gagged' from criticizing May in wake of Grenfell fire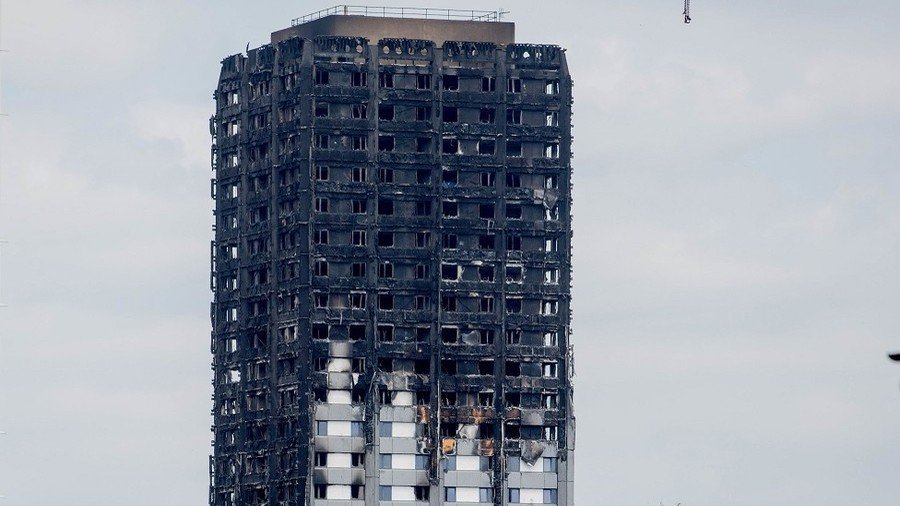 The company hired to test flammable cladding on government-built buildings – in the wake of the Grenfell Tower fire – have been 'gagged' from criticizing Prime Minister Theresa May.
Engineering firm WSP signed a UK government contract worth more than £100,000 (US$131,500) to carry out testing of cladding on buildings, 12 days after the Grenfell Tower fire in which 72 people died. A prerequisite of the deal was WSP having to sign a gagging clause preventing the company from being able to create "adverse publicity" for or "embarrass" PM May and her Cabinet Office, the Times reports.
READ MORE: Five arrested over Grenfell Tower effigy burning
The deal was agreed at a time when the prime minister was receiving criticism for her handling of the disaster, much of which was related to her failure to meet residents and survivors of Grenfell Tower in the immediate aftermath and her refusal to sack her chief-of-staff, Gavin Barwell.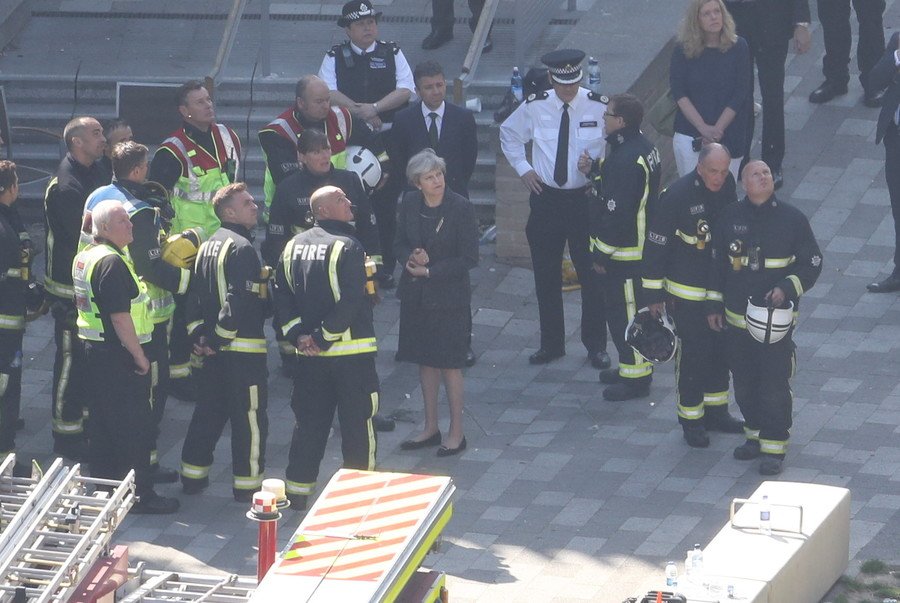 Former Housing Minister Barwell was accused of "sitting on" on a review into building regulations at tower blocks after a deadly fire in south London in 2009 killed six people.
The revelations have been met with a mixture of disbelief and outrage on social media from across the political spectrum. Labour MP David Lammy, whose friend Khadija Saye died in the fire, said the gagging clause demonstrated "unforgivable cowardice" on the part of May. The Sun's deputy political editor, Steve Hawkes, claimed it was an "awful look" for the UK government.
.@theresa_may, why did you gag firms and charities from criticising you in these investigations that followed Grenfell fire?This shows unforgivable cowardice. If you respected the 72 that died, you would have let firms follow the truth wherever it led.https://t.co/Y2RYDY1zkk

— David Lammy (@DavidLammy) November 6, 2018
Imagine this Tory Government gagging firms from criticising the Prime Minister Theresa May in a Grenfell safety deal, banned!? That is a new low... just unbelievable!! part of a £25Bn Deal?! https://t.co/xoK2PWEmVL

— ARTIST TAXI DRIVER (@chunkymark) November 6, 2018
The gag was one of hundreds imposed by the government on contractors. The Times claims cabinet ministers have banned 40 charities and over 300 companies since 2015 from publicly criticizing them, their departments, or the PM, as part of contracts costing the British taxpayer £25 billion.
The government had already come under fire for using the controversial clauses after it emerged the Department for Work and Pensions had forced as many as 22 groups working on the implementation of the Universal Credit welfare program to sign contracts forcing them to "pay the utmost regard to the standing and reputation" of Esther McVey, the Work and Pensions secretary.
READ MORE: 'Huge' amount of potentially carcinogenic toxins found near Grenfell Tower site – expert
The Cabinet Office signed the deal with WSP to advise officials on whether cladding used by the government estate complied with building regulations, on June 26, 2017. The company has expertise in cladding and fire safety and worked on the structural engineering for One World Trade Center in New York and the Shard in London.
Grenfell United campaign group, which offers support for survivors and bereaved families, said that companies should not be "deterred" from speaking out.
"The focus at every level of government must be to get to the truth about how and why Grenfell happened. No one should be deterred from speaking out." they said.
The government claims the contracts do not prevent individuals from campaigning on particular issues or acting as whistleblowers. A spokesman told the Times: "Standard contracts in the public and the private sector contain provisions to protect the commercial interests of government and its suppliers in a reasonable way."
Think your friends would be interested? Share this story!
Subscribe to RT newsletter to get stories the mainstream media won't tell you.
You can share this story on social media: