'I regret BBC has put me in this position' – Scottish leader boycotts event over Steve Bannon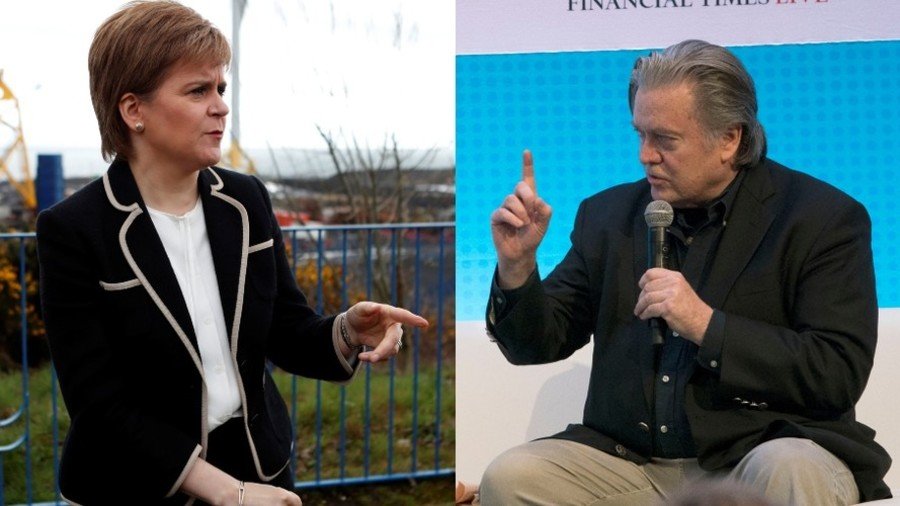 Scottish First Minister Nicola Sturgeon has pulled out of a BBC-sponsored event over controversial ex-WH chief strategist Steve Bannon. The broadcaster says that inviting representatives of various opinions is part of journalism.
Sturgeon was slated to appear at the opening reception of the annual News Xchange conference in November. The three-day Edinburgh event is organized by the European Broadcasting Union (EBU) and co-hosted by the BBC. Bannon, political strategist and prominent right-wing thinker, is scheduled to deliver remarks in a separate venue – in an event, moderated by BBC Scotland's Sarah Smith.
"I will not be part of any process that risks legitimizing or normalizing far right, racist views," Sturgeon wrote on Twitter on Saturday, confirming earlier reports that she will be ditching the event over Bannon.
"I regret that the BBC has put me and others in this position," she added.
I believe passionately in free speech but as @ScotGovFM I have to make balanced judgments - and I will not be part of any process that risks legitimising or normalising far right, racist views. I regret that the BBC has put me and others in this position. https://t.co/5x1rHZkaR9

— Nicola Sturgeon (@NicolaSturgeon) October 20, 2018
The politician further detailed how the broadcaster sent her an email explaining Bannon's invitation by describing him as a "powerful and influential figure" within "an anti-elite movement." Sturgeon disagreed with this characterization, claiming that many would rather call Bannon's views "fascist."
The email the BBC sent to my office justifying Bannon's inclusion described him as a 'powerful and influential figure...promoting an anti-elite movement.' This kind of language to describe views that many would describe as fascist does seem to me to run the risk of normalisation.

— Nicola Sturgeon (@NicolaSturgeon) October 20, 2018
The BBC explained that the right-wing strategist was invited by the EBU but stressed that event's main purpose is to "analyze the big issues" impacting the world, as opposed to endorsing any particular viewpoints.
"It is a function of what journalism is," the broadcaster said in a statement.
The EBU also stood by Bannon's ticket, saying that he is a "key influencer," and having speakers like him is part of its journalistic mission.
Steve Bannon co-founded and ran Breitbart News, a right-wing publication often credited for helping Donald Trump win the 2016 US presidential election. He later served as Trump's chief strategist and senior counselor.
In July, Bannon announced his next project – an NGO called 'The Movement' – tasked with assisting various European anti-establishment parties.
Opposing 'open-doors' migration policy and championing "economic nationalism," Bannon gained fame by criticizing global elites. An ardent Brexit supporter, he insists that Europeans can achieve freedom and prosperity through standing up to EU bureaucrats.
The former Breitbart chief stated though, that he won't work with "ethno-nationalist parties." Nevertheless, some of his ideas are viewed as controversial and attract accusations of xenophobia. Liberal and left-minded figures often refuse to share a stage with him and threaten to boycott events he is attending.
Last month, New Yorker magazine disinvited Bannon from its festival following a revolt of other prospective guests, including actor Jim Carrey and filmmaker Judd Apatow. In his response, Bannon said that he is open to his opinions being challenged in public and agrees to debate them at any venue. He also slammed the New Yorker staff for caving to outside pressure.
Think your friends would be interested? Share this story!
You can share this story on social media: