New Yorker revokes Bannon festival invitation after boycott threat from 'howling online mob'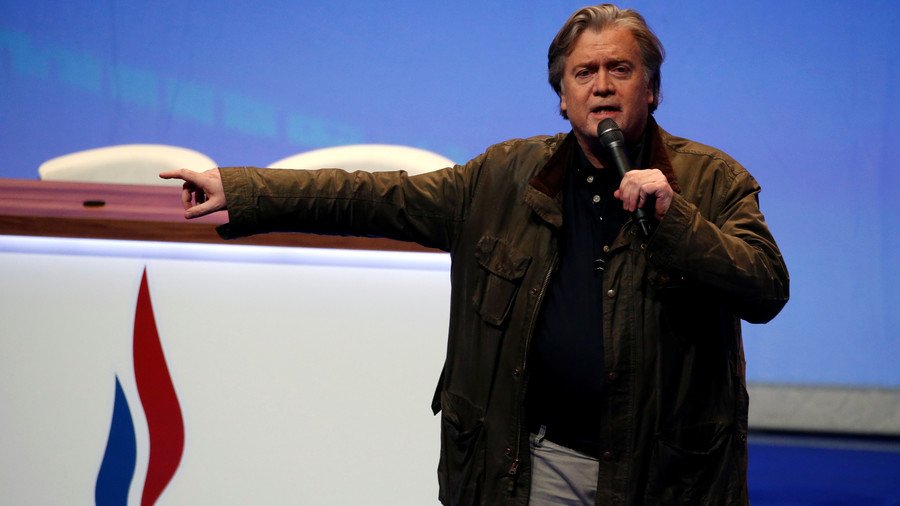 The New Yorker magazine invited nationalism ideologue and former Trump campaign figure Steve Bannon to its festival to confront him in a live interview, but changed its mind after other guests threatened to boycott.
Bannon, a former strategist for Donald Trump's 2016 election run and an ex-chairman of Breitbart News, is among the most reviled people in the liberal political camp in the US. Critics call him an open white nationalist, anti-Semite, and xenophobe.
The New Yorker invited him to be a feature guest at the magazine's October festival. Pulitzer Prize winning journalist David Remnick told the New York Times he intended to confront the man with tough questions and expected that the hostile audience would help put pressure on the guest.
That rationale, however, didn't seem to go over well with some of the other people on the guest list and on the magazine's own staff.
"I love working for [the New Yorker] but I'm beyond appalled by this… I have already made that very clear to David Remnick. You can, too," New Yorker writer and fellow Pulitzer Prize winner Kathryn Schulz tweeted, followed by the magazine's email address.
"I'm out. Sorry, NewYorker. See if Milo Yiannopoulos is free?" comedian and actor Patton Oswalt tweeted, referring to the notorious right-wing speaker.
The decision to invite Bannon was denounced by Jim Carrey, Roxane Gay, Jessica Valenti, John Mulaney, Judd Apatow, and other public figures, with many threatening to withdraw from the New Yorker festival.
Bannon? And me? On the same program?Could never happen.

— Jim Carrey (@JimCarrey) September 3, 2018
If the New Yorker doesn't remove Bannon from their lineup, the only moral move for attendees is to not show up to the talk (or even better, the whole festival). Don't give bigots an audience.

— Jessica Valenti (@JessicaValenti) September 3, 2018
Late Monday, the magazine announced it was canceling the invitation. Remnick released a statement justifying the initial decision, insisting that to "interview Bannon is not to endorse him."
A statement from David Remnick, editor of The New Yorker, explaining his decision to no longer include Steve Bannon in the 2018 New Yorker Festival. pic.twitter.com/opayiw5GQ2

— The New Yorker (@NewYorker) September 3, 2018
"By conducting an interview with one of Trumpism's leading creators and organizers, we are hardly pulling him out of obscurity. Ahead of the mid-term elections and with 2020 in sight, we'd be taking the opportunity to question someone who helped assemble Trumpsim," he argued.
"There is no illusion here. It's obvious that no matter how tough the questioning, Bannon is not going to burst into tears and change his views of the world... The question is whether an interview has value in terms of fact, argument, or even exposure, whether it has value to a reader or an audience."
Remnick conceded that the festival was not the best format in which to interview Bannon, and that it could be done "in a more traditional journalistic setting."
Bannon scolded the New Yorker's backtrack and expressed his disappointment.
"The reason for my acceptance was simple: I would be facing one of the most fearless journalists of his generation. In what I would call a defining moment, David Remnick showed he was gutless when confronted by the howling online mob."
Like this story? Share it with a friend!
You can share this story on social media: