UK's Def Sec Gavin 'Russia should shut up' Williamson tours Ukraine's 'frontline'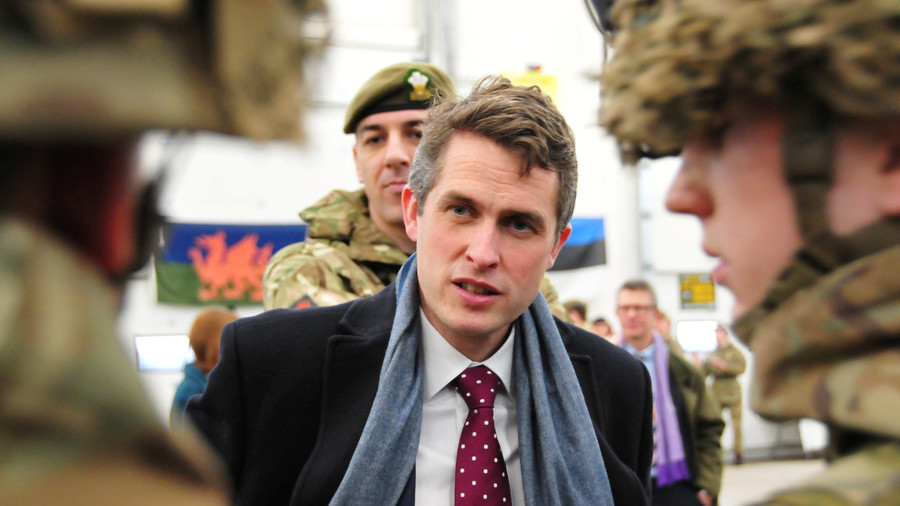 British Defense Secretary Gavin Williamson has visited Ukraine and toured the eastern part of the country, where Ukrainian officials told him how they are fighting against a "Russian aggression."
Two regions of Ukraine are divided between rebel-controlled parts and those under control of the central government in Kiev. Ukrainian officials regularly host tours for foreign dignitaries to show off its military, which, Kiev insists, is fighting Russian aggression rather than its own people who rejected the 2014 armed coup in Kiev.
Defence Secretary Gavin Williamson is the latest such visitor to be snatched by hosts and brought to what can be loosely called the frontline. Gen. Sergey Naev, the commander of Ukraine's military crackdown on the rebels personally told the visiting Briton about his successes and needs and "thanked the government and the people of Britain for supporting Ukraine in her fight with the insidious enemy," as the Facebook page of his task force put it.
READ MORE: 'Criminal' Roger Waters blacklisted by Ukraine over Russian interviews
Hearing such things about Russia was probably appreciated by the British secretary, whose anti-Russian stance is no secret. Williamson famously told Moscow to "go away and shut up" shortly after Britain expelled 23 Russian diplomats in the aftermath of the Skripal poisoning and has been relentless in drumming up the specter of Russian aggression to secure extra taxpayer money. At least he seems to be quite happy shaking hands with Ukrainian soldiers. Or maybe it's just that manly helmet and bulletproof vest that did the trick.
UK Defense Secretary Gavin Williamson the latest Western official to visit the frontline of the war in eastern Ukraine. Photos via Ukrainian Joint Forces Operation. pic.twitter.com/HE9hEg0VvR

— Christopher Miller (@ChristopherJM) September 19, 2018
Of course, visiting Ukraine must feel like a great reprieve. There pretty much any foreign official with a grudge against Russia gets a king's welcome. And Williamson doesn't even work for the International Monetary Fund, so he didn't have to twist any arms, pushing for yet another hike of gas prices or subsidy cut.
In Ukraine, the media called Williams a good friend of the country and didn't ridicule his habit of keeping a giant tarantula in the office or suggest that mounting a few big guns on a tractor is a viable alternative to buying tanks. And if his speech to the local lawmakers is interrupted by Siri, nobody would probably care – the Ukrainian parliament witnessed things much weirder.
And certainly if Williamson were to find some even more rude words about Russia, he would not be grilled for them in a live interview. He'd have a street in Kiev named after him or something.
Like this story? Share it with a friend!