'Criminal' Roger Waters blacklisted by Ukraine over Russian interviews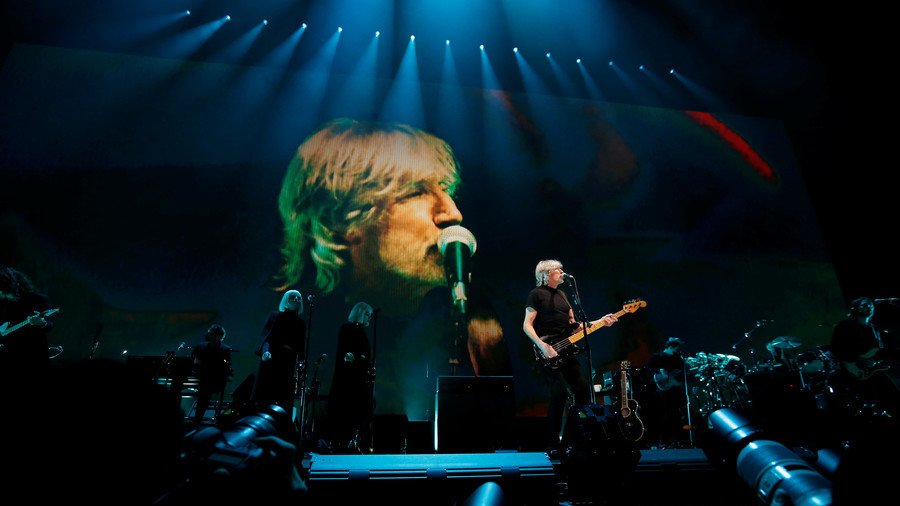 Pink Floyd founder Roger Waters has found himself blacklisted by being added to the Ukrainian database of national enemies, after statements to Russian media about Crimea and the conflict in Ukraine.
Waters, 74, is wrapping up his US+Them European tour with concerts in St. Petersburg and Moscow this week and spoke with several Russian outlets about both music and his political activism. The rock musician has been an outspoken champion of the Palestinian cause and a critic of Western-backed rebels in Syria.
On Monday, however, his name appeared in the "purgatory" database of Mirotvorets (Peacemaker), maintained by people connected with Ukraine's security and intelligence services and listing alleged enemies of the state.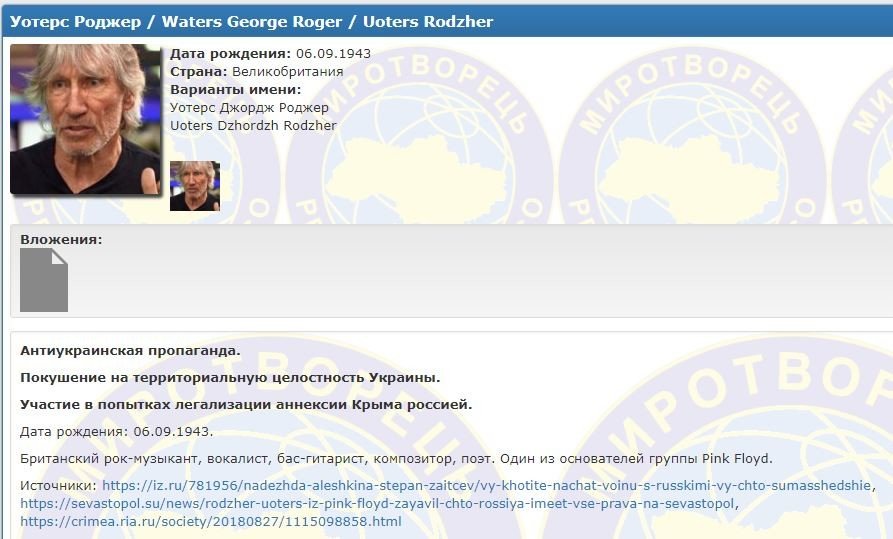 The site says "criminal" Waters is responsible of "anti-Ukrainian propaganda, attacks on the territorial integrity of Ukraine [and] participation in attempts to legalize the Russian annexation of Crimea."
As proof, the site lists links to two interviews Waters gave to Russian media outlets RIA and Izvestiya, and quotes specifically a statement about the city of Sevastopol being Russian and important to Russians.
Waters called "laughable" the idea of blaming Russia for the conflict in Ukraine and said the blame rests with Victoria Nuland, the senior State Department official for Europe and Eurasia during the Obama administration. Nuland was famously taped plotting regime change in Kiev with the US ambassador to Ukraine, in very graphic terms, just days before it actually happened in February 2014.
ROGER WATERS "#Ukraine: Victoria Nuland is to blame for everything, she organized all this, and now the country is divided into two parts. I do not know how Ukraine will get out of this whole situation, but blaming #Russia for this is ridiculous. https://t.co/jsARQeT82D

— Politikḗ (@city_affairs) August 27, 2018
Waters also expressed concern about the US leadership, which he said does not seem to recognize any agreements and does whatever it wants. Such a policy will eventually get everyone killed, the rock star told Izvestiya, in an interview published Monday.
'Peacemaker' has been blacklisting anyone who so much as visits Crimea, or says a kind word about Russia, such as boxer Roy Jones Jr. in 2016. They have infamously published personal information on thousands of journalists working in the Donbass conflict area.
After the 2014 coup in Kiev, residents of Crimea rejected the new government in Kiev and voted to rejoin Russia. Two regions in Eastern Ukraine, Donetsk and Lugansk, likewise refused to recognize the new authorities, and have resisted attempts to subjugate them by force.
Waters co-founded the progressive rock band Pink Floyd in 1965 with drummer Nick Mason, keyboardist Richard Wright and guitarist, singer, and songwriter Syd Barrett.
Think your friends would be interested? Share this story!
You can share this story on social media: