'It'll make us look like bell*nds' - Brexiteers' verdict on leaked Cumberbatch Brexit film script
Published time: 19 Jul, 2018 15:38
Edited time: 20 Jul, 2018 09:22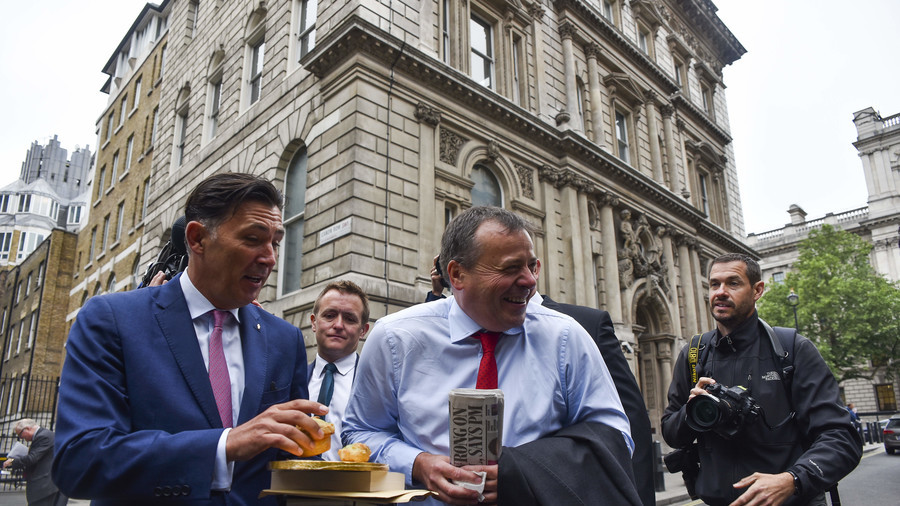 Brexit big hitters of the 2016 EU Referendum campaign have given their verdict on the leaked 'Brexit' movie screenplay, a film that is set to star Benedict Cumberbatch, and for once they're united – it's a massive thumbs down.
The Brexit TV movie is scheduled for release in early 2019 on Channel 4. It has been billed by producers as a "behind-the-scenes" story that will get "under the skin of what happened during that historic vote."
But a draft of the screenplay dated December 2017, obtained by The Daily Beast has provoked ridicule, bemusement, and concerns about the extent of its truthfulness among some of the key Brexit players of the 2016 EU Referendum.
It's claimed that one scene sees Aaron Banks, the co-founder of the Leave.EU campaign and Nigel Farage embrace each other, following the ex-UKIP leader touching down in a helicopter before engaging in an invigorating, sweat-drenched game of tennis – because as well all know, they take physical exercise over swiftly seeing off a pint in a pub. Nevermind the fact Farage doesn't own a helicopter.
Banks' spokesman and former Leave.EU colleague, Andy Wigmore, told The Daily Beast it was "very funny" the extent to which the script had got it wrong.
"Great fun and who cares if it's accurate or not—it's not a documentary it's entertainment lol. Think it will be a great bit of theatre and make us all look like bellends."
Alongside the implausible tennis match scenario between big hitters with middle-aged waistlines in Banks and Farage, those privy to the leaked Brexit screenplay claim there are a myriad of anomalies with the script.
They suggest there are countless examples of principal individuals being misrepresented, a misunderstanding of the role of data and what the various companies did in the campaign, the Daily Beast reports.
READ MORE: 'Almost Stalinist': Labour Brexiteer Kate Hoey lashes out at EU
It's claimed that at the heart of the draft script is the highly contentious assertion that American billionaire Robert Mercer, the right-wing political donor, was heavily influential in both the official and unofficial Brexit campaigns.
In one scene, Mercer, who was reportedly the biggest financial backer of Brexit, meets Banks in person at the Breitbart offices in London.
He promises to have Cambridge Analytica (CA) undertake work for his unofficial Leave.EU campaign for no fee as a "donation of services" because Farage is a close friend. An undeclared donation of services may be deemed illegal under British electoral law.
Shamir Sanni, the Vote Leave whistleblower whose evidence contributed to the recent ruling by the Electoral Commission that Vote Leave broke electoral law, also read the script, and concluded: "Well, that's not how it ended."
"This is ridiculous," Sanni told The Daily Beast. "If you're going to make a film based on a true story, then don't just make it up. This is fiction. It's just fantasy."
Chris Wylie, the Cambridge Analytica whistleblower who exposed how they harvested personal data from Facebook, has given it a "one star" review - "They've got this whole thing wrong."
US President Donald Trump's former White House chief strategist, Bannon was for once, in agreement with Wylie on a Brexit story. After reading the script he remarked: "Dude—this is bulls**t! You gotta tell 'em. Channel 4 has got to get its s**t together."
It now appears this film could also fall foul of the law, due to Tuesday's Electoral Commission ruling. The panel passed on its findings to police for further investigation and possible future prosecutions.
A legal minefield will open up if the film airs during any future prosecutions brought against individuals, leaving the filmmakers and Channel 4 open to accusations they prejudiced a potential trial.
A scenario that would be particularly damaging for the broadcaster if it were not able to air the film as planned. The movie was one of the first big projects announced by the new director of programs and former BBC Newsnight Editor, Ian Katz, in May.
A Channel 4 spokesman has issued a statement to the Daily Beast: "Any script dated December 2017 that may have been obtained will be extremely out of date. The broadcast of the drama Brexit (working title) will be compliant with the Ofcom Broadcasting Code and any applicable law."
Think your friends would be interested? Share this story!