'This is Iraq': Rapper decries US legacy in Iraq in bitter parody of Childish Gambino (VIDEO)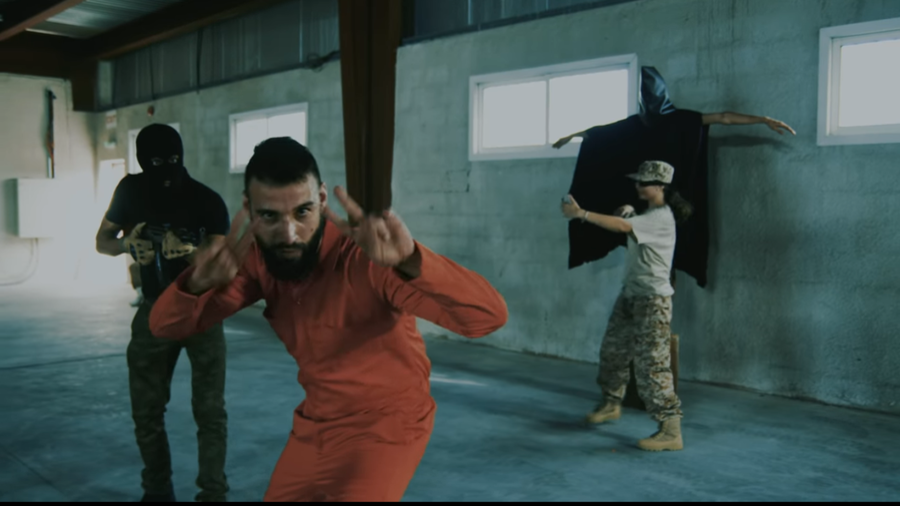 A musical video by an Iraqi rapper calling out the US on its abuses at Abu Ghraib and elsewhere in the war-ravaged country following the 2003 invasion has gone viral, racking up over 500,000 views.
The video was filmed by rapper I-NZ as another parody of Childish Gambino's 'This is America.' While Gambino took on police brutality and racial bias in his acclaimed work, the Iraqi rapper chose to cast the light on the ugly results of the Iraq War, with its well-documented instances of maltreatment and humiliation of detainees by US soldiers. The name of the former US military prison, Abu Ghraib, the video's supposed set, became synonymous with abuse after harrowing images and accounts of physical and psychological torture within its walls became public in 2004.
'This is Iraq' starts with I-NZ, playing a prisoner in a distinctive orange jumpsuit, being forced by two armed "soldiers" to kill an elderly man peacefully playing a musical instrument.
"This represents the transition from old and beautiful to all that is new and ugly as a result of the invasion of your country. This is represented by soldiers who force the country into war and destruction that it did not ask for," I-NZ told VICE Arabic, describing the scene.
At another point, it shows kneeling detainees apparently being prepared for execution. One of the most memorable images from Abu Ghraib – that of a hooded man standing atop a box in a shabby poncho with his face covered and electrical wires attached to his arms – gets recreated in the video. As I-NZ raps "This is Iraq, look at us blowin' up, nobody showin' up, nobody ownin' up," soldiers in American-style camo engage in violence in the background and pose for selfies with prisoners.
The rapper, who was born to Iraqi parents and grew up in New Zealand and has never actually been to Iraq in his life, highlights the lack of coverage on the issue and the impunity of foreign forces and local corrupt elites with the line: "They're immune, this is telly, that's the news, media blackout, then it's lights out, keep sniffin' the tar." The video also mocks former US President George W Bush for his infamous May 2003 speech, which he delivered under a "Mission Accomplished" banner, and after which the war continued for eight more years, arguably paving the way for the rise of Islamic State (IS, formerly ISIS/ISIL) and for leaving the country in economic and political disarray.
The video was released on July 4, and it has been watched over 500,000 times on YouTube since. Speaking to VICE Arabic, the rapper said that he did not initially plan for it to coincide with the US Independence Day, however, he then decided to speed up the release to draw more attention to the issue.
Subscribe to RT newsletter to get stories the mainstream media won't tell you.
You can share this story on social media: