'Tommy Robinson is the backbone of this country': Steve Bannon clashes with LBC political chief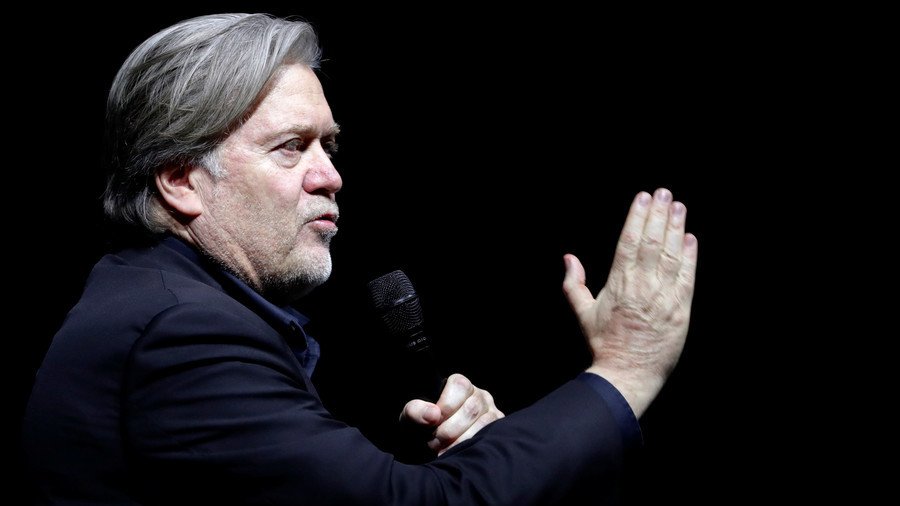 Former White House strategist Steve Bannon has found himself at the center of a row with the political editor of the London radio station LBC, after the pair clashed live on-air over anti-immigration activist Tommy Robinson.
In an on-air discussion hosted by former UKIP leader Nigel Farage, political editor Theo Usherwood challenged Bannon on his belief that Tommy Robinson has "got to be released from prison."
Usherwood said that Robinson, who is serving a 13-month sentence for breaching reporting restrictions on a court case by live-streaming men entering Leeds Crown Court on Facebook, deserved to be jailed because he "broke the law." Bannon attempted to interject but Usherwood continued, telling the guest: "I'm calling you out on something…"
Farage then attempted to move the conversation on by agreeing with his LBC colleague. "I take the view as well, that Tommy broke the law," he said – but the the controversy would not end there.
READ MORE: 'Free Tommy' protests: Letter urges people to 'come together' to defeat UK's resurgent far-right
Usherwood later tweeted about a lively and colourful exchange that took place after the show went off-air. Unhappy with the tone taken by the station's political editor during the discussion, Bannon made his feelings plain.
"Don't you f**king say you're calling me out. You f**king liberal elite. Tommy Robinson is the backbone of this country," he reportedly said.
Bannon's defenders complained that the exchange should have been 'off-the-record', a claim which Usherwood swiftly denied. "If he wanted the conversation to be off the record, he should have said," Usherwood tweeted.

Earlier this month, Bannon had told Politico that he was following US President Donald Trump to the UK "to be a surrogate on British media."
Robinson, whose real name is Stephen Yaxley-Lennon, has been a cause célèbre in the UK since he pleaded guilty to breaching reporting restrictions and was jailed earlier this year.
On Saturday, thousands of people attended a 'Free Tommy Robinson' and 'pro-Trump' rally in London. The crowd featured numerous people waving English, British and USA flags, as well as flags bearing the symbol of the nationalist Identitarian movement.
If you like this story, share it with a friend!
You can share this story on social media: