'Free Tommy' protests: Letter urges people to 'come together' to defeat UK's resurgent far-right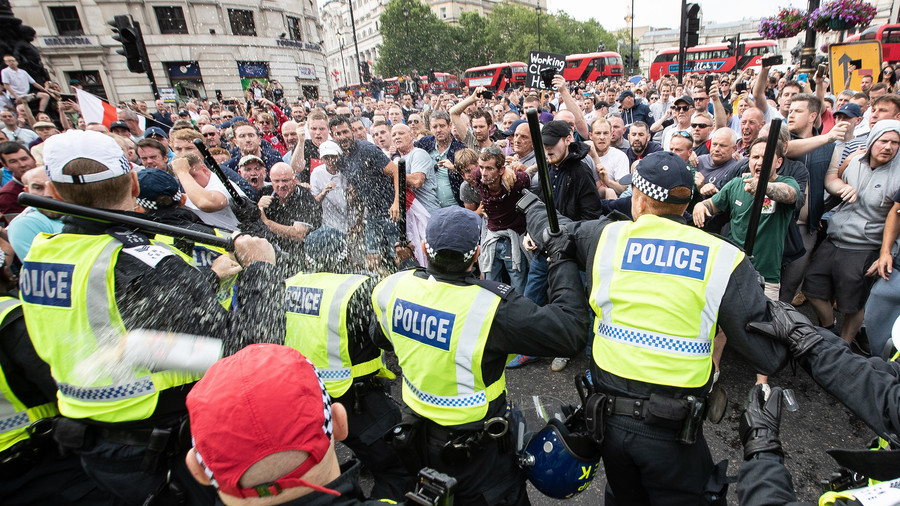 Protests surrounding the imprisonment of ex-EDL leader Tommy Robinson have caused over 50 prominent figures to collectively voice their concerns in a letter to the Guardian, urging a "defence of our multicultural society."
Published Tuesday, the letter accuses the "racist right" of using the ongoing protests demanding the release of Tommy Robinson from prison to "reorganise."
Stating that the demonstration, which saw 5 police officers injured in running clashes, is the "first serious attempt since the collapse of the English Defence League (EDL) to develop a racist street movement and give it a political form.
"The 15,000-strong violent far-right protest to "free Tommy Robinson" on Saturday 9 June has raised major questions for all those who value our diversity," the letter said.
Signed by MPs, trade unionists, anti-racism campaigners, and religious leaders, the letter noted that "Nazi salutes and Islamophobia were at the centre of the mobilisation."
Robinson, whose real name is Stephen Yaxley-Lennon, was given a 13-month sentence in May for breaching contempt of court laws outside of Leeds Crown Court. He was arrested after confronting defendants while recording a live video on Facebook as they entered the Leeds courthouse to face trial over sexual abuse allegations.
READ MORE: Tommy Robinson treatment is 'shocking'- Morrissey decries jail term as a blow to UK free speech
He had previously been arrested for contempt of court after filming outside Canterbury Crown Court in May. His imprisonment is being presented by his supporters as an act of state censorship and a threat to free speech.
Protests have been organized around the UK, with a recent demonstration in central London descending into a riot after approximately 1,000 people who attended the protest later clashed with police, even taking over a sightseeing bus in the heart of the capital. As well as the injured police officers, 6 people were arrested over the course of the day.
A protest in Belfast, organized for the same day, saw some protesters giving Nazi salutes.
READ MORE: Is Nigel Farage woke? Ex-UKIP leader warns party off supporting Tommy Robinson
The letter also says that the protests have been "supported internationally by notorious figures including from the US and the Dutch Islamophobic right," a reference to the Dutch Eurosceptic politician Geert Wilders, who spoke at the London 'Free Tommy' march.
The signatories also accused US President Donald Trump of playing a "major role in galvanising the racist right." Signatories said they would "take to the streets for the Together Against Trump demonstration coinciding with his visit on 13 July," and that they will march again to counter the next 'Free Tommy' event scheduled for the following day.
"Wherever the far right's support grows so does racism and violence. Let's come together to defend our multicultural society from those who spread hatred and division," it added.
Think your friends would be interested? Share this story!