'Free Tommy Robinson' protest: MSM media reporting subdued as demonstration descends into riot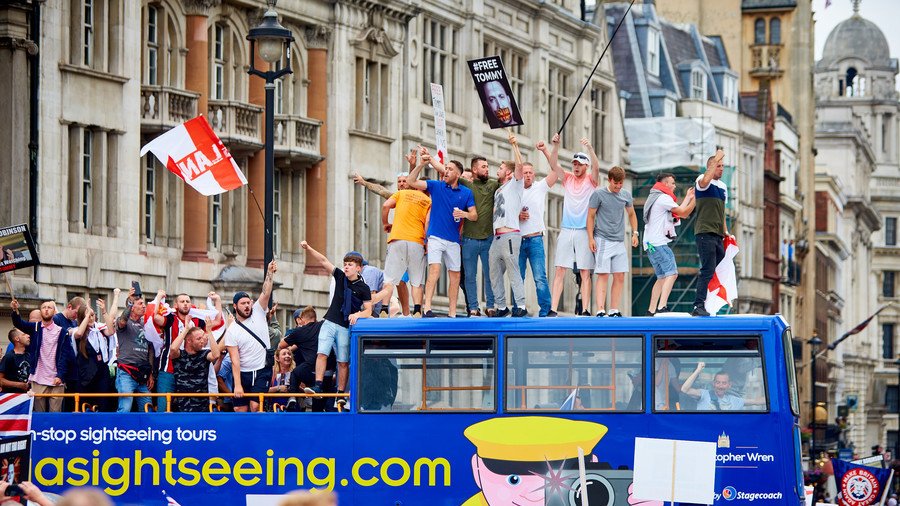 The UK press have been quick to hype threats posed by Russian football hooligans, but over the weekend they were more subdued in their reporting of the riot that broke out at Saturday's 'Free Tommy' march in London.
The right-wing and nationalist protesters descended on London in the name of free speech. They were instigated by the arrest of self-styled independent journalist Tommy Robinson, who was recently sentenced to ten months in prison when he put the trial of a grooming gang at risk, violating his parole.
They called on supporters of the one-time English Defense League leader to "stand up for free speech," against "this dictatorship they call a government", according to the campaign's next event page. And they got it. With thousands of St. George's cross and Union Jack flag waving supporters turning up in central London for the cause.
So much was the government suppression, Geert Wilders, the Dutch Eurosceptic and anti-immigrant politician, who was banned from entering the UK in 2009 only to have it overturned, sailed through airport security to speak at the event. "You will never walk alone," Wilders told the crowd to rapturous applause.
"We are here to tell the world, the UK government in particular, to free Tommy Robinson," he added.
But despite being allowed to express their democratic right to assembly, free speech, and protest, that didn't stop over 1,000 people starting a riot; hurling bottles, barriers and other missiles, surrounding a group of police officers assigned to protect them.
Footage of the violence on Twitter shows men rampaging through the streets of London, attacking police vans and chasing police down the street. Others show men openly giving Nazi salutes.
Over 100 people stormed a Megabus sightseeing bus, forcing the passengers and driver to abandon it. The company said the bus was so damaged it had to be towed away.
The violence saw a number of police officers injured and at least five arrests have been made.
Reporting of the fracas has been unsurprisingly subdued. The government-funded BBC dedicated a whole 122 words to the incident despite the incident happening on Whitehall, while the Evening Standard spoke of the break out of "scuffles," when reporting on the criminal damage suffered.
In turn the Daily Mail spoke of an explosion of violence at the march, complete with a collage of pictures, it failed to mention any sort of extremist or far-right element to the parade. For comparison, its coverage of Sunday's Al Quds march mentions Hezbollah over half a dozen times.
READ MORE: Tommy Robinson treatment is 'shocking'- Morrissey decries jail term as a blow to UK free speech
The Guardian, bastion of Britain's liberals, reported on a "tense stand-off with police, who made several arrests."
In response to the protest, Tommy Robinson's Facebook account said: "today just re-enforced the reason why we were all protesting. This government is operating a dictatorship style police state." He accused the police of using heavy handed tactics that were "probably ordered by the home office to cause chaos and provoke a reaction."
As the mainstream media barely touched on the violence it was up to social media to fill in the gaps.
Think your friends would be interested? Share this story!
You can share this story on social media: