Geert Wilders joins 'free Tommy Robinson' march in London (VIDEO)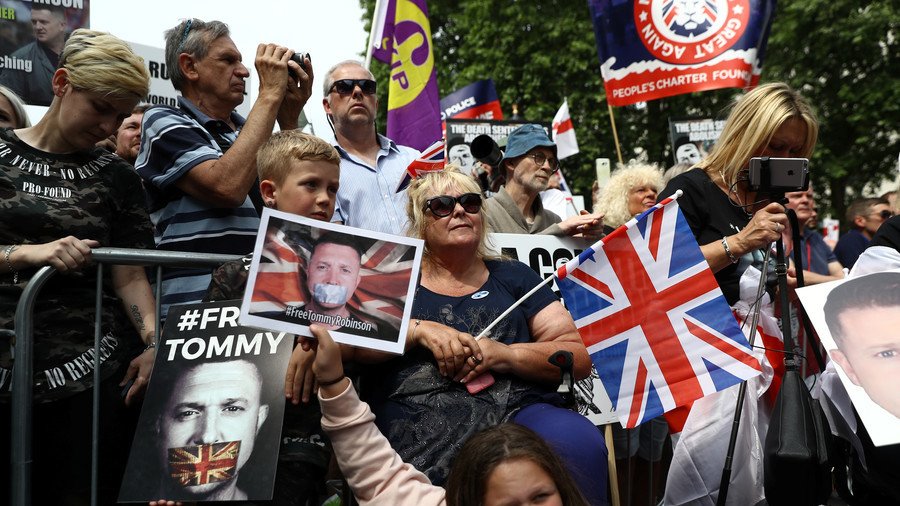 Supporters of Tommy Robinson have gathered in London in solidarity with the activist, who last month was jailed for contempt of court.
Robinson, who founded the English Defence League, was jailed in May after he pled guilty to contempt of court. He was on a suspended sentence for another contempt of court incident at the time.
Robinson, whose real name is Stephen Yaxley-Lennon, made comments about an ongoing grooming trial in a Facebook Live broadcast outside Leeds Crown Court in earshot of the trial's jurors. He was found in contempt of court for breaching court reporting laws and threatening the trial. He was sentenced to 10 months for that charge and three months for breaching his suspended sentence.
READ MORE: Tommy Robinson supporters threaten judge behind ex-EDL leader's jail term
Robinson's supporters demand his release from jail, as they believe he was arrested because of the information he was exposing about "Muslim grooming gangs."
A large crowd gathered in central London, where right-wing Dutch politician Geert Wilders appeared to support Robinson.
"So, Downing Street is just around the corner, so maybe once again, as loud as possible as we can, let them hear our message: Free Tommy Robinson!" he said.
Another march planned for Newcastle was cancelled after police said their resources were stretched due to an Ed Sheeran concert.
You can share this story on social media: