Mean spirits: Bristol distillery apologizes over tasteless timing of Novichok-brand vodka launch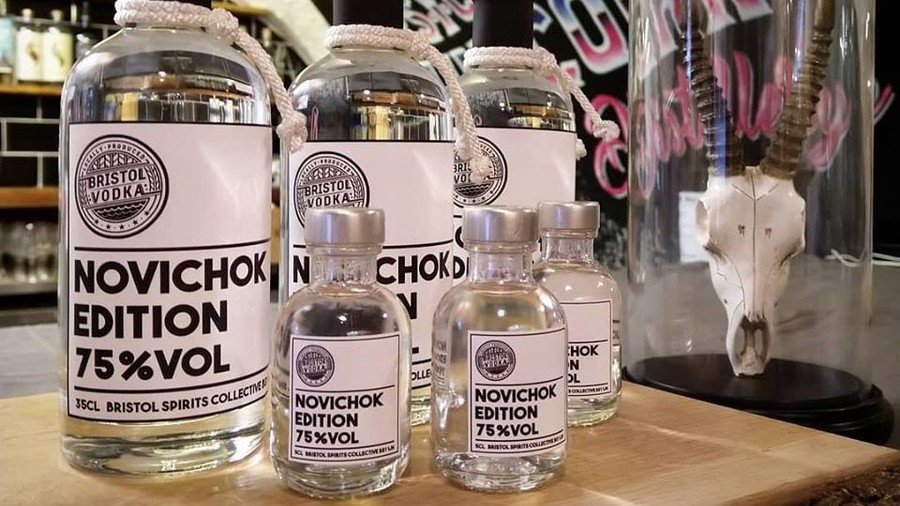 A Bristol company came under fire for its 'Novichok' vodka when its launch coincided with the death of Dawn Sturgess after exposure to the notorious toxin. The limited-edition booze promptly sold out and won't be distilled again.
The bottled poison, named after its weapons-grade counterpart, met with largely negative reaction online. Few users found the 'joke' amusing, while others littered the comment section of a Facebook post announcing the new brand by Bristol Dry Gin Micro Distillery with angry comments.
The vodka surely hit the market at an unfortunate time, only a day before Dawn Sturgess, who had been exposed to "a large dose" of a toxin believed to be Novichok-class nerve agent, died in hospital. The company was accused of bad taste, poor marketing and extremely inappropriate timing in launching its limited-edition tipple.
The company issued an apology for its marketing blunder, stating the vodka had been "in development" for some time and it decided to release it only after the Skripals recovered, to brighten spirits. It remained unclear, though, how exactly the management managed to miss the newer case of the Novichok exposure, which occurred on June 30
"It was intended to lighten the mood and ease tensions, not to cause offence, and reaction has been overwhelming positive. We sincerely apologize if any offence was caused, especially to the families of Dawn Sturgess and Charlie Rowley, and understand the timing of the release of this product may have lacked sensitivity," the company said in a statement, quoted by the Bristol Post. The booze won't be produced any longer, while its stock was already largely sold out, the company added.
The Novichok-edition vodka measures a whopping 75% alcohol by volume (ABV) and came in two variants of large and small bottles. Its announcement post, which, despite the controversy, remained on the company's Facebook page, describes the product as "smooth drinking spirit [which] is no laughing matter."
READ MORE: Williamson says Russia is to blame for 'Novichok death', without proof to support claim

It's not the first time a company tried to take advantage of the dreaded toxin's Name. Following the March incident in Salisbury, when former double agent Sergei Skripal and his daughter Yulia were poisoned, several Russian companies filed requests for registering the 'Novichok' brand name. One of them unveiled sunflower oil under the name, featuring a quite questionable bottle design. The oil bore the emblem of the USSR secret service – the KGB, and quite grim-humored inscriptions, namely "special taste" and "products for long life."
Like this story? Share it with a friend!
You can share this story on social media: